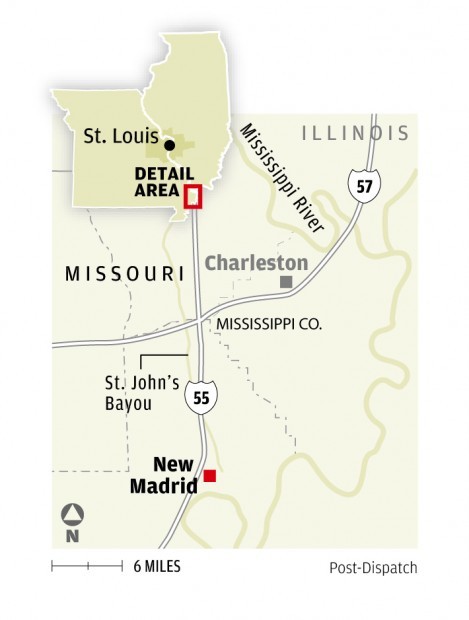 If you don't think you need earthquake insurance, read on:
On an early morning in December 1811, Eliza Bryan of New Madrid was jolted awake by a terrifying shaking and saw chaos.
"The screams of the affrighted inhabitants running to and fro, not knowing where to go, or what to do — the cries of the fowls and beasts of every species — the cracking of trees falling and the roaring of the Mississippi ... formed a scene truly horrible," she wrote in a letter in 1816.
There was a "very awful noise, resembling loud but distant thunder, but more hoarse and vibrating, which was followed in a few minutes by the complete saturation of the atmosphere with sulphurous vapor, causing total darkness."
It was the first of several shocks over the next two months. She saw land "visibly waving like a gentle sea" and fissures open in the earth spewing sand and water into the air.
The river did indeed flow backward for a while, she wrote. It also formed a tsunami.
"At first, the Mississippi seemed to recede from its banks, and its waters gathering up like a mountain, leaving for the moment many boats, which were here on their way to New Orleans, on bare sand, in which time the poor sailors made their escape from them," she wrote.
Then the river came roaring back as a steep wave 15 to 20 feet high, tearing the boats from their moorings and ripping up trees on the bank. "The river was literally covered with the wrecks of boats and 'tis said that one was wrecked in which there was a lady and six children, all of whom were lost," she wrote.
All the shaking left the people fearful. They abandoned their houses and camped on a hilltop for months.
Some debate ensued about the true strength of the New Madrid quakes of two centuries ago. Perhaps they didn't really ring church bells in Boston.
But they were very powerful shakes. And, due to unfortunate geology, another big shake on the New Madrid fault would likely be felt strongly in St. Louis, 125 miles north, especially in the lands along the rivers and streams.
State Geologist Joe Gillman gives a deadpan description: collapsed roadways and bridges, electrical failure, broken water lines, shattered fuel pipelines, landslides and the "collapse of certain structures." In other words, your house might crack open or fall down.
So, if we're at risk a terrible shake, why won't homeowners spend about $150 a year for quake insurance?
Earthquake coverage has declined in St. Louis over the past decade, according to the Missouri Department of Insurance. In St. Louis County, 62 percent of homes had coverage in 2009, down from 73 percent in 2002. In St. Charles County, coverage dropped from 66 percent from 77 percent. In the city of St. Louis, it fell to 36 percent from 48 percent.
Illinois state insurance officials don't keep statistics on earthquake coverage.
Standard homeowners insurance policies exclude earthquakes. Homeowners must buy a special rider if they want coverage.
The cost of coverage has risen substantially over the years, but it's still fairly cheap. Earthquake coverage averages $153 a year in St. Louis County, $161 in St. Louis, $87 in Jefferson County and $99 in St. Charles County. Brick homes are costlier to insure than frame houses. Cost also varies with nearness to the fault and the kind of land the house sits on.
Of course, it's hard to get too worried about earthquakes in St. Louis. The U.S. Geological Service says the chance of an 1812-style mega-quake in next 50 years is about 7 to 10 percent. The chance of a lesser quake, which might crack walls and topple chimneys here, is 25 to 40 percent.
Then again, the chance of your house burning down is small too. But you wouldn't go without fire insurance. Insurance is meant to protect you from unlikely events that would otherwise leave you homeless or broke. An earthquake could do that.
As a guy who likes St. Louis, my nightmare involves thousands of people left homeless by a quake with no money to rebuild. Like New Orleans after Katrina, we might never fully recover.
The skimpiness of quake coverage is also a turn-off for homeowners. Deductibles are gigantic, often 10 to 20 percent of the home's value and another 10 to 20 percent on the home's contents. Note that the deductible applies to the home's value, not the damage. On a $200,000 house with a 15 percent deductible you might be on the hook for $30,000 before coverage kicks in.
Missouri Insurance Commissioner John Huff is perturbed by all this.
"The products offered by insurance companies are not meeting the needs of Missouri homeowners when it comes to earthquake protection, and now it's affecting our largest metropolitan area," he says.
He attributes the decline in coverage to a combination of the recession, higher prices and the giant deductibles.
In fact, insurers have been in a general retreat from catastrophic risk for several years, chastened mainly by massive losses to hurricanes. Some insurers have stopped offering quake coverage, although it's still widely available. State Farm, the biggest insurer in the state, offers coverage.