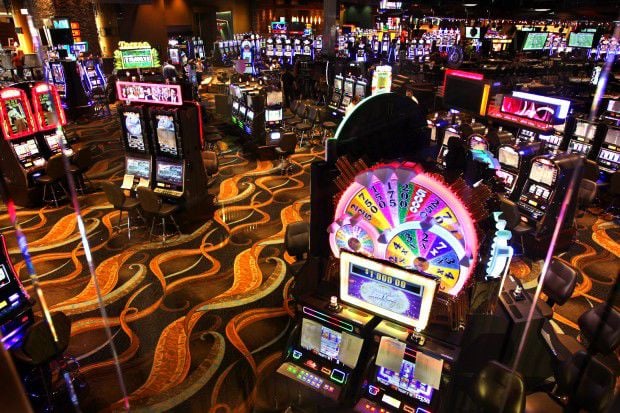 Isle of Capri Casinos' headquarters will move from Creve Coeur to Reno, Nev., as part of the gaming company's $1.7 billion sale announced Monday.
Eldorado Resorts, based in Reno, said it anticipates completing the stock-and-cash transaction in the second quarter of 2017, pending approval by gaming regulators, including the Missouri Gaming Commission.
Jill Alexander, Isle of Capri's spokeswoman, said about 100 people work at the company's headquarters in leased space at 600 Emerson Road. She said a headquarters "transition team" will be assembled but whether the company would retain a presence in the St. Louis area had yet to be decided.
Eldorado plans to keep all of Isle's casinos, including four in Missouri.
The deal values Isle of Capri at $23 a share, a 36 percent premium over Friday's closing price. Eldorado said it would pay 58 percent of the purchase price in cash and 42 percent in stock. The sale includes Isle's $929 million of long-term debt, the companies said.
Eldorado shareholders would own 62 percent of the combined company while Isle of Capri shareholders would hold 38 percent.
Combined, the companies would have 20 properties in 10 states and would have generated about $1.8 billion in revenue for the 12 months ended in June.
The boards of both companies and key shareholders have signed agreements to vote in favor of the transaction, executives of both companies said. Those shareholders include members of the Goldstein family. Bernie Goldstein, who opened the nation's first riverboat casino — in Bettendorf, Iowa, in 1991 — founded what became Isle of Capri when he opened a riverboat casino in Biloxi, Miss., in 1992. Goldstein died in 2009 but family members remain on Isle's board.
Shares of Isle soared Monday, rising $5.11, or 30 percent, to close at $22.04.
Isle owns or operates casino properties in seven states, primarily under the Isle and Lady Luck brands. Its Missouri casinos are in Cape Girardeau, Caruthersville, Boonville and Kansas City.
Eldorado, founded in 1973 in Reno, owns seven casino properties in Nevada, Louisiana, West Virginia, Ohio and Pennsylvania.
The companies said they have identified "cost synergies" of approximately $35 million in first year following completion of transaction.
David Katz, a gaming industry analyst for Telsey Advisory Group, said the sale would be good for Isle and Eldorado. Consolidation makes sense in the slow-growth regional gaming industry, he said. Eldorado's decision to retain Isle's casino brands also makes sense because of customer loyalty in their markets, Katz said.
Gary Carano, Eldorado's chief executive, said in a statement the combination with Isle "builds the scale of our gaming operations and further diversifies the geographic reach of our operations without any overlap with our existing properties."
Eric Hausler, Isle's chief executive, said the agreement with Eldorado will provide Isle shareholders "substantial and immediate value, as well as the opportunity to participate in the upside potential of the combined company."
After the sale, Eldorado would have 20,800 slot machines and video lottery terminals, more than 560 table games and over 6,500 hotel rooms.
The deal also would add to Eldorado's free cash flow and diluted earnings per share. Eldorado has received financing for the deal totaling $2.1 billion from financial adviser J.P. Morgan. Credit Suisse is Isle of Capri's financial adviser.
In a conference call with investors, Carano, Hausler and Tom Reeg, Eldorado's president and chief financial officer, noted the lack of geographic overlap in the companies' casino markets. Hausler said he is impressed by the firms' similarities.
"This transaction is the next logical step for this company," Hausler said.