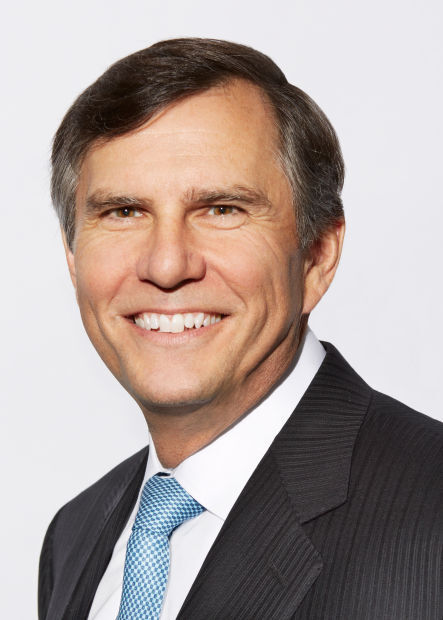 Emerson, one of the region's largest companies, is donating $4.4 million to fund scholarships and youth employment efforts for residents in north St. Louis County and Ferguson, where its headquarters is based.
The funding commitment is one of several investments announced in recent weeks by St. Louis businesses to address economic disparities in Ferguson in the wake of the fatal shooting of 18-year-old Michael Brown by police Officer Darren Wilson.
Emerson, a Fortune 500 company with $24.7 billion in annual revenue, employs 1,300 people at a campus near the site of protests and looting that followed Brown's death on Aug. 9. Emerson's headquarters on West Florissant Avenue is across the street from the temporary location of a police command center during the weeks of unrest.
Through its new "Ferguson Forward" initiative, Emerson will contribute $300,000 a year for five years to the University of Missouri-St. Louis' Opportunity Scholars Program for science, technology, engineering and math (STEM) students who are minorities or whose parents didn't attend or graduate college.
Emerson builds a wide range of products, from residential garbage disposals to high-tech process controls that automate oil refineries.
Each year, 30 scholarships will be made available to graduates of the Ferguson-Florissant, Normandy, Jennings, Hazelwood, Riverview Gardens and Ritenour school districts. Emerson previously donated the same amount annually to UMSL, but funding for the next five years, totaling $1.5 million, will go to students in north St. Louis County.
Emerson chairman and CEO David Farr announced the funding at a St. Louis Regional Chamber meeting Thursday morning, where he challenged other businesses to pledge funds.
"Ferguson is our home and has been for the last 70 years," Farr said in a statement. "We choose to be here and are committed to this community, especially now in its increased time of need. We believe in hope and opportunity and want to help remove barriers so that more of our neighbors can succeed."
Emerson also is donating $750,000 to fund youth employment efforts through MERS/Goodwill Industries and the STL Youth Jobs program. Emerson's funding will sponsor 100 jobs for teenagers and young adults aged 16 to 23 in the Ferguson area.
Hilary Wagner, vice president at the nonprofit MERS/Goodwill, said Emerson's donation will allow STL Youth Jobs to expand to St. Louis County for the first time. For the past three years, the program has only been available in the city of St. Louis.
"The program has never received a commitment of this size," Wagner said.
In 2014, STL Youth Jobs funded part-time work for about 400 youth for eight weeks. The program will now be expanded to include more participants and the ability to work up to six months. "Our intention is to help these youth transition into permanent jobs after the program is completed," Wagner said.
Another piece of Emerson's funding is a partnership with Ranken Technical College, where Emerson will fund $1.75 million in scholarships for north countians studying technical and trade skills.
It's among the largest gifts the school has ever received, said Ranken's president, Stan Shoun. Several past and current Emerson executives serve on Ranken's board, including Edward Monser, Emerson's president and chief operating officer.
The college will use the money to expand its dual enrollment program, where high school students can receive college credit, and a work-based program for those who attend school while working.
"We'll reach out to businesses in the Ferguson area and try to set up a work situation with them so students can work where they live," Shoun said.
Emerson also said it will donate $400,000 over four years for students in the Ferguson area to attend Cardinal Ritter High School, a private college prep school.
The assistance pledged goes beyond a monetary commitment. As part of the initiative, Emerson employees and managers will offer counsel in legal, finance, accounting and other topics for those in the Ferguson area who are starting or growing businesses in north St. Louis County. The company also is working with a nonprofit to bring an early childhood learning resource center to Ferguson.
"I commend them for taking a longer look than just throwing a lot of money out there," Ranken's Shoun said. "You have to look at the education piece. Any time you look at economic development, education has to be a vital part of it."
More jobs are already on the way for Ferguson. Work has been underway for several months on a $25 million facility Emerson is building on its Ferguson campus, where 200 jobs will be transferred next year from Hazelwood, another north St. Louis County suburb, when its existing lease expires. Most of the Emerson Process Management jobs are in engineering, and some are fabricating positions.
Ferguson's unemployment rate grew from less than 5 percent in 2000 to more than 13 percent between 2010 and 2012, according to a report by Brookings Institute's Elizabeth Kneebone, and more than one in four Ferguson residents had incomes below the poverty level in 2012.
About two dozen companies and organizations have pledged more than $150,000 toward the Reinvest North County Fund, which is giving grants to school districts and businesses damaged by the unrest in Ferguson and Dellwood.