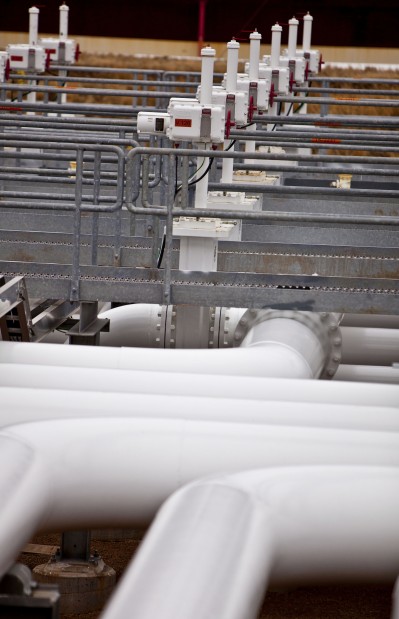 CALGARY, Canada • Canadian pipeline rivals Enbridge and TransCanada are earmarking billions for new pipelines to capture a larger slice of North America's crude oil market. Some investors say Enbridge is the better bet.
Headquartered on the same downtown Calgary street, the two companies plan to spend a combined C$74 billion ($68 billion) through 2018 on projects including pipelines and power generation. Enbridge, already Canada's largest transporter of crude, stands to profit more from increased demand as TransCanada struggles to win U.S. approval for the Keystone XL project.
An energy renaissance from Alberta's oil sands to the shale fields of Texas has heightened the urgency of building new pipelines to carry surging supplies of crude. Enbridge, whose C$2.45 billion in revenue from oil pipelines last year was more than twice that of TransCanada for the segment, faces fewer hurdles for its expansion plans while Keystone has become a target for environmentalists' protests.
"Our favorite between the two right now would be Enbridge," said Michael Formuziewich, a portfolio manager at Leon Frazer & Associates Inc. in Toronto who owns shares in both. "We think TransCanada will grow slower."
Enbridge has a number of oil pipeline projects scheduled to come online between now and 2017 that face fewer threats, according to Formuziewich. This year, it's targeting startup of a 600,000 barrel-a-day line that crosses the U.S. Midwest, called Flanagan South. The company also plans to double capacity to 850,000 barrels a day on the Seaway conduit that connects a Midwest oil hub with the Gulf Coast, which it owns with Enterprise Products Partners LP, according to Enbridge's website.
Among analysts that follow Enbridge, 80 percent have buy recommendations, compared with 71 percent for TransCanada. Enbridge stock has returned 132 percent in the past five years, compared with a 44 percent gain for TransCanada. The S&P/TSX Energy Index is up 47 percent in the same period.
Enbridge is winning favor partly because the U.S. may further delay or reject TransCanada's $5.4 billion Keystone XL pipeline, designed to link oil-sands output to U.S. Gulf Coast refineries, according to FirstEnergy Capital Corp. The U.S. State Department is completing a final environmental review.
While TransCanada says President Barack Obama may make a decision by the end of March, FirstEnergy doesn't expect a ruling until early next year.
"It's largely about the political risk of XL weighing on TransCanada," said Steven Paget, an analyst at FirstEnergy in Calgary who advises investors to buy Enbridge shares and hold TransCanada.
Both companies are seeking oil conduits as crude output surges and because they offer higher returns than natural gas lines. Shale oil discoveries are forecast to propel the U.S. to the top spot among the world's biggest crude producers in 2015, the International Energy Agency predicts. Canada's oil sands will more than double output by 2022 from a decade earlier, according to the Canadian Association of Petroleum Producers.
Enbridge is best positioned to take advantage as the rise in U.S. shale gas output reduces demand for the heating fuel from Western Canada, hurting TransCanada more, according to Moody's Investors Service. TransCanada faces risks with Keystone XL and its C$12 billion Energy East proposal to pipe oil to the Atlantic Coast, which would together more than quadruple the company's crude-transport capacity, the credit rating company forecasts.
"The long wait to get a presidential permit brings into question whether Keystone XL will get built and highlights the pitfalls of undertaking a pipeline project," Mihoko Manabe and Gavin Macfarlane, analysts at Moody's, wrote in a November research note.
Keystone XL, proposed by TransCanada in 2008, is supported by U.S. trade organizations touting job creation and Canadian producers seeking new markets for heavy oil on the Gulf Coast, where imports from Mexico and Venezuela have fallen. Environmental opponents say the project would boost carbon output. The Natural Resources Defense Council has called it a "carbon bomb."
TransCanada says the pipeline doesn't create emissions because it runs on electricity. An interim environmental report from the State Department said it wouldn't boost greenhouse gas emissions because the oil sands would be developed regardless.
TransCanada is seeking to build more oil pipelines to lift its stock and boost earnings and dividends as it shrinks the share of contributions from gas pipelines and power plants, Russ Girling, chief executive officer, said last month in an interview at his Calgary office.
"Investors historically have paid more for liquid- infrastructure investments that they have for gas," Girling said. TransCanada can make returns of 8 to 9 percent on oil pipelines, compared with 6 to 7 percent for gas conduits. "You get another couple hundred basis points for fundamentally the same kinds of risks."
TransCanada, which reported a 14 percent decline in net income for 2012, the most recent year available, has boosted revenue from oil pipelines from zero in 2010 to 13 percent of the total two years later. Enbridge had more than double the oil pipeline revenue of TransCanada in 2012, a year in which it, too, reported a 14 percent drop in earnings.
TransCanada has diversified away from Keystone XL as it focuses on other new oil pipelines including within Alberta, Girling said. The biggest challenges facing construction of new lines are financing and labor and TransCanada has both those pieces solved, Girling said. The company hired 700 people in both 2012 and 2013 and has 40 engineers in training.
The company is in a "strong position" to develop new oil pipeline infrastructure partly because its projects are backed by long-term commitments from customers, Shawn Howard, a TransCanada spokesman, said in an e-mail.
Lifting oil pipeline revenue for both Enbridge and TransCanada is becoming harder. Projects are being delayed and risk rejection as regulatory processes become protracted against a backdrop of environmental and political opposition.
Enbridge's proposed Northern Gateway conduit that would connect the oil sands with Pacific Rim markets faces the threat of lawsuits from aboriginal opponents. Canadian regulators recommended approving the C$6.5 billion project last month, starting a 180-day period in which Prime Minister Stephen Harper's cabinet must make a ruling.
"It's a lot more difficult to go through the regulatory process," Al Monaco, Enbridge's chief executive officer, said last month in an interview at his Calgary office. He committed to remain focused on oil pipelines for at least the next five years. "Further diversification down the road may make some sense," he said.
After more than five years of regulatory scrutiny of Keystone XL, TransCanada is better equipped "than anybody in the marketplace" at getting pipelines approved, Girling said. "I'm comfortable we can get there."