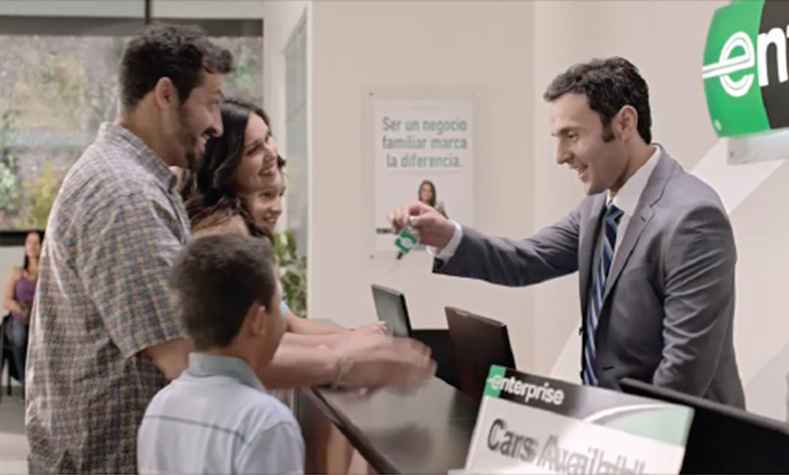 Enterprise, the world's largest rental car company, is debuting its first Spanish language advertising campaign in six pilot U.S. markets this week.
The new 30-second Enterprise Rent-A-Car TV ad uses the tagline "Vamos Por Ti," or "We'll Come For You," which is intended to highlight Enterprise's "We'll Pick You Up" service. The campaign also includes radio and digital ads.
Clayton-based Enterprise Holdings' ad airing on the Telemundo and Univisión Spanish language TV networks in six markets in Texas and New Mexico may be expanded to other markets, said Lee Broughton, assistant vice president of Enterprise Brand Marketing, North America.
Enterprise Rent-A-Car estimates it has 37 percent market share in the U.S., but only from 26 percent to 27 percent market share of Hispanic rental car drivers.
"We're going after what we believe is a burgeoning demographic for the company," Broughton said. "We really feel like we have an opportunity to build that demographic."
Enterprise aired a TV ad more than a decade ago that was just a translation of an English language ad, and not a stand-alone campaign that included point-of-sale and other marketing materials.
The new Spanish language ad was created by Bromley, a Hispanic ad agency based in San Antonio.
On March 16, Enterprise Rent-A-Car is debuting a new national TV ad, "Family Reunion," a humorous take on a customer's use of the "We'll Pick You Up" feature. In the ad created by Clayton-based ad firm Cannonball, an Enterprise employee picking up a female customer at a family reunion goes along with the customer's joke that he's her boyfriend.
Broughton said both the Spanish language ad and the new national TV ad reflect a departure from Enterprise's prior campaigns that focused on Enterprise's history and descriptions of its offerings.
"We're trying to ensure we have customer insights about the company and that the ads are not just about the company," he said.
Lisa Brown • 314-340-8127
@lisabrownstl on Twitter