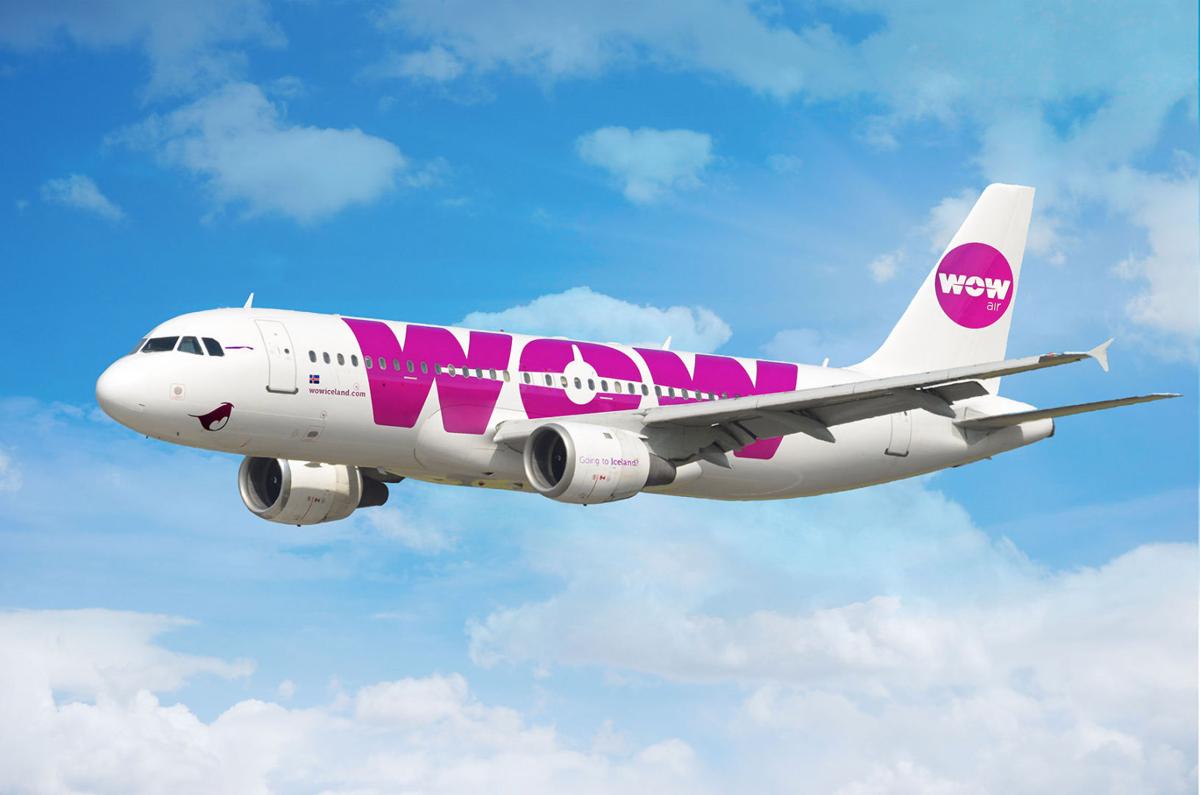 Wow Air, the roughly three-year-old discount air carrier, is going where few other ultra-low-cost airlines have gone: across the Atlantic. And if all goes according to plan, it's going to do it much cheaper than anyone else.
The budget airline, which is based in Iceland, announced last week that it will begin flying passengers nonstop from both Boston and Baltimore to Reykjavik, Iceland, for as little as $99 each way. The airline will also offer one-stop flights from the two U.S. cities to London and Copenhagen, starting at $228 for a round-trip. The airline will begin offering the flights next March.
"Paying even $200 for a one-way flight to, say, London, is unheard of," said Tom Parson, the chief executive of bestfares.com, which tracks airline pricing. "It just doesn't exist."
By comparison, the average price of a round-trip plane ticket between Boston and Reykjavik in March of 2015 is just under $600, by Parson's estimate. A single-stop round-trip ticket between Boston and London runs about $770, while a nonstop ticket costs roughly $800.
The incredibly low ticket prices from Wow Air are real, but don't expect them to last forever. "Those are definitely opening, introductory fares," said Skuli Mogensen, Wow Air's chief executive. "On an occasional basis we hope to be able to introduce similar fares, but those are very aggressive. We wouldn't be talking if I had introduced prices more commonly seen in the market, would we?"
But the airline's commitment is to offer the cheapest ticket for every route the airline flies, including transatlantic routes, Mogensen said. The prices Wow Air offers will vary by season and will depend on a number of other factors, including fuel prices and flight vacancies.
How does Wow Air expect to pull this off? For one, by operating like all other ultra-discount carriers. A ticket on Wow Air will come with little more than a seat, mini-tray table, and an 11-pound carry-on. Everything else will cost extra. Any carry-on in excess of 11 pounds will cost an extra $29 when booked online, or an additional $48 when done so at the airport. Checked luggage will set one back a bit more — an extra $48 online or $67 at check-in. And extra leg room, pre-assigned seats, and, of course, food will rack up the bill, too.
But unlike Spirit Airlines, which is famous for squeezing passengers' knees, Wow Air won't skimp quite as much on leg room. The seat pitch, the distance between two seats, is between 30 and 36 inches on the Airbus A320 aircrafts flown by the airline, said Svanhvít Fridriksdóttir, Wow Air's director of communications. Most pitch sizes are about 31 inches, and many discount carrier pitch sizes are less than 30 inches. Spirit Airlines', for instance, is 28 inches.
Wow Air also expects to save money by operating as efficiently as possible. The company relies heavily on online sales and marketing, for instance, which allows it to skip the cost of middlemen. It also operates few airplanes — only four currently — but maximizes their utility. "We have extremely good aircraft utilization," said Mogensen. "Within one 24-hour cycle, a single airplane will fly from Iceland to Boston, back to Iceland, and continue to London, and then back to Iceland, each time full of passengers."
And Wow Air expects to fill all of its planes, a feat few if any airlines operating transatlantic routes have managed. "Our assumption is that we will fill every plane, and we price accordingly," said Mogensen.
But Wow Air's biggest advantage might be its headquarters. Iceland is ideal, because it gives airplanes a midpoint where they can stop to refuel. That allows the airline to fly passengers to and from Europe in smaller planes, which it can more consistently fill with passengers. It also helps the airline save money on fuel. "About 40 percent of the fuel airplanes carry is used to ferry the fuel to the final destination," said Bob Mann, an aviation industry analyst at R.W. Mann and Co. Consulting. "As you go shorter and shorter distances, you can ferry less fuel, and save money."
Convincing customers to travel with a stop-over might be difficult, but if it means hundreds in savings it's hard to believe it won't be possible.
Still, the small Icelandic airline faces what some industry experts believe is a steep uphill battle. Wow Air isn't, after all, the first airline to try operating cheap transatlantic flights. Low-cost air travel pioneer Freddie Laker tried unsuccessfully to do it in the late 1970s with Laker Airways; the airline closed in the early 1980s after it couldn't stay afloat. More recently, Norwegian.com, a subsidiary of Norwegian Air Shuttle, began offering affordable transatlantic flights this summer. The pitch was London-New York flights for $241. But the flights haven't been as cheap as advertised, and the routes have been stricken with delays, according to Mann. "Norwegian has had huge difficulties," he said. "All across the summer it has been running relays for its transatlantic flights to and from New York."
The biggest obstacle to discount long distance air travel might simply be that long trips could strip an airline like Wow Air of the efficiency on which it so heavily relies. Despite Wow Air's advantage of being able to stop in Iceland, the nearly 5.5-hour flight between Boston and Reykjavik is still long by budget airline standards.
A comparatively small fleet becomes a competitive disadvantage as soon as there's a delay. "Once it starts to get off-schedule, they'll never get it back on schedule unless they start cancelling flights," said Mann. Likely for that very reason, low-cost carriers have soared domestically, but shied away from routes between North America and Europe. Discount airlines currently control nearly a third of the airline market in North America, and more than third of it in Europe, but only about 1 percent of the market for transatlantic travel.
Ryanair, which operates more than 100 aircrafts in Europe has been contemplating transatlantic flights for years, but has yet to jump the gun. "If anybody was going to do it, and anybody had the greatest potential to succeed, it would be them," Mann said. "And yet they've decided it's not in the cards. That's a cautionary tale, I'd say."
Wow Air, for its part, is optimistic about its ability to offer the cheapest form of transatlantic travel. "The long-haul low-cost model hasn't really been implemented because it's hard to achieve the utilization needed," said Mogensen. "That is, unless you have a hub in the middle. And Iceland is perfectly suited," said Mogensen.
And despite the added fees from Wow, consumers may still think they're getting a bargain. "If you think you can make it Europe with an 11-pound bag, Wow Air offers a fantastic deal," said Parson. "Even with their extras, you would still end up flying for a lot cheaper than with other carriers."
The airline plans to expand at least four more destination in North America by 2016, and fly two extra jets next year and a total of 10 airplanes by 2016.