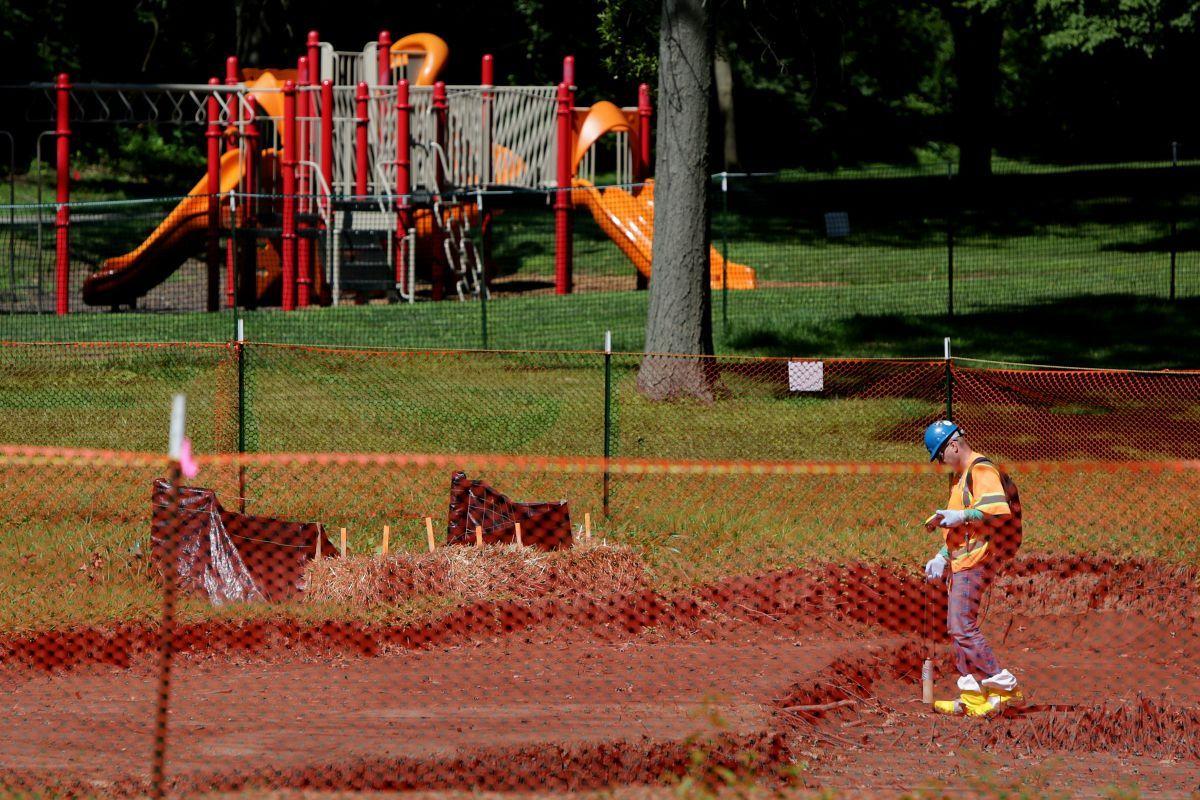 Federal officials promised concerned residents they would get to the bottom of whether Coldwater Creek is behind a rash of cancers reported by people who grew up in north St. Louis County.
The Agency for Toxic Substances and Disease Registry plans to spend the next 18 to 24 months gathering information on radiological contamination in the creek. The study could add further credence to concerns that too many people who spent their childhoods playing in Coldwater Creek have died or been diagnosed with rare forms of cancer.
"We're going to do our damndest to get an answer," Spencer Williams, regional director of ATSDR, said Wednesday night at the agency's first meeting with residents at the St. Louis County Library's Indian Trails Branch.
But some residents were skeptical that another federal agency could tell them anything they don't already know.
"We all know we've been contaminated," said Maureen Kolkmeyer, who lived near the creek for 40 years. "We don't need a department to come in and let us know."
In addition to her own cancer, Kolkmeyer ticked off a list of relatives diagnosed with leukemia, colon cancer and throat cancer. "And we all played in the creek," she said.
Coldwater Creek's contamination is well documented. Since 2013, the U.S. Army Corps of Engineers has been making its way downstream, meticulously removing radioactively contaminated soil.
Residents began collecting disease information from neighbors and relatives who grew up near Hazelwood and Florissant, where the creek runs past backyards and sometimes flooded. The group reports nearly 2,000 cancers, including 45 cases of rare appendix cancer, along with hundreds of reports of other ailments.
Coldwater Creek advocates were heartened when ATSDR announced its study last month, and several dozen people filed in and out of the library to hear agency officials discuss the plans. Those who attended also shared their health ailments and how they came into contact with the creek.
"Hopefully this helps us say these illnesses that we're seeing in this community may have been caused by this environmental contamination," said Erin Evans, an environmental health specialist with the agency.
Maryann Brennan said she was happy to see the word get out about the creek. She suffers from thyroid and autoimmune disorders, and she suspects the time she spent in the creek as a child has played a part. But doctors in the area "have no clue" when she mentions the creek as a potential cause.
"I think this is really encouraging," she said. "This is another positive step."
Others, though, worried the federal agency would be influenced by other federal agencies wary of the cleanup costs from the country's nuclear weapons waste.
"There's always outside pressure," said Mary Ann Ford, who knows former neighbors who have died young from cancers.
Evans, though, sought to reassure the residents that the study would lead to independent recommendations, be they education in the medical community or steps to limit further exposure.
"We are an independent, nonregulatory agency," she said. "I get my pressure from you."
Editor's note: This story was updated to reflect St. Louis County's decision to work with ATSDR on its study study rather than have the St. Louis County Department of Public Health design and conduct its own study.