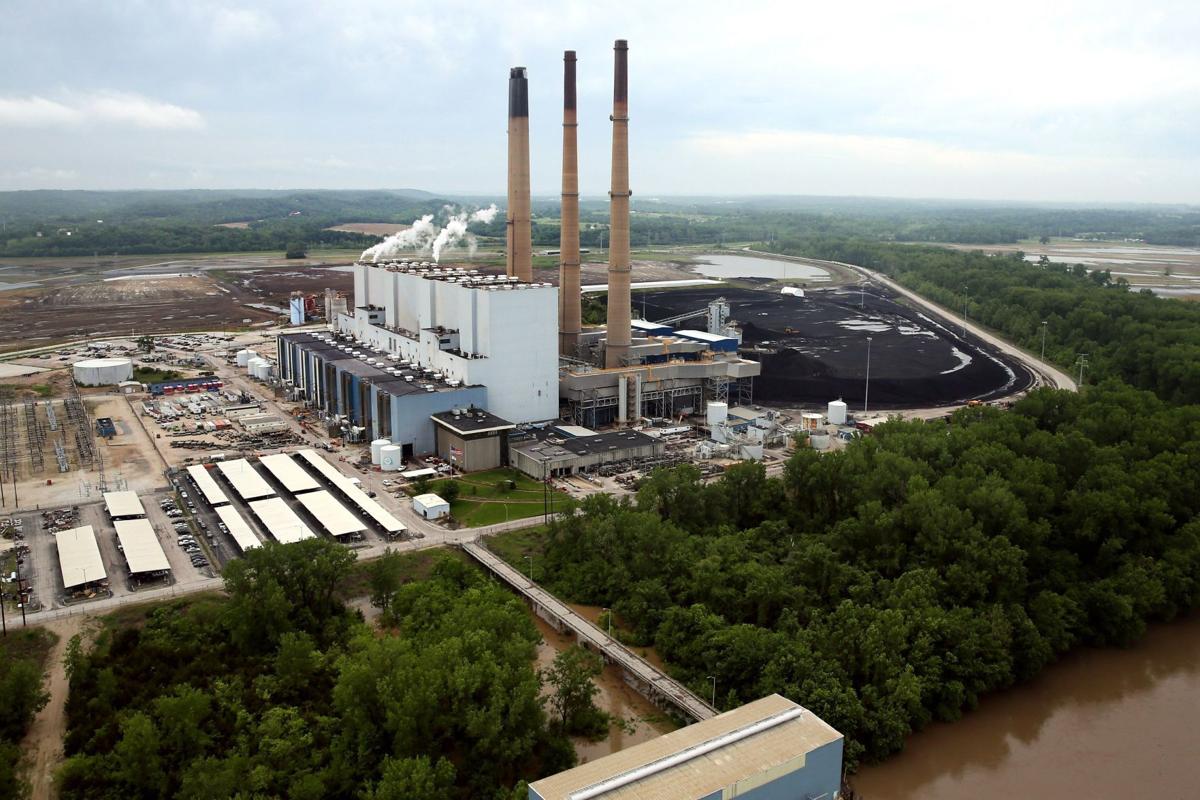 ST. LOUIS — Stifling summer heat is likely to linger this month, with temperatures exceeding historical averages across the U.S.
All that heat can put significant strain on the electric grid — a strain that may occur more often in the future thanks to climate change.
In fact, in the next 10 to 20 years, rising temperatures are projected to stress Missouri's power system more than any other state's, driving up days at peak demand, increasing the frequency of rolling blackouts and making it harder for utilities to cool power plants, according to a report from a top U.S. credit rating agency.
The state sits within a bull's-eye where "heat stress" is projected to rise the most, a change that financial analysts say "increases financial, as well as physical, risk" for power providers.
As a result, Missouri's three biggest electricity providers top a nationwide list of regulated utilities that face the greatest threats from climbing temperatures, says the report issued in January by Moody's Investors Service.
The Moody's report is noteworthy for more than just its findings. Some say its mere existence indicates that investors are becoming increasingly mindful of climate change and its financial impact.
Days before the Moody's report came out, the CEO of BlackRock, the world's biggest asset manager, used an annual address to highlight climate change as "a defining factor in companies' long-term prospects," and a catalyst for "a fundamental reshaping of finance." Around the same time, internal research documents from JPMorgan Chase — the globe's largest financial backer of fossil fuel companies — identified climate change as both a dominant driver of economic risk and a possible existential threat to society "as we know it," The Guardian reported.
While climate change puts new kinds of strain on virtually any type of industry and infrastructure, the U.S. power sector could be especially vulnerable. In recent years, outages triggered by wildfires and hurricanes have helped illustrate the industry's heightened risks in a warming world.
Rising temperatures pose their own risks for producers, consumers and the transmission system itself.
"Extended heat waves can stress the grid with a higher number of peak demand days due to the heavy use of air conditioners, refrigerators and other cooling devices," the Moody's report states.
"Heat stress can also result in power curtailments, rolling brownouts or blackouts," it adds, pointing to threatened cooling capacity at power plants if their available water sources become too warm, as well as energy losses as transmission lines become less efficient in hot weather.
Between 2030 and 2040, the report concludes, such problems could be increasingly common for Missouri's electrical power system.
Handling the heat
Ranked in order of their vulnerability to heat stress, the at-risk Missouri utilities are St. Louis-based Ameren, Empire District Electric Co. in Joplin and Evergy, headquartered in Kansas City. Outside of Missouri's patch of the Midwest, the report said only a part of southern Florida matched the highest levels of worsening heat stress.
Moody's sees the projected change facing Missouri utilities as a "red flag"-caliber leap in heat stress, which the report measures by the relative increase in "cooling degree days," when air conditioning is needed for comfort from the elements.
The report's determinations of risk from heat stress are based purely on climate projections, as opposed to the conduct or management decisions of specific power companies.
"It's not about individual utilities," said Jairo Chung, a senior analyst at Moody's, in a February interview. "It's the areas or the counties they happen to serve."
When asked about the report, Missouri utilities such as Ameren and Evergy pointed to recent spending on grid reliability as examples of their preparedness.
"We are investing to strengthen the power grid that serves our customers, using reliability and load data to prioritize projects," Evergy said in a statement to the Post-Dispatch. "While heat resiliency is not always the specific driver of these projects, newer equipment and materials bring that benefit."
Ameren similarly touts its reliability metrics and "robust" infrastructure spending as evidence that it can handle the heat, now and in the future. On a quarterly earnings call in February, the utility announced plans to raise infrastructure investments to $7.6 billion over the next five years.
Ameren's grid modernization plan includes renewable energy projects, "smart switches" to reduce the severity of outages, and thousands of storm-resilient utility poles.
Additionally, the company says it has gauged its climate risk — pointing to both its creation of an internal team and a public March 2019 risk strategy report focused on the subject.
"Climate changes that we're seeing are definitely not lost on us," said Gwen Mizell, Ameren's vice president of sustainability and electrification. "Climate risk is a major, major focus for us and those in our industry."
Rising heat
The mapped data in the Moody's report were furnished by an affiliate called Four Twenty Seven, which described them as localized applications of the global climate models used by NASA and the United Nations' Intergovernmental Panel on Climate Change.
Some climate scientists, though, voiced skepticism about the report's illustration of Missouri and some surrounding areas as places that would be uniquely challenged by rising heat.
"I'm not sure why they would kind of single out the Missouri area," said David Easterling, a senior climate scientist for the National Oceanic and Atmospheric Administration. "I don't quite understand why they would be saying that that area is any more vulnerable than other parts of the country."
But some say that Missouri's grid — and its energy users — are already feeling effects of rising heat.
"As we get hotter and hotter summers, we're already seeing that our electric bills are going up and up because we're using more air conditioning," said Ashok Gupta, a Kansas City-based senior energy economist for the Natural Resources Defense Council.
The Moody's report emphasizes that investment in infrastructure and other measures is crucial to minimize climate risks. Outside experts agree, saying that costs of adapting the electric system for a hotter future will depend on how quickly investment begins.
"You can't solve this problem by waiting around," Gupta said. "The sooner we start, the less expensive it's going to be."
He said the system's resilience can be boosted by moves such as promoting energy efficiency, encouraging customers to use appliances during off-peak hours, improving transmission and accelerating the transition to distributed energy sources, such as solar power.
Both Gupta and Moody's analysts said that, in places like Missouri, utility regulators will help shape the response to climate change.
"They can't just do this on their own in a regulated state like Missouri," Gupta said. "For this transition to happen faster, the regulators are going to have to come along."
At least in the near term, he notes, regulatory decisions could be complicated by the coronavirus pandemic, which has left many low-income people struggling to pay electric bills.
Regardless of how regulators address the issue of climate resilience, the Moody's report makes clear that financial markets are already paying attention.