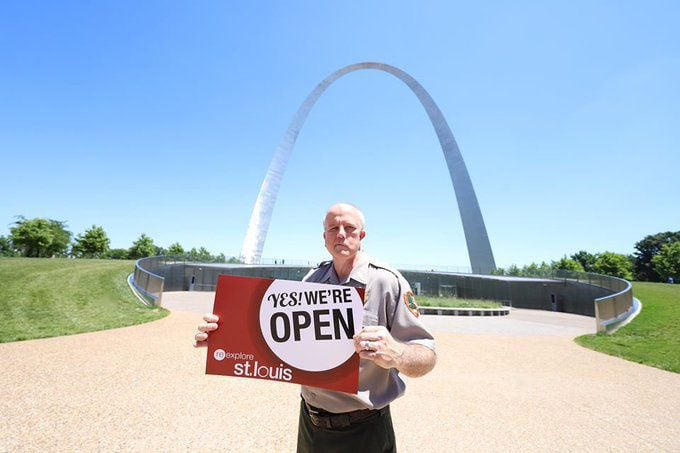 ST. LOUIS — As attractions are reopening and bars and restaurants are coming back to life, the region's marketing arm hopes to convince locals to become tourists in their own town.
The effort is part of a new campaign from an agency that has seen travel and hotel taxes drop sharply. A staycation or two, officials hope, can help the region's attractions and hotels as travel slowly begins to return.
Hotel rates are, after all, pretty good right now.
"If there's ever been a time to support the home team here in St. Louis as a resident, we think it's right now," said Brian Hall, chief marketing officer of the St. Louis Convention and Visitors Commission, known as Explore St. Louis, which is funded in part by hotel taxes.
Hall and other officials unveiled their marketing plan for the next 12 months during a CVC committee meeting Thursday. And, to help model the activities they hope to convince tourists and locals to once again return to, they held that meeting in person for the first time in three months, at the America's Center convention complex downtown — with masks and 6-feet of space, of course.
With many of the region's attractions concentrated in the city, officials such as St. Louis Health Commissioner Fredrick Echols will make the final call on when residents can enter large venues again. 
"We really felt like we couldn't ask our customers to come to St. Louis and meet in person if we weren't willing to do it ourselves," CVC chief Kitty Ratcliffe told the board.
The campaign will also focus on leisure travel from people within 200 miles — a driveable distance. And the CVC has already launched a new "Yes, we're open" campaign featuring various attractions such as the Magic House, Gateway Arch and St. Louis Aquarium.
But there won't be the cash this year to fund the commercials and ad buys of years past.
"We can't spend our way into the prosperity that we would all like to enjoy in the future," Hall said. "We're relying heavily on social media."
Hotel occupancy has started to climb back, reaching about 34% last week from a low of 18.6% the last week of March, according to numbers from the CVC. Occupancy when things were last close to normal, at the beginning of March, was at almost 60%.
The CVC will apply to a Missouri Division of Tourism program that has typically matched local marketing campaigns 50-50. That state match is being increased to 90% this year, Hall said, and he is "cautiously optimistic" the CVC can take advantage of the program.
Longer term, Hall sees a big opportunity to attract conventions as the world returns to normal and large events begin to be scheduled again.
"We believe that many large cities that have had massive cancellations can't simply take all that inventory and put it into 2022," Hall said. "There are going to be meetings in the United States that are looking for a home."
Daily updates on the latest news in the St. Louis business community.