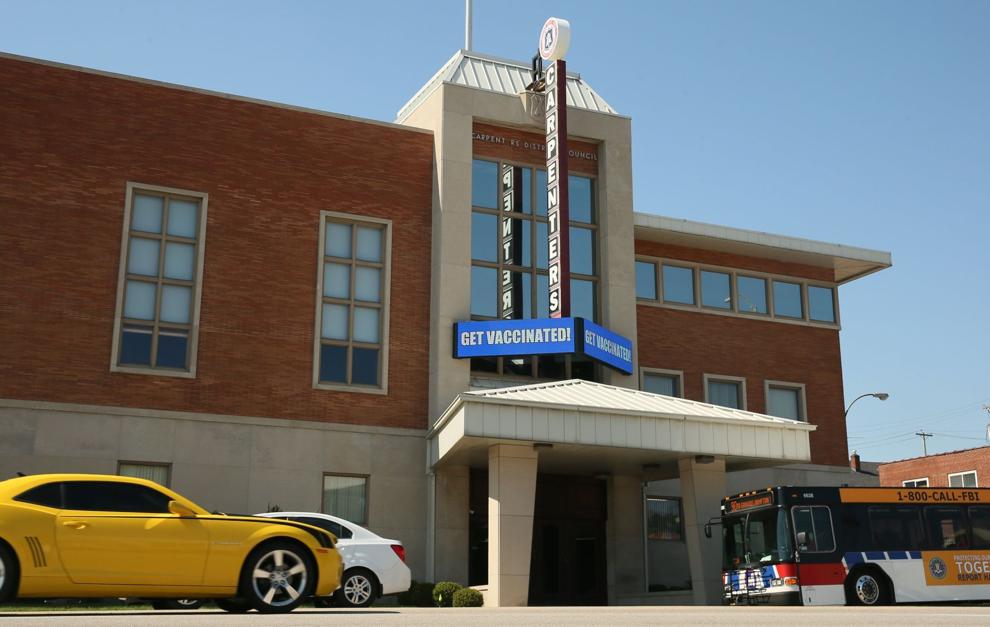 ST. LOUIS — The end of a once-powerful arm of organized labor in St. Louis came swiftly and without ceremony — and largely without explanation.
Top officials of the United Brotherhood of Carpenters, who swept into town late last month to dissolve the St. Louis-Kansas City Carpenters Regional Council, said nothing publicly as they took control of records and let longtime union officials go.
It took three days before any arm of the union acknowledged the Sept. 27 dissolution of the regional council, whose 22,000 mostly construction worker members across Missouri and Southern Illinois gave it considerable clout in area politics and development circles.
Even then, the statement from the Chicago Regional Council of Carpenters, which the Carpenters union put in charge, said little about what precipitated the abrupt move.
The Chicago council's chief, Gary Perinar, sought to put a positive spin on the takeover of the office in St. Louis — the city where the union's founder first began organizing carpenters in 1879. The creation of a larger, 50,000-member regional council, Perinar said, was a "win" for union contractors and members alike, creating "real opportunities to increase our market share."
United Brotherhood of Carpenters General President Douglas McCarron, one of the most powerful and longest-tenured labor leaders in the country, has worked to consolidate the union's disparate locals and councils since he began moving up the ranks over 30 years ago.
But it may have been more than his consolidation instinct. He had recently reviewed an internal report prepared on the operations of the St. Louis-based regional council, according to a Sept. 24 letter from McCarron not released publicly but obtained by the Post-Dispatch. Exactly what was in the internal report isn't known, but McCarron referred to it in his letter terminating the regional council.
He might have seen trouble.
A Post-Dispatch examination of the regional council's financial records shows spending activity and reporting issues that may have raised red flags both inside the union and also with federal regulators, who oversee organized labor.
In one major accounting change, the union made significant recent additions to its payroll reporting, adding dozens of new employees whose salaries appear to have previously been paid by the union's various benefit and training funds. Other employees have been on the union's payroll for years while also reporting compensation from those benefit funds — even as those benefit funds paid the union close to $1 million annually for "salary reimbursements."
Meanwhile, the St. Louis-Kansas City Carpenters Regional Council took on millions of dollars in new debt and maintained a large loan balance to developers, a practice that appears to be inconsistent with practices at other regional councils across the country.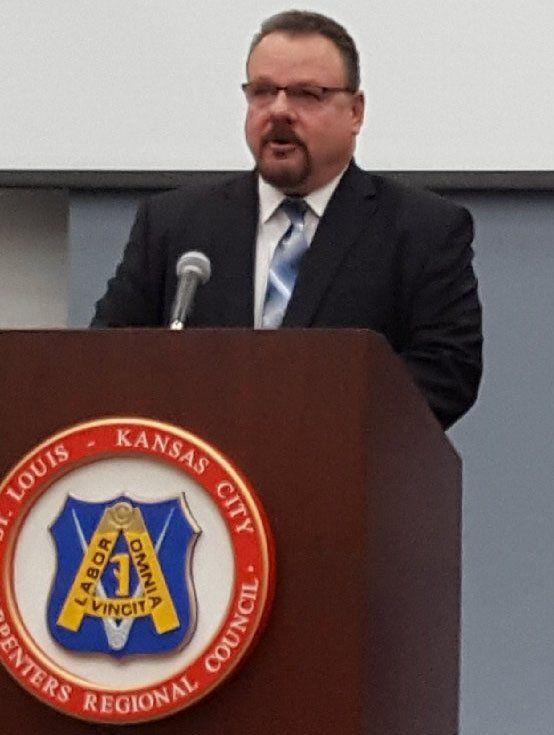 And trouble seemed to be brewing for a union health fund that dramatically expanded benefit eligibility a few years ago, an expansion that went through in the year before now-ousted Executive Secretary-Treasurer Al Bond faced reelection to the regional council's top job. Bond had been in charge since 2015, when he succeeded longtime local carpenters leader, Terry Nelson.
Bond, whose $303,000 in total annual compensation had risen by more than $100,000 since he replaced Nelson, has not returned requests for comment. Union officials won't say whether the newspaper's findings contributed to the decision to oust Bond and immediately shift operations to Chicago.
'Messy' payroll
On Sept. 27, the day its dissolution took effect, the regional council filed its most recent annual report, for the year ended June 30, 2021, with the Office of Labor-Management Standards, an arm of the U.S. Department of Labor that oversees unions.
While top-line expenses appeared to change little from the prior fiscal year, a closer look reveals a major change: The number of employees reported by the regional council payroll more than doubled.
Payroll ballooned 63% to $20.5 million, as the number of people paid by union funds jumped to nearly 240 from just more than 100 the year prior.
The new employees appear to be workers at the regional council's various benefit funds — its health fund, pension fund and the Carpenters Joint Training Fund. They hadn't been reported on the union's financial reports in the years prior, though many identified by the newspaper had been reported as employees of the separate benefit funds on the disclosure forms those funds are required to file with a different arm of the Labor Department.
Michael Hayes, a law professor at the University of Baltimore and the former director of the Office of Labor-Management Standards under President Barack Obama, said unions aren't required to report their benefit fund employees on their annual reports. In fact, many have fought rules proposed to require more disclosure of those employees on their forms.
And some top St. Louis Carpenters union officials, such as controller Julie Laramie, assistant controller Dave Bauer and general counsel Martin Walter, also report being reimbursed from the health benefit fund in past years, while also being on the union payroll. None returned a request for comment.
Hayes said it's "wise" to have separate staffs for benefit funds and the union, or just to outsource benefit fund administration to a third party rather than paying union officials for work they do for the benefit funds. Many unions do just that.
"I'm not saying it's illegal, but it would raise questions," Hayes said. "You really then have to start documenting, if it was ever challenged, how much of your time was spent on the benefit fund and how much was spent on the union. ... Usually you prefer to have separate employees so that question doesn't even come up, or just an outside firm."
And even though some of the union's employees report compensation from both the health plan and the larger union, the St. Louis-Kansas City Carpenters Regional Council for years has reported reimbursing itself for payroll from the benefit funds, to the tune of $1 million a year in 2019 and 2020. That jumped to $1.6 million in 2021.
It's not common practice, though some unions have probably reported reimbursements from benefit funds over the years, Hayes said.
"But, $1 million is a lot for that," Hayes said. "Also the (benefit) funds are paying them? It just — it just seems messy."
If he were still in his union regulator job and saw that, "I'd say, 'I think we have some questions we want to ask.'"
Big spenders
Meanwhile, a type of employee spending on top of salaries — disbursements for official business — suddenly stopped being reported under that category. Extra spending on employees in the most recent report was recategorized as allowances after years of being categorized as official business expenses.
And the amount of spending on nonsalary employee expenses fell nearly 40%, to $400,000 in fiscal year 2021 from $650,000 in the prior year. From mid-2018 to mid-2019, those extra-salary disbursements had jumped some $180,000, to $688,000.
Some employees reported massive expenses in recent years. One, front office manager Deborah Collins, reported $92,000 in "disbursements for official business" in fiscal 2019 and $119,000 in fiscal 2020, far more than her salary in each of those years. She reported no expenses in that category the prior year. And in the most recent report, she reported just $6,400 in "allowances" and a salary of $84,000.
Other clerical workers also reported large payments beyond salaries in the years prior to the most recent report. Kristina Webb reported nearly as much as her salary — $54,000 — in fiscal 2019 official business disbursements. In fiscal 2020, it was $37,000. Vicky Andrews, who worked in accounting, reported $42,000 in disbursements during fiscal 2019 and $26,000 in the year through June 2020. Her allowances dropped to $7,500 in 2021, with a salary of $67,000.
Collins, reached by phone, did not respond to a question about the expenditure attributed to her and transferred a reporter to a voicemail for Laramie, the controller. The other employees did not respond to a request for comment.
What those disbursements were used for isn't clear, but excess spending by unions is facing more scrutiny, Hayes said, in the wake of the United Automotive Workers scandal, where several top union officials were indicted for embezzling dues and using it for lavish spending on liquor, cigars and vacation villas.
In the wake of the scandal, the UAW dissolved its Hazelwood office, which oversaw the union in 17 states.
Health plan trouble
Another challenge the St. Louis-Kansas City Carpenters Regional Council appeared to be facing was the state of its health benefit plan, which was spending more than it was taking in, eating into its assets.
Much of the problem appears to have started when, between April 2017 and April 2018, the union dramatically lowered the age and years of service required for eligibility — a move that boosted the number of fully eligible employees to nearly 3,600 from just 300, according to financial reports filed with the Labor Department.
Bond, who is the plan's administrator and sits on its board, was up for reelection as the regional council's president in 2018, just as the expansion began to benefit more of the union's members.
But those new benefit obligations began showing up quickly, ballooning total plan obligations some 50% to $471 million as of April 2020 from $313 million just three years before.
The plan, formed in 1953 under a collective bargaining agreement with the Associated General Contractors of St. Louis and the Home Builders Association of Greater St. Louis, is mostly funded with employer contributions but also makes money on its investments. It was growing its assets in 2017, adding $11 million more than it paid out in benefits and growing its funds to some $251 million.
But after the benefit expansion, it began paying out more than it took in. The biggest drop came in 2020, when the balance fell $27.6 million to $216.4 million.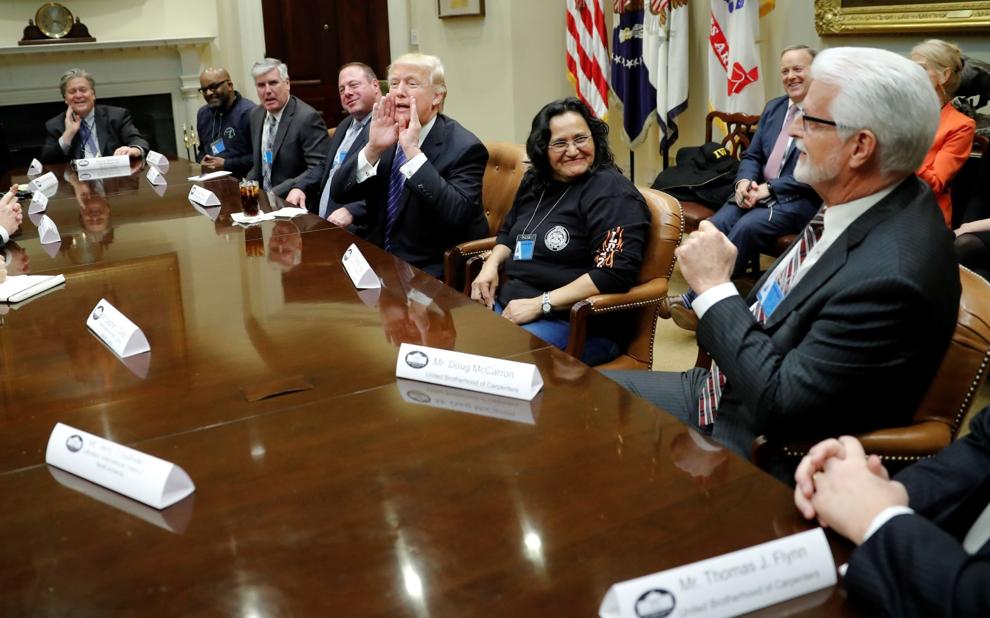 How the shortfall would eventually be addressed, or if it even contributed to McCarron's decision to dissolve the union, isn't clear.
New debt and bad loans
Meanwhile, the regional council's own books began racking up more debt. Liabilities more than doubled in 2021, to nearly $8 million in 2021 from $3.8 million the year prior as the union took out $3.6 million in new loans.
Revenue was dropping, falling about $2.3 million in 2021 to $56 million. A large part of the drop in revenue came from about $4 million less in repayment of loans the union made.
The regional council maintained a large balance of loans to developers and construction companies — a common practice in the industry, used to help union labor win construction contracts despite higher wages paid to the employees.
But the balance of outstanding loans appears larger than most of the other Carpenters union regional councils, which report none or just a few smaller loans.
Some of those loans have been high-profile — the regional council committed millions to help controversial developer Paul McKee's NorthSide Regeneration close on financing for some of its projects in north St. Louis. In its 2021 period, it reported making a $1.56 million loan to the NorthSide Urgent Care project, where NorthSide is building a 19-bed medical facility.
It was the largest loan the Carpenters fund had made in years.
The year before, on its 2020 report, it reported a $1.5 million loan to St. Louis Grocery Group, the company affiliated with NorthSide Regeneration that developed the Zoom gas station and GreenLeaf Market on Tucker Boulevard.
It was the first NorthSide Regeneration construction in the decade since McKee first pitched his massive plan acquiring hundreds of acres of north St. Louis real estate, and it opened in April 2019 to much fanfare, even drawing former Congressman William Lacy Clay to the ribbon-cutting.
Asked why the union would have made a loan to St. Louis Grocery Group sometime between July 2019 and June 2020, after the opportunity to provide union construction jobs had seemingly passed, Joe Dulle, a lawyer for NorthSide, said the council's "funds were used to partially support the startup phase of the store's operations."
In December 2019 the regional council paid $59,034 directly to McKee's firm, M Property Services, for "job targeting." In July 2020, it paid the company the exact same amount — $59,034 — for "pre-development" of a training center.
Dulle, the NorthSide lawyer, said in an email that M Property entered into an April 2020 contract with the council pre-construction services for the training center worth $110,568, to be paid in two installments. The regional council's payments to McKee's firm, which totaled $118,068, included $7,500 for "non-itemized transactions," according the council's records.
Renderings recently released by Clayco executive Bob Clark identify a conceptual "Carpenters Union Training Center" in the NorthSide Regeneration footprint, on the west side of Jefferson Avenue, across from the under-construction National Geospatial-Intelligence Agency headquarters. Dulle said NorthSide is hopeful the union still moves forward with the project.
A new training center project would come shortly after the regional council finished a major new health center on its Hampton Avenue campus, designed to provide some primary care service directly to its members.
Bond announced the center's opening in September 2019, saying it cost $6.5 million. Its federal filings show it paid $4.2 million for the new health center in the 2018-2019 year. It spent another $3.7 million on buildings in 2019-2020. The cost of the wellness center grew to $8.5 million in the most recent report.
In fiscal 2021, spending on construction fell dramatically, as did the amount of new loans it made. But the new payroll from the benefit funds made up the difference, making the former union's top-line spending appear to change little at all.
The regional council's use of the loans spurred interest from the Office of Labor-Management Standards during a routine audit. According to documents and emails obtained by the Post-Dispatch, an investigator asked lawyers for the parent union what its rules were on the loan fund and whether other Carpenters regional councils had similar loan programs to St. Louis.
Attorneys for the United Brotherhood of Carpenters responded by saying they didn't have "guidelines or rules" for the loan funds and would look into whether other regional councils operated similar loan funds.
And it appears the regional council admitted some professional services were provided by its health fund. According to emails obtained by the newspaper, the federal auditor asked in 2019 whether the loan fund had ever made payments to the health fund. Walter, the union's general counsel, responded and said it "periodically reimburses the health and welfare (sic) for the (loan fund's) share of professional fees, such as payroll audit expenses and collection of attorney's fees."
It's unclear why the health fund would provide professional services related to the union's loan fund.
The Office of Labor-Management Standards eventually closed out the audit of the council's 2018 financials in early 2020, citing only minor bookkeeping issues.
A Labor Department spokesman didn't respond to a request for comment, and Hayes, the former OLMS director, said the office doesn't comment on pending investigations. If there is an investigation, it could be referred to the U.S. Attorney, or the department could reach a settlement agreement with the union without filing charges.
"Or they could say, 'look, you merged,'" Hayes said. "'What's the point? You've got all different leadership.'"