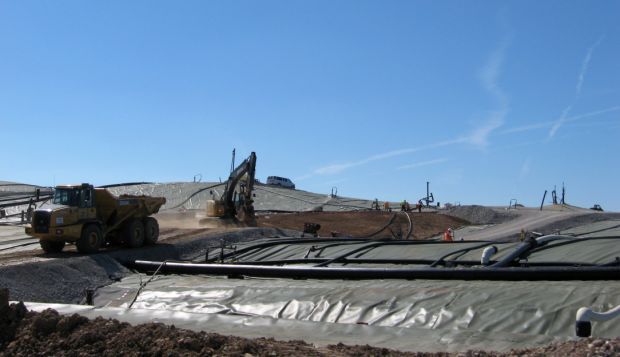 A Pattonville Fire District official says new infrared footage of the Bridgeton Landfill shows higher heat readings beyond the base of an ongoing fire, raising questions about whether the fire is contained.
Assistant Chief Matt LaVanchy said a flyover last week showed two spots of high heat. Located in the north quarry, they are beyond the area where landfill owner Republic Services has said the long-smoldering underground fire is contained.
LaVanchy said the heat signatures are beyond a final line of gas interceptor wells meant to keep the fire in the south quarry. The south quarry is farthest from radiologically contaminated material in some spots of the north quarry and the adjacent West Lake Landfill.
"The thing that I saw and what the Department of Natural Resources saw was the fact that there were heat signatures that did not appear to move in the north quarry," he said in an interview. "I'm not saying there is a fire in the north quarry, but there's definitely heat there, and it has to be coming from somewhere."
Republic Services spokesman Richard Callow said LaVanchy's comments were "another false alarm" and didn't support "any claim of north quarry hot spots."
"There are no changes in the quarry data," he said in a statement. "The site, and particularly the north quarry, remain in a controlled state. Deputy Chief LaVanchy did not raise any concerns to the site operators when he gave the video to them last week."
Missouri Attorney General Chris Koster said last month there was concern about an "independent heating event in the northern part of the north quarry." He had earlier asked for an emergency court order to enforce DNR data collection requests sent to Republic Services in December.
Consultants for the DNR have said that the fire could be spreading before, and Republic argued in court filings last month that the judge should view the state's arguments with skepticism after those "panicky" reports.
Ultimately, a St. Louis County Circuit Court judge ordered Republic to install temperature monitors closer to West Lake. The company already had plans for seven new temperature monitors in the north quarry.
Republic announced last week that nine new temperature probes were operational and the new data would be sent to regulators in its weekly reports.
LaVanchy said he would wait for the new data and then go back in the helicopter for another look. "My prayer is that those heat signatures that we saw on Feb. 4 are no longer there."
Initially, he said, higher carbon monoxide readings in Republic's data submissions prompted him to fly over. Republic's January report to the DNR does show some spots between the north and south quarries with carbon monoxide readings trending higher from September through December.
Callow, in a statement, said that shows the wells are managing the fire.
"There is always a temptation to pick a badly working well each month and point to it, scaring the bejeebers out of people," he wrote. "But, it is 'all the wells' and 'trends over time' that should guide the statements of public officials."