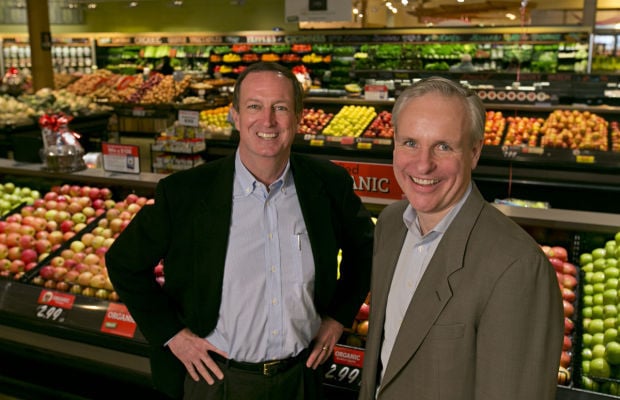 Schnucks, one of the biggest grocery chains in St. Louis, is the target of a boycott, faces a potential strike and has, in recent weeks, managed to anger some local nonprofit groups. Now the company is embroiled in a fight with one of its former top executives.
Former Schnuck Markets president Anthony Hucker has filed suit against the chain and CEO Todd Schnuck for breach of contract, alleging he was terminated without cause after he was offered the CEO job at Save-A-Lot a year ago.
In the lawsuit pending in St. Louis County Circuit Court, Hucker accuses the Maryland Heights-based company and Todd Schnuck of intentionally interfering with his employment prospects after Schnuck refused to waive a non-compete agreement Hucker signed when he was hired.
After he was offered the CEO position at Earth City-based Save-A-Lot in October 2015, Hucker alleges that he approached Todd Schnuck, asking him to waive his non-compete agreement. Save-A-Lot, which is owned by Eden Prairie, Minn.-based SuperValu, has more than 1,300 stores in multiple states.
After his meeting with Schnuck, Hucker alleges he emailed Schnuck to say he was willing to remain at Schnuck Markets if the company was unwilling to waive the non-compete agreement.
"Todd Schnuck never responded, either verbally or in writing," the lawsuit states.
Instead of waiving the non-compete, Hucker was terminated without cause in November 2015, according to Hucker's attorney Jerome Dobson, and caused him to lose the opportunity to be CEO of Save-A-Lot.
"As a result of defendants' tortious interference, (Hucker) has suffered lost wages, benefits of employment, and other employment compensation," the lawsuit filed Sept. 22 says.
A spokesman for Schnuck Markets said the company was aware of the lawsuit but did not comment on pending litigation.
Hucker previously worked in leadership positions at Aldi, Wal-Mart Stores and Giant Food before joining Schnuck Markets' executive ranks in 2013. Founded in 1939, Schnuck Markets has 99 stores in Missouri, Illinois, Indiana, Wisconsin and Iowa.
Non-compete agreements typically bar an employee from taking another job at a competitor, but Hucker doesn't view Save-A-Lot, a discount grocery chain, as a competitor to Schnucks, according to his attorney.
"Our position is they are not competitors," Dobson said. "The people who shop at Save-A-Lot do not go to Schnucks. Schnucks' competitors are Dierbergs stores."
Dobson did not specify an exact figure Hucker is seeking to recover, which includes severance, but said it was in excess of $100,000.
"They terminated him, refused to pay him his severance and they wouldn't release him from his non-compete," Dobson said.
Tucker moved to Florida after leaving Schnuck Markets and earlier this year was named chief operating officer of Southeastern Grocers, the parent company of multiple grocery chains operating in seven southeastern states, including Winn-Dixie and Harveys.
After Local 688 union members' picketing at the entrances of Schnucks stores protesting the layoffs, in August, the grocer ended its long-standing policy of allowing solicitors to stand at its doors. The solicitation ban drew criticism from groups including the Salvation Army that had raised funds for charity for years at the retailer. A Schnucks spokesman said earlier this year that the solicitation ban was not related to the union dispute but, rather, a redirection of its charity efforts from the front of the store to its My Schnucks Card (eScrip) fundraising program.
Schnucks also is in the midst of a contract dispute with its largest union, Local 655 of the United Food and Commercial Workers, which represents thousands of checkers, stockers and other employees. Last month, Local 655 employees voted to reject Schnucks' contract proposal and authorize a strike, and contract negotiations are continuing. The union said Friday that it planned to hold an employee meeting the week of Oct. 24 with an update on contract negotiations.
Lisa Brown • 314-340-8127
@lisabrownstl on Twitter