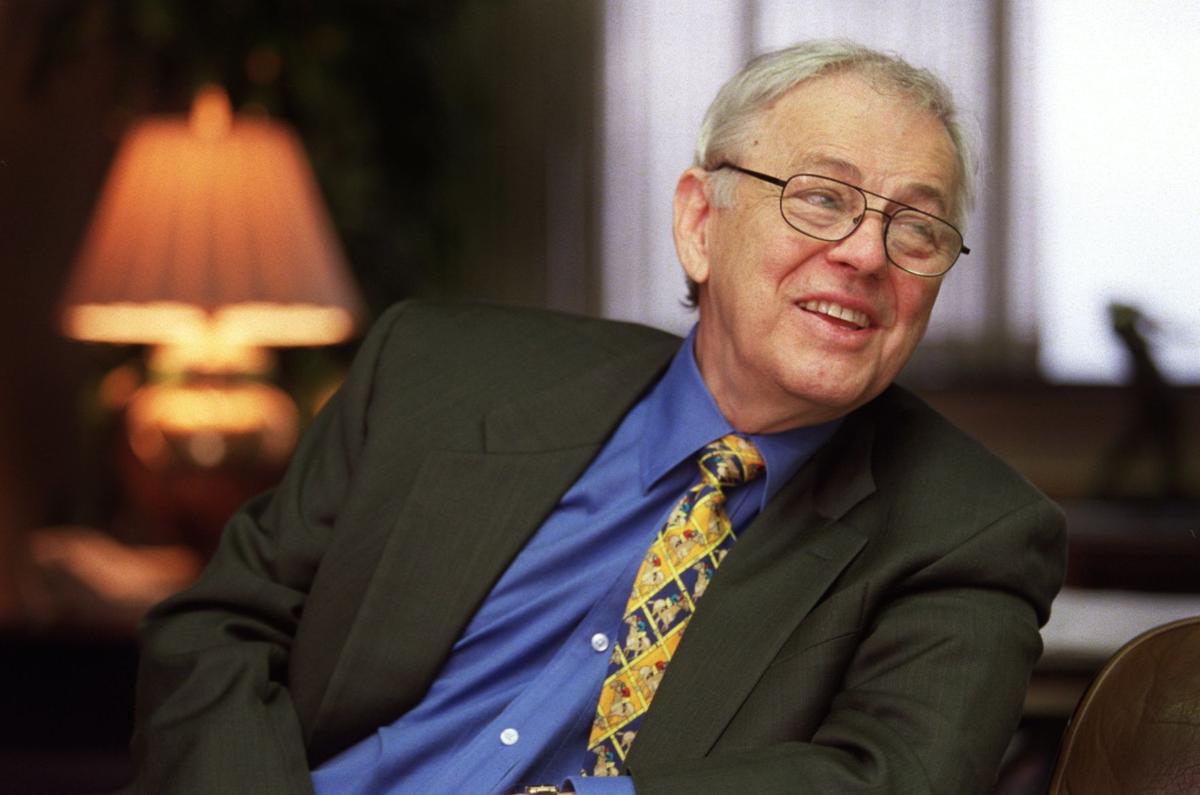 ST. LOUIS — To know Fred Kummer, a hospital builder and founder of the Adam's Mark hotel chain, was to admire and loathe him — sometimes at the same time.
Kummer earned a reputation of being ironhanded with clients and employees alike; though those who knew him said he always wanted people to rise to their potential.
"He was pretty transparent. It was not a secret: You knew where you stood with him at any time," said Wes Morgan, a former vice president of marketing for Kummer's hospital development company HBE Corp.
Mr. Kummer died Friday. He was 92.
Born Frederick Strange Kummer Jr. in New York to a hotel engineer father and a homemaker mother, he grew up in the Hotel Wellington, four blocks from Central Park. He wanted to be an engineer like his father and studied at what is now Missouri University of Science and Technology.
Mr. Kummer worked for several construction companies before forming Kummer Construction Co. in the basement of his Crestwood home. By the 1960s, he started designing and building hospitals and nursing homes and changed the company name to Hospital Building and Equipment Corp., or HBE. He grew profits from $5,460.72 his first year in business to over $600 million in revenue, becoming one of the largest developers in the country.
Mr. Kummer also had a whimsical side and wore comic suspenders for a laugh. His philanthropy included donations to the NAACP, Urban League and Habitat for Humanity.
Morgan, who said he had the "unique experience" of being fired by Mr. Kummer twice, said his former boss had high expectations — "an equal-opportunity hater" — but was also a CEO who surrounded himself with smart people. Morgan last saw Mr. Kummer on April 25 when Kummer asked Morgan to come to his house to talk about his grandson's business.
"I used to say HBE was an organization full of dysfunctional people. But Fred knew the potential of people and leveraged that," Morgan said.
In 1972, Mr. Kummer bought his first hotel in Charlotte, North Carolina, which became the Adam's Mark hotel chain, named after Adam Mountain in Colorado and the Marker, a restaurant in the Charlotte hotel. The downtown St. Louis location opened in March 1986. Kummer sold the hotel chain beginning in 2003.
The chain of 24 properties was rocked by claims of racism starting in the 1990s that led to a $5 million award to two former hotel managers in St. Louis. A federal jury agreed they had been victims of discrimination. The amount was reduced on appeal, but testimony in the trial indicated unfair treatment toward Black guests and employees.
In 2001, the company agreed to pay out $1.1 million to settle allegations that the Adam's Mark in Daytona Beach, Florida, discriminated against Black guests.
At the time, Mr. Kummer acknowledged discrimination and vowed to "work on it every day."
"I respect people for what they are," he said during a 2001 Post-Dispatch interview. "There's no question about it, America is fundamentally unfair. The system is stacked against minorities. I don't know how any thinking person could not think so."
Mr. Kummer continued to stay interested in business and development after stepping down as chief executive from HBE in 2013.
In 2019, he acquired a half-acre of real estate in downtown Clayton from the Gershman family and affiliated entities where he unveiled a $270 million project with luxury condominiums and a high-end hotel. The project was meant to be his last hurrah.
"He knew he was near the end of a storied career but he was determined to cut the ribbon on the (Clayton) project," said Chris Fox, president and CEO of Gershman Commercial Real Estate, which represented the Gershman family in its sale with Kummer.
But by 2020, Mr. Kummer dropped the project and started talks with St. Louis commercial real estate firm Balke Brown Transwestern to sell the property.
"He was very open about the urgency of his situation," Fox said. "He told me several times that he no longer buys green bananas."
Last fall, the business titan and his wife, June, donated $300 million to his alma mater, Missouri S&T — the largest single gift to a university in Missouri history.
The university plans to use the "transformative" funds for a new school of innovation and entrepreneurship, research activities and scholarships for students, according to Mo Dehghani, Missouri S&T chancellor.
Kummer, a 1955 graduate in civil engineering, has said he owed much of his success to his education there.
"My Rolla experience taught me how to think, how to work hard and how to manage my own career," Mr. Kummer said in an October statement.
In addition to his wife, survivors include a son, Fred S. Kummer III; two daughters, Caroline Crosswell and Melanie Brewer; a sister, Gloria Shedler, and sister-in-law Arleen Roettger; eight grandchildren and four great-grandchildren.
A visitation will be held from 4 p.m. to 8 p.m. Wednesday at Bopp Chapel in Kirkwood.