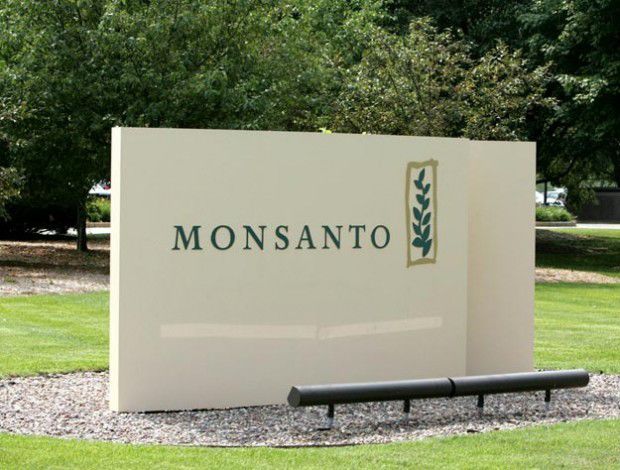 Over its 115-year history, Monsanto has continually reinvented itself through technology and business mergers, marketing products that have both transformed agriculture and fueled heated controversy. Here's a brief glimpse at how the St. Louis-area company grew from modest beginnings into a global biotech giant.
Monsanto is founded as an independent venture of John Queeny, an employee of Meyer Brothers Drug Co. Queeny originally set out to produce saccharin, an artificial sweetener, and named the company Monsanto after his wife, Olga Monsanto Queeny.
Monsanto buys a lot owned by Diamond Match Co. for $75,000, shortly after Diamond's nearby building had burned to the ground.
In January, Monsanto Chemical Works begins advertising in the St. Louis Post-Dispatch.
In December, Monsanto completes construction of a new employee services building. Situated on Lafayette Avenue, east of Second Street, the two-story building provides a lunch and recreation room, lockers and shower facilities for 300 workers at one time.
Now calling itself Monsanto Chemical Works, the company makes a wide range of chemicals and drugs. For instance, Monsanto begins producing aspirin and continues to make its active ingredient — which it sold to producers of aspirin for retail sale — until late in the 20th century.
Monsanto buys 90 acres near East St. Louis, where it is to build a $1 million plant and employ 2,000 people in what is now Sauget.
Monsanto begins its production of PCBs, chemicals used for insulation and cooling in electrical equipment. It eventually becomes the primary American producer of PCBs, accounting for an estimated 45 percent of the global supply.
Monsanto makes its initial foray into agriculture with Santobane, a pesticide that targets corn borers and other insects.
The rise of oil-derived petrochemicals leads Monsanto to purchase Lion Oil Co., which makes ammonia and other products. This acquisition marks the start of a new phase of investment in chemical fertilizers, which become a main part of its business. The reliance on fertilizers ebbs by the 1980s as it gravitates toward other applications of agricultural science.
Through 1969, Monsanto is one of nine contractors to produce the defoliating herbicide known as "Agent Orange," used in the Vietnam War. Agent Orange's chemical mixture included toxic substances such as dioxin and continues to be a health concern for veterans who were exposed to it.
After beginning product development and testing in the mid-1960s, Monsanto starts selling Lasso herbicide. The weed killer is a best-selling corn and soy herbicide in the U.S. for more than two decades.
Only a year after Lasso's release, Monsanto develops Roundup, a glyphosate-based herbicide. The highly effective herbicide would evolve into one of the company's marquee products — especially once aided by future innovations described below — and remains widely used today.
Monsanto halts production of PCBs after studies expose the adverse environmental impacts of the non-biodegradable chemical. A federal ban on PCB production is issued in 1979. The company has retained many cleanup liabilities related to PCBs.
After several years active in biotechnology, Monsanto becomes the first company to alter plant cells in a laboratory and to grow plants from genetically modified cells. Field tests of genetically modified plants would begin later in the decade.
For $2.7 billion, Monsanto purchases G.D. Searle & Co., a producer of artificial sweeteners and prescription drugs. At the time, Monsanto officials said the acquisition aligned with the company's goal of "moving away from the commodity chemical past and making a quantum leap into the future of pharmaceuticals, health care and biotechnology-oriented products."
After undergoing years of regulatory review, Monsanto markets its first biotech product — a hormone known as BST, to be injected into dairy cows to boost milk production.
The company begins to orient its portfolio around biotech seeds, as Roundup Ready soybeans are introduced, providing farmers with seeds genetically engineered to be resistant to Roundup and other glyphosate herbicides. Roundup-resistant technology enables farmers to apply herbicide without worrying about damaging their crops, but also leads to concerns about "superweeds" that develop glyphosate resistance of their own.
Roundup Ready cotton and canola are introduced.
Monsanto spins off its legacy chemical business into an independent company called Solutia, remaking itself as a "life sciences" business. Monsanto retains its top money-making product, Roundup, and refines its focus to artificial sweeteners, drugs, herbicides, pesticides and seeds.
Roundup Ready corn is introduced.
Monsanto merges with Pharmacia Corp., a pharmaceutical company that in 2003 is swallowed up by Pfizer Inc. Pfizer splits off Monsanto as a standalone agricultural company and sells its shares in a public offering.
The company continues to roll out seeds engineered with new herbicide resistance, releasing dicamba-resistant cotton. Dicamba-resistant soybeans would be introduced a year later. For each product, however, the corresponding dicamba-based herbicide still has yet to be approved.
Monsanto is rejected after making a $45 billion offer to buy Syngenta, a Swiss competitor that sells seeds and agricultural chemicals. Syngenta is sold in February 2016 to a Chinese company, ChemChina, for $43 billion.
After months of back-and-forth talks, Monsanto's board agrees to sell the company for $66 billion to Bayer of Germany.
Bryce Gray • St. Louis Post-Dispatch