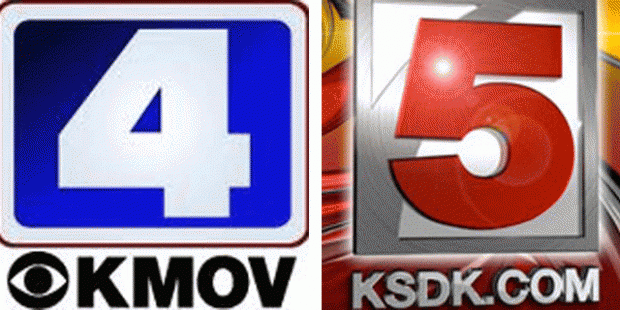 The parent companies of the NBC and CBS television affiliates in St. Louis are combining, but area viewers shouldn't expect to see any immediate changes in their local newscasts.
McLean, Va.-based Gannett Co., which owns KSDK (Channel 5) and 22 other TV stations nationwide, said Thursday that it's acquiring Belo Corp. of Dallas for $1.5 billion in cash, plus the assumption of $715 million in debt. One of Belo's 20 TV stations is KMOV (Channel 4).
The combination, which still must be approved by Belo shareholders and the Federal Communications Commission, would make Gannett the fourth-largest owner of major network affiliates, with 43 stations reaching nearly a third of U.S. households. CBS, Fox and Sinclair Broadcast Group are the top three.
"We are bringing together two highly respected media companies with rich histories of award-winning journalism, operational excellence and strong brand leadership," Gannett President and CEO Gracia Martore said in a call with analysts. Gannett is seeking to diversify its offerings, which include TV stations, newspapers and digital assets.
Gannett, which owns USA Today and more than 80 other newspapers, is paying $13.75 per share, a 28 percent premium over Belo's closing price on Wednesday. Gannett said it expects the deal to close by the end of the year.
The merger announcement sent Gannett's stock up 38 percent, to $26.60, up 34 percent from Wednesday's close. Belo's stock shot up 28 percent, closing at $13.77 Thursday.
In addition to St. Louis, Belo's other stations are in Kentucky, Virginia, North Carolina, Arizona, Texas, Louisiana, Washington state, Idaho and Oregon.
Because of FCC rules that limit the number of TV stations a company can own in a single market and bar, in most cases, the cross-ownership of local TV stations and newspapers, KMOV and four other Belo stations will operate under licensing agreements that vary by market, Gannett said.
David Lougee, president of Gannett Broadcasting, said an independent third-party, Jack Sander of Phoenix, will own and operate KMOV and television stations in Phoenix, Louisville, Ky., Portland, Ore., and Tucson, Ariz. Lougee and Sander are former Belo executives.
(Gannett owns the Courier-Journal in Louisville; the Arizona Republic in Phoenix; the Statesman-Journal in Salem, Ore.; and a half interest, with Lee Enterprises, in the company that publishes the Arizona Daily Star in Tucson.)
Lougee told the Post-Dispatch that KMOV's news and sales operations will be operated independently from KSDK after the sale closes.
"They will continue to be independent," Lougee said of the two stations. "They have a strong broadcast, just like we do."
In St. Louis and Phoenix, those agreements will result in very few shared services, Lougee said.
"Those operations will be owned by another licensee and operated by that licensee, and they will be almost completely independent operations that will compete head-to-head in those markets," he said in an earlier conference call with analysts.
KSDK has been the dominant station in St. Louis almost since television came to town in 1947. In recent years, though, KMOV has edged closer and taken over first place at 10 p.m., with KTVI (Channel 2) also making inroads, especially in early morning time periods. During the most recent ratings sweeps period, in May, KMOV claimed 16 percent of the 10 p.m. news viewers, to 14 percent for KSDK and 10 percent for KTVI.
Belo, which began as a newspaper publisher in 1842, split its TV and newspaper divisions in 2008. A.H. Belo, the independent company that publishes the Dallas Morning News and other newspapers, is not part of the Gannett deal.
KMOV has been owned by Belo Corp. since 1997, when the Dallas-based company swapped a Seattle station to acquire it from Viacom.
Gannett entered the St. Louis TV market in 1995 when it bought Multimedia Inc., which operated KSDK.
Both stations, like many other news outlets, have struggled to keep staffing levels up amid declines in advertising revenue in recent years.
But analysts say the potential for improved financial performance attracted Gannett to Belo.
"They're taking a top quality company (Belo) with good markets and room for profit improvements," Ed Atorino, a media analyst with New York-based Benchmark Co., said of Gannett. "Their broadcast business has been strong and growing."
An increasingly small number of owners control TV stations in the United States as a wave of consolidation has occurred in the industry in recent years.
Media General, which owns 18 TV stations, announced this month that it's acquiring New Young Broadcasting Holding Co., and the combined company will have 30 TV stations. In April, Sinclair Broadcast Group announced it's acquiring Fisher Communications, which will give Sinclair control of 134 stations in 69 markets.
KSDK already produces newscasts for KDNL (Channel 30), the Sinclair-owned ABC affiliate in St. Louis. The arrangement is similar to a local marketing agreement in which KTVI operates KPLR (Channel 11).
"It is a transformational deal that creates the fourth-largest TV station owner and a possible platform for more consolidation," SNL Kagan analyst Robin Flynn wrote in an email about Gannett's acquisition. "The next round of TV station consolidation is coming fast and furious, and the larger deals are getting done faster than most people expected. There is doubtless more to come."
Critics of media consolidation blasted the acquisition and called for stronger ownership rules to protect local journalism.
"It's an end run around the existing FCC rules," Free Press president Craig Aaron said of Gannett's shared service agreements. Free Press is a Washington-based nonprofit group that supports universal and affordable Internet access, diverse media ownership and public media.
Despite assurances of independence, Aaron said in St. Louis, Gannett's acquisition of Belo could lead to "cookie cutter content."