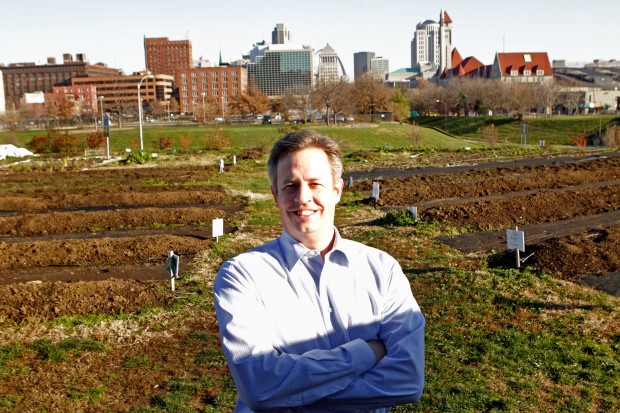 In its 26-year history, Gateway Greening has helped transform the city's landscape, building nearly 200 community and youth gardens, beautifying street medians and venturing into urban farming.
Now the organization has a new leader in Michael Sorth, who is trading his "old" life as an investment banker with Stifel Nicolaus & Co. for a new one in community gardening.
The transition, he says, will be drastic in some ways. Instead of millions, he'll be dealing in smaller sums: Gateway Greening's budget is about $800,000. But he views the position as a prime chance to make the city more self-sufficient, more sustainable, and a greener, more farm-friendly place to live — and eat.
One of the first major projects he will take on is Farm Works, an urban agricultural enterprise on the city's riverfront backed by developer Craig Heller.
Why did you decide to make the change from banking to gardening?
On paper it would seem a little strange if you didn't know me and didn't know my full background. Out of school, I started my career with the speaker of the Illinois House. Then I worked in the (Mel) Carnahan administration, where I ran a couple of tax credit programs. ... I really found a passion for community development and economic development. I wanted to get back to St. Louis, and I took a job with Stifel in 1998. The focus of my job was in public finance, primarily around the use of TIF (tax increment financing) and specialty financing districts. ... I turned 40 this year and thought maybe this is the time to start my second career, and I wanted a job that checked all the boxes. I wanted to be in St. Louis. I wanted to work with the concept of sustainability. I wanted to do something with an active health lifestyle. This job checked all those boxes.
How will you make the transition?
The office and culture is different from a corporate environment, and I welcome it. It's a refreshing change. It's an energizing environment to be in, and it's energizing to be around something I'm passionate about and everybody around me is passionate about. The job is different and the core mission is different. But at the end of the day, we're still talking about urban land reuse.
Are there any parallels between your old job and your new one?
In both, you're leading a project and selling a project. In both cases you design, develop and deliver a good product. You build partnership and consensus to deliver those products and get community buy-in. It's the same if you're working on an investment banking deal with a lot of moving parts. If you're working on a community project to bring healthy food to people, you can't do it alone. You need partners and financing.
Are there any new projects that Gateway Greening is focusing on now? What about Farm Works?
Farm Works is very exciting. It's really a project that will showcase just about every tool of modern agriculture available. We'll have a hydroponic operation which will grow a number of agricultural plant materials in basically what amounts to a soil-less gutter that has water running through it. We'll be able to grow agricultural products on the north riverfront in a repurposed building. There will be an affordable housing component. Aquaponics will likely be a part of it. ... There will be an outdoor growing area. We'll likely keep bees, goats, potentially chickens. We'll also have a food processing area. You'll have products coming right out of this center in the middle of January and going to restaurants and institutions around the city.
Do you grow food yourself?
We've always had a garden — my whole life, wherever we've lived. Growing up, I'd spend a couple weeks with my grandparents in northwestern Illinois, where my grandfather had two acres. That's some of the draw of this (job). I learned so much as a city kid going to a county town, about where food comes from and where we grow it. There are kids walking around St. Louis right now who don't know that potatoes grow in the ground and don't look like french fries. ... I'm excited about working in concert with people who are working toward sustainability; not being transaction driven, but being driven by a common goal of making St. Louis a better place to live and giving all of us a more sustainable way of living.