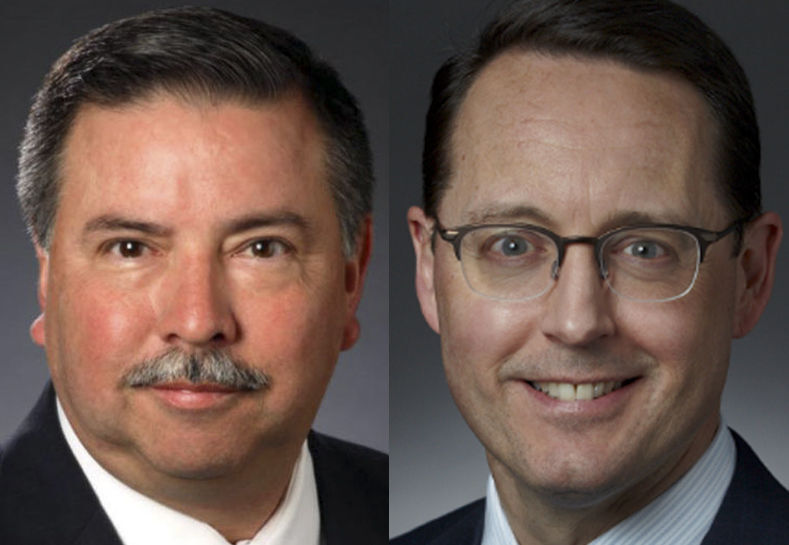 Express Scripts Holding Co., the nation's largest pharmacy benefit manager, plans to continue its growth trajectory, which has been heady the past 15 years. But the company soon will have to achieve it under a new leader.
After more than a decade at the helm, George Paz is retiring as chief executive at Express Scripts. On Wednesday, he'll hand the reins to president Tim Wentworth, who will lead the company that Paz has grown into a behemoth.
Paz, 60, will remain as chairman of the board at the company, based in north St. Louis County.
When Paz first joined Express Scripts as chief financial officer in January 1998, the company had annual revenue of about $1.2 billion. When he was promoted to CEO, revenue had reached $15 billion. Last year, revenue totaled $102 billion.
"Express (Scripts) wasn't as powerful as what it is today," said Vishnu Lekraj, analyst with Morningstar. "When you look at the history of a PBM (pharmacy benefit manager) it was just processing prescription claims at a retail pharmacy.
"He changed the whole strategy," Lekraj said of Paz.
Paz, who first announced the succession plans in September, declined to be interviewed for this article.
The transition may not be without challenges. Paz's successor takes over at a time when Express Scripts is in a contract dispute with its largest client, Indianapolis-based Anthem, which is demanding that Express Scripts pass along billions of dollars in additional savings on prescription drug costs.
The company, which has a long history of jump-starting growth through acquisitions, also has reached a size that limits future deal-making, analysts say. And they add that drugmakers will continue to focus on very specific diseases to drive up prices, another challenge for the PBM.
But Paz has left Express Scripts in an enviable position. Because of its scale, the company is able to outmuscle some of the largest players in the industry.
HUMBLE BEGINNINGS
Express Scripts' ascent mirrors Paz's own life, from humble beginnings as the grandson of Mexican immigrants to the head of a company ranked No. 22 on the Fortune 500.
He and his brother were the first members of his family to attend college, with George Paz studying accounting at the University of Missouri-St. Louis.
Express Scripts is the middle man between prescription drugmakers and employers and insurance companies. Express Scripts negotiates directly with drug companies to get the lowest prices for the nearly 85 million members it represents across the country.
The sheer size of the company, in terms of how many members it serves, is one of Paz's greatest achievements, analysts said.
"It's literally the largest PBM out there," said Brian Tanquilut, an analyst with Jefferies. "Just from a growth perspective, he drove that company to the No. 1 spot."
In 2012, Express Scripts flexed its muscle to win a bitter battle with the nation's drugstore chain giant, Walgreens.
After the two failed to agree on pricing terms, Express Scripts pulled all its business from Walgreens, sending clients to other pharmacies for less expensive drugs. As a result, the drugstore chain's business suffered, and it eventually agreed to Express Scripts' pricing terms, showing the industry that consumers care more about saving money on drugs than sticking with a particular pharmacy.
"It was a calculated risk and calculated strategy to prove the point that the PBM, with their scale and with their buying power, has the power," Tanquilut said.
'VERY COMPETITIVE'
Paz's friends aren't surprised by his success. They say he is an extraordinarily talented man who is serious, compassionate and enjoys competing on the golf course.
"He's very competitive. He didn't get to where he was by not being competitive," said Bob O'Loughlin, chief executive of Maryland Heights-based Lodging Hospitality Management. They both serve on the Logos School board.
Paz, a certified public accountant, transitioned from chief financial officer to chief executive in 2005, and it's that "numbers guy" mentality that helped him drive the company to where it is today, Tanquilut said.
"As early as 2006, George figured out this is a scale business and he wanted to get bigger," Tanquilut said.
In 2006, Express Scripts made a $26 billion hostile bid for Caremark Rx, the No. 2 PBM at that time, whose board had already accepted a bid by drugstore chain CVS Corp. Caremark shareholders would eventually approve the CVS bid.
Express Scripts wasn't that dominant then, said Tanquilut, and for some the move was unthinkable.
But Paz remained committed to growing the company through strategic acquisitions.
Later, in 2009, Express Scripts acquired the PBM business from WellPoint, one of the nation's largest insurers. The deal helped land Express Scripts its largest client, Anthem, a subsidiary of WellPoint.
Then in 2012, Express Scripts acquired rival Franklin Lakes, N.J.-based Medco Health Solutions in a blockbuster deal worth $29 billion that produced the nation's largest PBM.
Now, Paz, the numbers man, turns over the company to Wentworth, who oversaw and managed the most important clients for Medco. Before Medco, Wentworth was in human resources for Mary Kay and PepsiCo.
The transition from a numbers guy to an HR executive says a lot about where the company is today, analysts said.
There are no more acquisition targets, Lekraj said. And, that's probably the reason why Wentworth has been tapped to lead the company now, he said.
When it comes to executing, integrating either complex businesses or client management, sometimes those numbers guys can get a "little lost in the weeds," Lekraj said.
"That's the reason why you've seen them move to a client-facing sales expert for this next phase," Lekraj said.
Paz, too, will be entering a new phase in his life.
Friends say he will continue to serve on local boards, one of which is very close to his heart, the Logos School, which caters to children who struggle in a traditional school environment.
Joseph Conran, an attorney for Husch Blackwell, sits on the school's board, which is chaired by Paz.
Conran said he admired Paz's commitment to the Logos students.
"He has never forgotten where he came from," Conran said. "He cares about people in all walks of life, particularly folks who don't have a lot."
Samantha Liss • 314-340-8017
@samanthann on Twitter