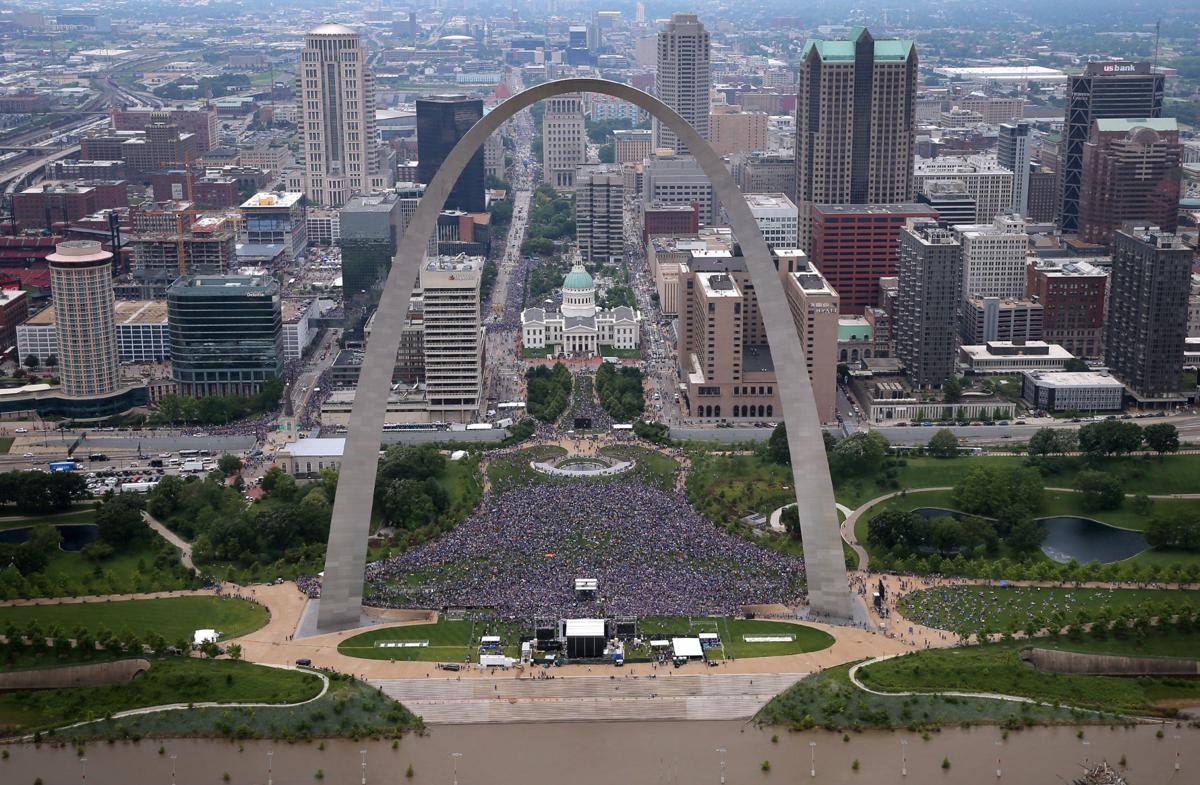 ST. LOUIS — An organization that spends millions of dollars each year trying to keep downtown clean and safe could soon be cut off.
The Downtown Community Improvement District's current 10-year term expires Dec. 31. Despite more than a year of trying, it has yet to convince property owners to give it a new term. And now, the city assessor is holding up the district's attempt to collect its annual neighborhood tax.
Kelli McCrary, the district's executive director, said the organization is confident the city will come down on its side and that property owners will eventually extend its existence.
"Our board and our supporters feel very strongly that we'll get this done," she said.
But a group of downtown residents looking to overthrow the district says that's wishful thinking.
"It's a ghost government that's trying to keep itself in place without the consent of citizens," said Brad Waldrop, a developer who owns parking lots downtown. "It's completely messed up."
The Downtown Community Improvement District is no average neighborhood organization. It collects more than $3 million a year from property owners. Its mission is to help maintain a vibrant downtown St. Louis for the entire region: It pays to train and equip a bike police unit, to hire private security, and to employ a "clean team" to sweep streets, empty trash cans and scrub graffiti. Smaller amounts go toward planting trees and flowers and contributing to city infrastructure projects like a new bike lane on Tucker Boulevard.
Overseeing it all are representatives from City Hall and downtown heavyweights: the Cardinals, Stifel Nicolaus, Spire and other firms.
They've taken their fair share of criticism since the district was established in 1999. There was some uneasiness with the district's longtime policy of turning its budget over to Downtown STL Inc., a private booster organization. A former executive director took heat for trying to police troublesome bars. And a resigning board member once complained publicly that the organization didn't do enough to help small businesses.
But it wasn't until recently that opposition got organized. It started in 2019, when a handful of residents went to talk to district leadership about cracking down on cruising cars, rowdy clubs and violent crime.
Les Sterman, a retired regional planner who has a condo downtown, said he and the other residents left the meeting discouraged. "They pretty much shut us down," he said.
The next year, the pandemic emptied the city center, clearing the way for a summer of well-publicized drag racing, robberies and gunplay — just as the district was beginning the push for another decadelong term.
Sterman and his fellow critics, who by then included major developers and property owners in the Washington Avenue loft and entertainment district, saw an opportunity. Citizens for a Greater Downtown St. Louis launched that summer and began urging property owners to reject the district's renewal petition.
They also began circulating their own petition. Their new district, they promised, would get smart on crime by cracking down on troublemaker clubs and problem properties. It would also do more to support businesses and attract new ones, and follow through on plans to make downtown more walkable and bike-friendly.
District officials brushed off the challenge at first. They told the Post-Dispatch they'd met with Sterman, but disputed his complaints and said it was unrealistic to expect the district to solve all of downtown's problems on a relatively small budget.
Then, this spring, the district released a letter led by Cardinals President Bill DeWitt III warning that downtown was at risk of losing the district. DeWitt urged property owners to reject the opposition proposal. The district sent out another appeal in July noting its plan will cost property owners less than Sterman's.
"We believe that the CID's strategy is the strongest proposal for improving Downtown St. Louis," the letter read.
McCrary, the district's executive director, said downtown will suffer if the district dies.
Bike patrol officers will lose money for their substation, equipment and specialized training. The "Clean Team" will go away. The flowers and other plants growing in greenhouses this fall won't be planted downtown in the spring. "There will be a significant disinvestment," she said.
The city has no plans to rush to the rescue just yet, said Nick Dunne, a spokesman for Mayor Tishaura O. Jones. "It's in the CID's hands," he said. "That's on them to do that work."
He acknowledged the city might have to step in, at some point.
But Sterman said the citizens' group is already talking about a plan to cover gaps while a new district forms.
There's even an offer to house the bike cops' substation for free.