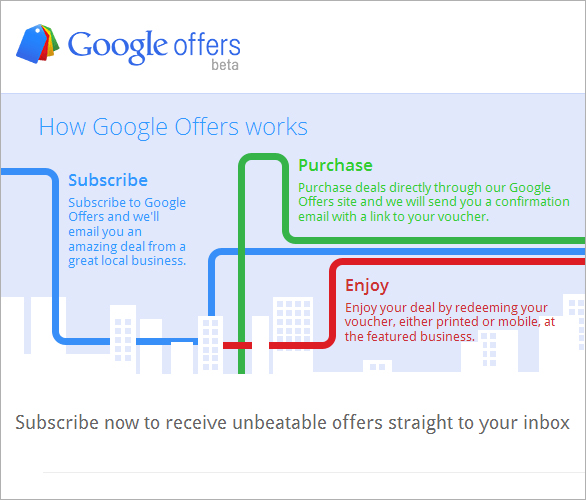 ST. LOUIS • Online search engine company Google is expanding its daily deal program, Google Offers, in St. Louis today.
Six cities, including St. Louis, will debut deals through Google Offers on Tuesday. The other cities included in the launch are Detroit, Long Beach, Fort Worth, Sacramento, and Indianapolis.
Google began offering the service in 26 cities earlier this year. Its first local deal is for 52 percent off food and drinks at Zia's on the Hill Italian restaurant.
The daily deal works by offering a discount by a local merchant in each city. A coupon is sent by email to the purchaser. Google Offers also has an app for Android cell phones.
Mountain View, Calif.-based Google joins a crowded landscape, as numerous other daily deal programs have debuted in recent years following the success of Groupon, which launched in November 2008. The St. Louis Post-Dispatch has its own daily deal site, Today's Deal, on stltoday.com.
In some other markets, Google Offers has expanded to include offers from other deal sites alongside its daily deal. Eric Rosenblum, director of product management of Google Offers, said that expansion will be rolled out in St. Louis early next year.
Rosenblum said Google is using its expertise in search engine optimization to offer customers deals they'll want.
"Consumers want good deals, but they want less spam," he said.
Those who sign up for Google Offers will be able to list the types of businesses and services they use. The offers will be tailored to those responses, Rosenblum said.