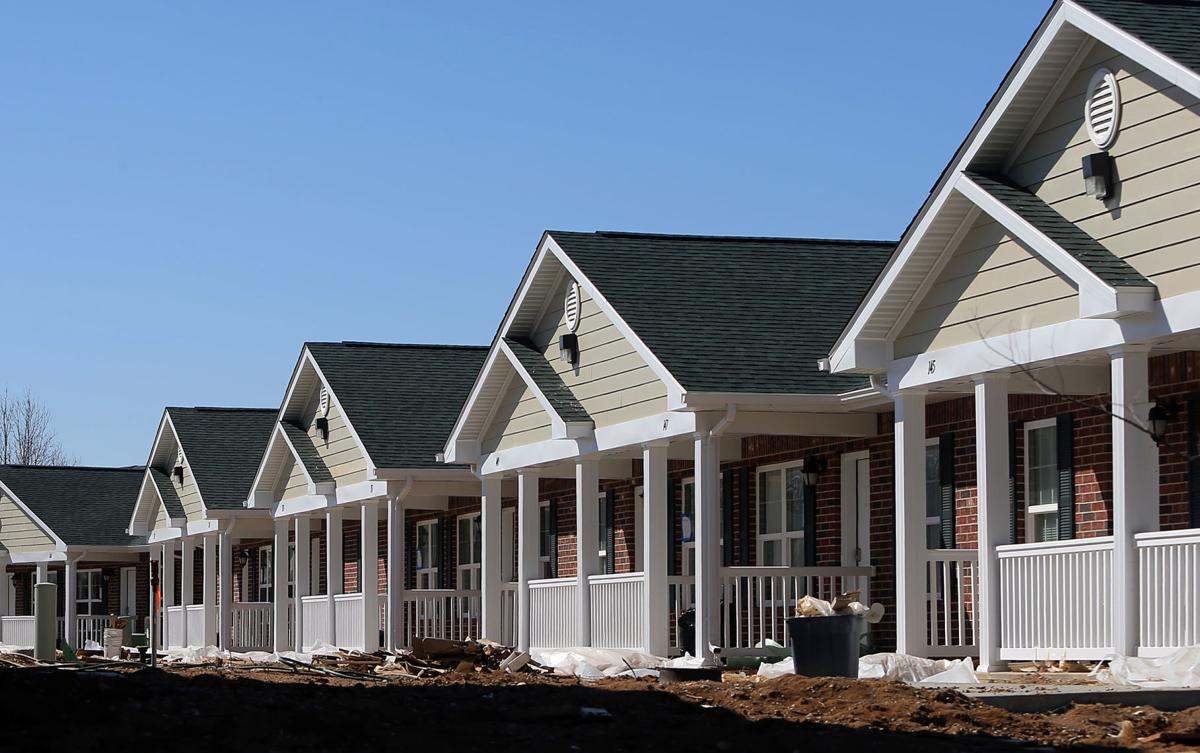 COLUMBIA, Mo.  • The Missouri Housing Development Commission voted Friday to stop issuing low-income housing tax credits, a move that sent a jolt through the development community and likely put in jeopardy a number of projects in St. Louis and across the state. 
But former state senator Jason Crowell, a longtime critic of the state's expensive tax credit programs who was appointed to the commission in September, hailed Friday's vote as "the single greatest step toward tax credit reform in the history of the state of Missouri."
And Gov. Eric Greitens, who voted against the state credits, said the commission's action "saved tens of millions of dollars" and signaled "politics as usual is over."
A proposal Crowell introduced Friday morning in front of a standing-room only crowd would keep the state from matching some $140 million in federal low-income housing tax credits, an annual allocation that Missouri has historically matched. It won support from commissioners wary of losing the federal credits in addition to state credits, but it still needs another vote before advancing. 
For months, for-profit developers and community development corporations that use the credits to finance their projects have been in the dark as to what direction the commission would take. Some feared the program was in jeopardy under Greitens, pointing to his recent appointment of Crowell to the commission. 
What's known as the state's "qualified allocation plan," a critical step in the process of authorizing the state credits, was up for a vote Friday.
Adding to the confusion, Crowell's plan and the meeting materials weren't posted online prior to the meeting, which commission staff said they generally try to do. But they noted there is no legal requirement to post the meeting materials other than the agenda prior to the meeting. Yet the agenda posted on the website before the meeting made no mention of Crowell's draft plan. It was posted immediately following the meeting. 
In years past, the plan had generally been approved in the summer and developers submitted proposals seeking low-income tax credit help by the end of the year. At that point, the commission would select projects to fund. Instead of acting this summer, however, a decision on the plan was delayed until Friday, where it failed on a split 4-4 vote.
A new Greitens appointee, Graves Garrett attorney Alan Simpson, was sworn in Friday morning for his first meeting. Greitens, a member of the commission under state law, made time to call in, casting a vote against the plan himself instead of sending a surrogate. His and Simpson's vote, along with those of Crowell and a representative from Missouri State Treasurer Eric Schmitt's office, blocked the plan.
Crowell, who fought for years to rein in state tax credits as a Republican state senator from southeast Missouri, introduced his own plan, which would accept the federal low-income allocation but keep the state from matching it with its own tax credits. 
"If this (Qualified Allocation Plan) goes down then there are no tax credits at all in the state of Missouri," Crowell said. 
That prospect swayed Commission Chairman Jeffrey Bay and Commissioner William Miller, appointees of former Democratic Governor Jay Nixon, who voted to support the alternative. 
The state tax credit has drawn fire for being inefficient. Developers sell them to finance projects but typically only receive around 50 cents on the dollar, far lower than the price paid for the federal credits.
They're also expensive. A June report from Democratic Missouri Auditor Nicole Galloway found about $150 million in low-income state credits are redeemed a year. Long term, about $1.3 billion are outstanding and obligated to developers, meaning they will be redeemed in future years. Uncertainty over how much is redeemed each year makes budgeting in the state more difficult. 
But the program also subsidizes some of the only developments in the poorest areas of St. Louis, and nonprofits in addition to for-profit developers use the credits for projects. And those in the industry say they're one of the few programs left for affordable housing as federal budgets for other programs have been reduced over the years. The GOP tax plan in Congress may also make changes to the federal credits. 
Republican Lt. Gov. Mike Parson, also a commissioner, urged his colleagues to have a debate on state tax credit reform in the Legislature and not end the program with a commission vote. Developers have already spent money preparing projects for submission, he said, and killing the state program at the commission is "totally wrong."
"I don't believe we're going down this road," Parson said, "other than for political purposes." 
The move drew swift condemnation from industry representatives, many of whom had made the trip to Columbia. 
Ken Nuernberger, whose St. Louis firm ND Consulting is heading a low-income project in Hyde Park using last year's credits and is seeking them this year to rehab a historic school in Moberly, called the vote "a total surprise."
"Without the credit there will just be millions of dollars and far fewer units developed," he said. 
But Crowell said that Greitens' position on the credits and the state's direction was laid out in a report released this summer on the programs and dismissed the notion that withholding all state tax credits was too much too fast. 
"We actually have a governor who is actually committed to tax credit reform," Crowell said.
Aside from casting his vote against the plan issuing state credits and voting for Crowell's replacement, Greitens made no comments about his position during the meeting. In a statement after the meeting, the governor said "we zeroed out this failing program, and saved tens of millions of dollars. No. More. Giveaways."
Greitens said the program started out with good intentions, but he highlighted the low price the credits fetch and its cost to the state. And he referenced past efforts to change the program that have failed in the Legislature because "a lot of politicians fear the insiders in this industry."
"Good affordable homes for people who are working hard to get by are important," his statement concluded. "We're here to work with people across Missouri, on both sides of the aisle, to do what works. But let's be clear: Politics as usual is over."
The politically powerful industry, which includes developers and financiers who buy and sell the credits, is no doubt gearing up for a fight. Public comments still need to be collected on Crowell's plan and a final vote is needed before the commission accepts applications for the federal credits. Pickel, at DeSales, said he wasn't giving up hope that the state may still issue its credit match. 
"We're all optimists," he said. "We wouldn't be in this business if we weren't. We're hopeful reason can prevail."