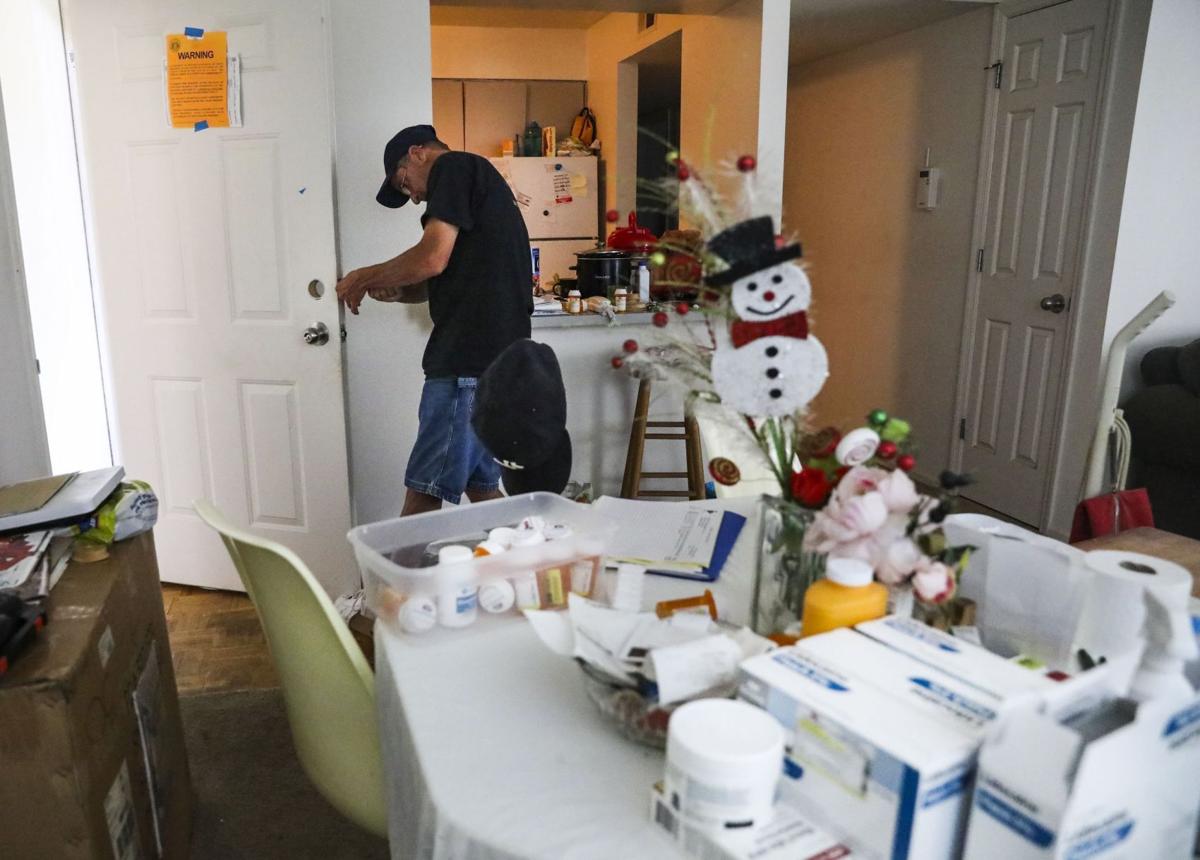 ST. LOUIS — A coalition of tenant advocates on Thursday called on the Missouri Supreme Court to institute a six-month eviction moratorium across the state as the COVID-19 crisis continues and Congress shows no signs of reaching a deal on another round of extra unemployment benefits.
In a letter to Chief Justice George Draper III, a coalition of groups also said they asked Missouri Gov. Mike Parson to make funding available to landlords who cancel rental arrears and stop pursuing evictions through the courts. The group estimated that over 200,000 evictions could be filed in Missouri over the next four months.
Sheriff Vernon Betts is not serving eviction notices after consulting over the weekend with St. Louis Circuit Court Presiding Judge Rex Burlison.
"Some people will move into motels, shelters, and cars, or double up in other housing units. Others will end up on the streets," the letter to Draper said. "All of these circumstances pose great risks to individual and community health, especially as COVID-19 cases continue to spike across the state."
Those signing the letter include local legal advocacy nonprofit ArchCity Defenders, the Metropolitan St. Louis Equal Housing & Opportunity Council (or EHOC) and the Missouri NAACP. Six St. Louis aldermen signed on to the letter, as did St. Louis County Council Chairwoman Lisa Clancy.
A spokesperson for the Missouri Supreme Court did not respond to a request for comment.
ArchCity Defenders is already working to challenge remote eviction proceedings in the courts, according to the coalition.
Sheriff's deputies began enforcing evictions again Tuesday after a moratorium was adopted in March as the coronavirus pandemic seized the country.
In the county, Judge Michael Burton issued an order Tuesday halting evictions until the court reaches "phase two" of reopening, which is based on the prevalence of the coronavirus and testing rates. The court is currently at "phase zero," meaning only the most essential hearings are held. St. Louis County also paused evictions back in March.
But other areas around Missouri have not paused eviction proceedings, tenant advocates said, including those in other large urban and suburban areas, such as St. Charles County and Jackson County, where most of Kansas City is located.
"Eviction is already a fundamentally traumatic event, both a cause and a condition of poverty, and the pandemic only adds more anguish," said Tiana Caldwell, a leader with KC Tenants, one of the key organizers in the call for a statewide moratorium.
But Matthew Chase, a University City-based attorney who represents landlords in eviction proceedings, said the state supreme court doesn't "have the right to simply cancel Missouri law."
"An extended official eviction moratorium would have to be done by the Missouri Legislature," Chase said.
'If people do get their unemployment checks and stimulus checks and the shutdown doesn't last more than three or four weeks in St. Louis, there's no reason people can't pay the damn rent,' lawyer says.
He said judges and sheriff's deputies, which enforce evictions in Missouri, are not even enforcing unlawful possession cases, where a landlord seeks to evict a tenant not for unpaid rent but for property damage or some other crime. That hurts not only his clients, many of which are smaller property owners, but other renters who live in the same building, he said.
"Not all are, but many are abusing the moratorium because they can," Chase said. "People are taking advantage of this, and it is disastrous for the real estate world."