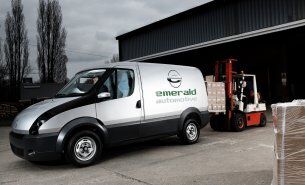 The city of Hazelwood has extended its loan agreement with Emerald Automotive as the electric van maker remains in contention for landing a lucrative contract with the U.S. Postal Service.
Under the extended terms of the agreement, which were approved by the Hazelwood City Council earlier this month, Emerald will have to pay back a $3 million loan it received from the city in 2011, plus interest, in 2020. The previous agreement was set to expire at the end of this year.
Winning the contract, which could be worth more than $5 billion, would help Emerald deliver on a promise it made in 2011 – to manufacture thousands of electric vans in Hazelwood and support up to 300 jobs.
The contract is expected to be awarded this summer, Hazelwood Economic Developer David Cox said.
Emerald had hoped to make vehicles here much sooner, but production plans stalled after the company shifted its funding strategy from pursing federal dollars to private financing.
Meanwhile, Geely in January renamed Emerald as London EV Company USA to consolidate its brand with an affiliated company, the London EV Company (formerly the London Taxi Company).
The London EV Company provided new vehicle prototypes to the U.S. government through its U.S. partner (formerly Emerald) and said it was committed to bringing significant investment and job creation to the U.S.
Gary Marble, director of marketing and communications for the company, said Geely planned to manufacture vehicles in Hazelwood as soon as possible.
Cox said that if approved, London EV Company USA could establish its manufacturing plant in one of several Hazelwood area business parks, including Aviator Business Park (on the site of the former Ford Motor Company plant) or a new 300-acre industrial park planned by NorthPoint Development just north of the existing Park 370 Industrial Park and St. Louis Outlet Mall.