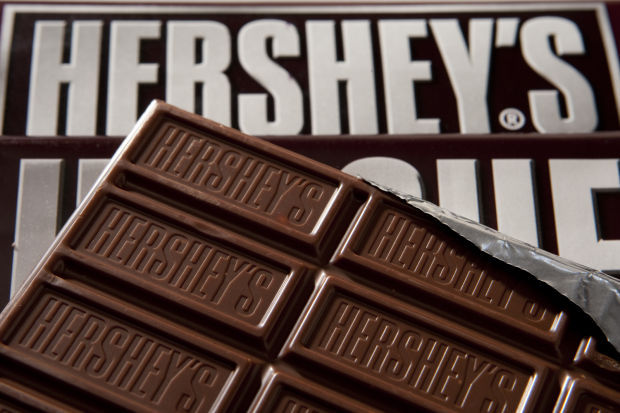 WILMINGTON, Del. • Hershey Co., the nation's largest chocolate maker, was ordered to face a lawsuit by investors seeking to force it to turn over records about cocoa from African farms that may use illegal child labor.
A Louisiana pension fund raised legitimate questions about Hershey executives' knowledge of how much of the company's cocoa, grown in West Africa, may have been produced by child slaves, Delaware Chancery Court Judge Travis Laster said Tuesday. He overruled a master's recommendation that the shareholders' request to see cocoa-supply chain records be denied.
West Africa, including top growers Ghana and Ivory Coast, accounts for about 70 percent of the world's cocoa-bean production. Pressure to manufacture chocolate without harming children may grow as global sales of sweets head toward a record in 2014 and candy makers process more beans, according to data by Euromonitor International Ltd.
The suit's allegations create "a reasonable inference about the possibility" some cocoa Hershey officials bought from Ghana and Ivory Coast suppliers may be tainted by the use of illegal child labor, Laster said at a hearing in Wilmington, Del. Those questions may be "sufficient to warrant further investigation," he said.
The ruling comes as Hershey officials Tuesday said a three-year study showed their "Cocoalink" program has helped farmers in Ghana improve cocoa yields by 45.6 percent. The system provides real-time information via mobile phones about weather conditions and pesticides.
Cocoa prices have risen 11 percent so far this year to $3,014 a metric ton, according to data compiled by Bloomberg. That followed gains of 21 percent last year and 6 percent in 2012. On March 17, the commodity reached $3,039, the highest for a most-active contract since Sept. 6, 2011.
Jeff Beckman, a Hershey spokesman, said Laster ruled on a procedural issue and didn't find the company's West African cocoa-supply system was marred by child-labor problems.
"The court made it clear in its ruling that it was not suggesting there was any actual wrongdoing," Beckman said in an e-mailed statement. Hershey will continue to oppose the fund's "overly-broad and unmerited effort to examine our confidential records," he added.
The Hershey, Pa.-based company, founded by Milton Hershey in 1884, makes candies including Hershey Kisses and Reese's Peanut Butter Cups.
The Louisiana Municipal Police Employees' Retirement System, which holds Hershey shares, sued last year seeking access to the company's records about cocoa purchases from West African suppliers who don't comply with international child- labor restrictions.
The fund contends Hershey officials put the candy company's reputation at risk by relying on supplies produced by cocoa farms in West African countries that flout child-labor laws.
Activists have long pushed companies to fight child labor in the cocoa industry. Common children's tasks on cocoa farms are filling plastic bags for nurseries, breaking up pods and moving plants, according to the Fair Labor Association.
Carrying heavy loads is one of the worst forms of child labor, and using machetes and knives to break pods is hazardous, said the association, a workers' advocacy group, citing non- government organizations in Ivory Coast. About 89 percent of Ivory Coast children were involved in growing cocoa, according to a 2008 government survey.
The fund said Hershey officials refused to ensure all its West African cocoa suppliers honored international child-labor restrictions and said some retailers have voiced concerns over the company's "failure to remedy child labor problems in the supply chain," according to court filings.
The suit provides a "credible basis" to request records about what executives know about child-labor issues in connection with West African cocoa farms, Michael Barry, one of the fund's lawyers, told Laster at Tuesday's hearing.
Hershey officials denied in court papers they buy any cocoa directly from Ivory Coast or Ghana, relying instead on "cocoa- derived products" provided by multinational corporations.
The Louisiana fund's suit offers no more than "suspicion and curiosity" about what Hershey officials know about illegal- child labor in the African cocoa industry, Srinivas Raju, one of the company's lawyers, told Laster Tuesday.