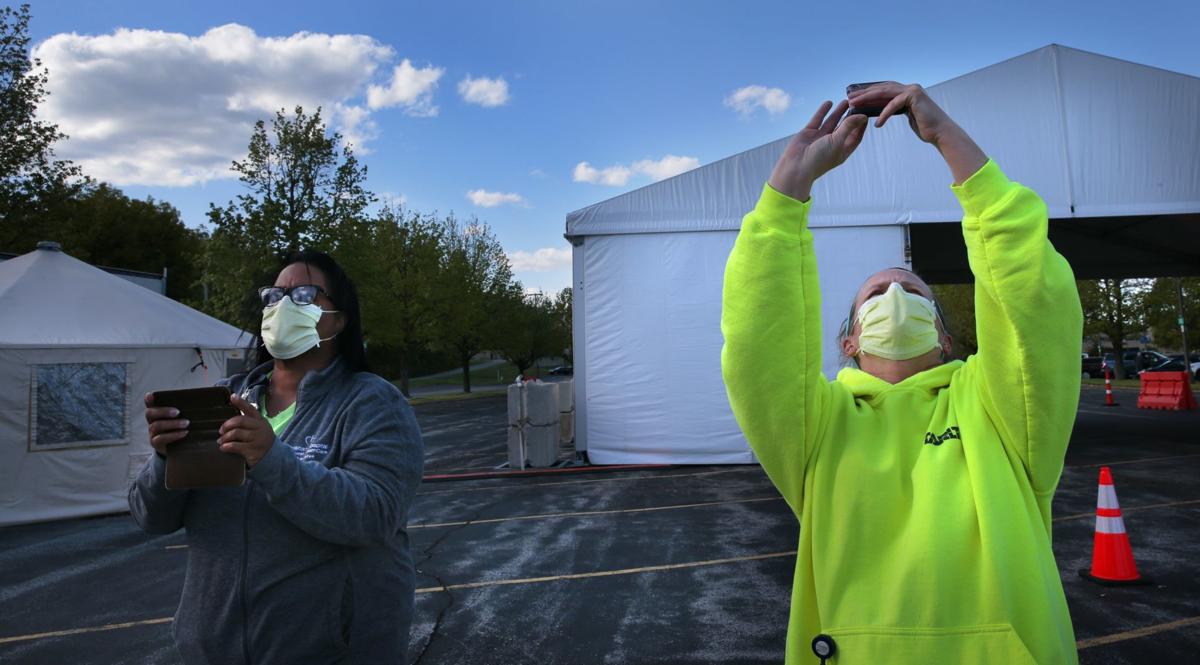 ST. LOUIS — A decade ago, when thousands of the region's traditional manufacturing jobs disappeared, the hospitals kept hiring.
It was the Great Recession. Manufacturing here, on a decadeslong dip, was declining even more. Fenton's Chrysler plant closed. Unemployment was hitting double digits.
But St. Louis had morphed into a health care hub, and hospital systems just kept expanding, buffering the region from the worst of the collapse.
This recession is different.
The region's major medical systems — BJC HealthCare, SSM Health and Mercy — have announced deep cuts: Some are reducing executive pay. Some cutting jobs. All are delaying hires. And all have furloughed employees.
"I've never seen a recession where health care's taken a big hit, in terms of losing jobs," said Tim McBride, a health care economist at Washington University. "But it's totally different now."
Over the past two decades, the region has grown increasingly reliant on health care employment. The sector grew from about 190,000 jobs in 2006 to 202,000 in 2010, according the Bureau of Economic Analysis.
In 2001, it was 10.3% of total employment, according to the bureau. Last year, it made up 15.9% of the region's jobs — the seventh-highest concentration among large metro areas and above the national average of 13.5%, according to regional planning arm East-West Gateway Council of Governments.
"In the past you might say some sectors are going to be more stable than others and that will help maintain overall employment and provide a certain anchor to general economic activity, and health care would have been a good example of that in other recessions," said Steven Fazzari, a Washington University economist and scholar of the Great Recession. "But certainly not this one."
Cutbacks begin
The roots of hospital woes trace to March 18, when the Centers for Medicare and Medicaid Services recommended that hospitals cancel all elective surgeries and nonessential medical, surgical and dental procedures. The next day, the area's major hospital systems said they would.
Some hospitals are in the process of restoring these canceled procedures, but they are doing so gradually. And experts suspect patients also voluntarily have been avoiding hospitals, out of fear of exposure to the virus.
McBride said many are concerned about the impact of a resurgence in cases, as public health restrictions are lifted. And if patients continue to avoid medical offices, even for necessary care, that could also spell trouble.
"If they don't come back, it's going to mean continued financial problems for health care," McBride said.
The long-term effect for health care jobs remains to be seen, he added, but there could be some permanent changes. For instance, the government has improved reimbursement for telehealth (medical consultation via telephone or other technology not related to an office visit). That could lead to heavier reliance on the technology, long term, higher demand for IT positions, and more investments in technology infrastructure.
"I think hotels, tourism, restaurants are still going to take a long time to recover," McBride said. "Health care has the potential to turn around fairly quickly, because people should start going back to their visits."
Cutting costs
The pandemic led to "a perfect storm," BJC said. The system needed staff available for a surge in COVID-19 patients. It needed to buy personal protective equipment on the global market at premium costs. And it had to cancel elective procedures. All of that meant multiple weeks of higher expenses and lower revenues.
SSM Health — which has sites in Illinois, Missouri, Oklahoma and Wisconsin — placed about 2,000 employees, or about 5% of its workforce, on full-time furlough this month. The system also froze executive compensation and stopped all hiring for noncritical positions.
"The pandemic has taken a dramatic toll on the financial health of our organization," SSM said Friday in a statement. SSM said it does not intend to furlough more employees.
Mercy, which spans Missouri, Oklahoma, Arkansas and Kansas, said this month that it would cut executive pay, slow or stop hiring, furlough workers and cut jobs at "every level of the organization."
Mercy has not said how many employees will be furloughed, but CEO Lynn Britton told employees in an internal memo obtained by the Post-Dispatch this month that it would be "thousands."
On Wednesday, 54 workers were furloughed at two urgent care centers affiliated with Mercy South hospital, said one of the employees, who spoke on the condition of anonymity. She said system officials told them the furloughs would be reevaluated at the end of June, and they could be called back if volumes begin picking up. It seemed patients were beginning to return, she said, just as the furloughs were announced.
But for weeks, the number of patients coming to the urgent care facility had slowed to a trickle, and her hours had been cut. She said she understands why the hospital had to make the decision. But she always figured the health care industry was a safe job, even when the economy was bad.
"I'm young, I'm going to bounce back," she said. "But I know a lot of my coworkers have families they're worried about taking care of now. And people are applying for unemployment for the first time in their long careers. It's just a scary process."
Even St. Luke's Hospital, a smaller, local system, said it has furloughed about 300 of its 4,850 employees. They will remain employed with paid benefits, and will receive unemployment insurance.
"St. Luke's will be using reserves regardless of the furloughs given the significance of the financial losses caused by the impacts of COVID-19, as will virtually all hospitals," the hospital said.
Still profitable?
Before the COVID-19 pandemic, 64% of U.S. hospitals had revenues exceeding costs, according to an analysis from the University of Southern California's Schaeffer Center for Health Policy and Economics.
Some hospitals struggled, with the bottom quarter showing margins of -14.5%, on average. But the top quarter of hospitals had sizable, positive margins, of 19.4% on average.
"There are a lot of haves and have nots, but overall the industry has been in pretty good shape until very recently," said John Romley, a health economist at the Schaeffer Center. "During the last decade, we've seen a lot of job growth in the health care sector. It's been one of the leading areas of growth."
St. Louis' three big nonprofit health systems largely have been profitable in years past, including through the Great Recession.
In 2009, BJC posted operating income of $156 million; SSM reported $147 million; Mercy, $27 million. In 2017, the most recent numbers available from the systems' tax-exempt filings, BJC made $70 million and SSM $61 million, profit margins below 3%, according to research from the St. Louis Area Business Health Coalition, which is made up of the region's largest employers. Mercy was the most profitable in 2017, earning $190 million, a profit margin of nearly 10%.
It will take years before tax records are available to measure the impact of COVID-19. But experts say more pain could be on the way.
As other industries shed jobs, laid-off workers could lose the private insurance they historically had received through their employers, Romley said. In six to nine months, he said, more likely will rely on Medicaid, which pays providers much less than private insurance.
"That could be, at least into the medium term, a really hard phenomenon for providers to deal with," Romley said. "This is one of the things I'm worried about most."
Daily updates on the latest news in the St. Louis business community.