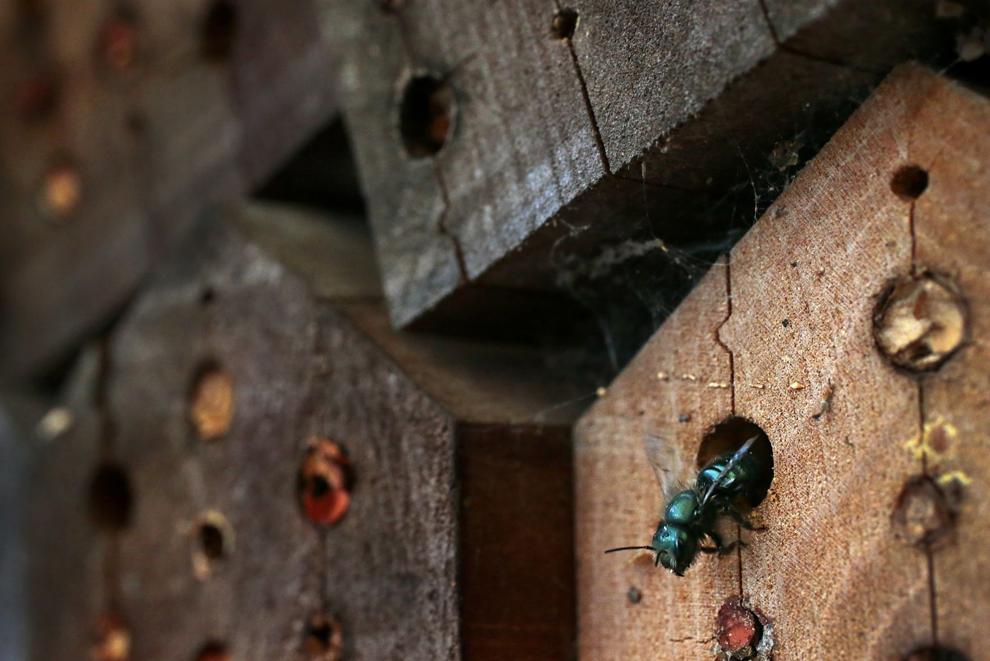 ST. LOUIS COUNTY — A hundred wooden bee houses sit side by side on the porch of a south St. Louis County home, like a tiny, buzzing cityscape.
Scott Klein designed the BeeBarns himself, to give wing to a resurgence of the prodigious pollinators. A few years ago, there wasn't much interest in them. Now, he sells hundreds of bee homes a year, at $20 each.
"I like the idea of us providing them a habitat and taking a custodial position," he said.
These aren't honeybee hives. Klein is part of a growing group of Missourians dedicated to increasing awareness of the importance of native bees to the ecosystem. Missouri claims 450 native bee species; almost half of those have been identified in St. Louis. They are the small-but-mighty workforce transferring pollen among flowering plants — such as tomatoes, sunflowers and purple prairie clovers — so they can produce seeds.
Most native species are solitary. They nest in sandy soil, brush piles and old tree stumps. But climate change, loss of habitat and pesticides are threatening the bees' survival. Bee houses mimic the hollow stems and reeds that some female bees use for their larvae. The artificial nurseries, often made of wood, bamboo or cardboard, have become a more common feature in backyards in the past decade. Missouri native bee homebuilders are selling hundreds more than they have in past years.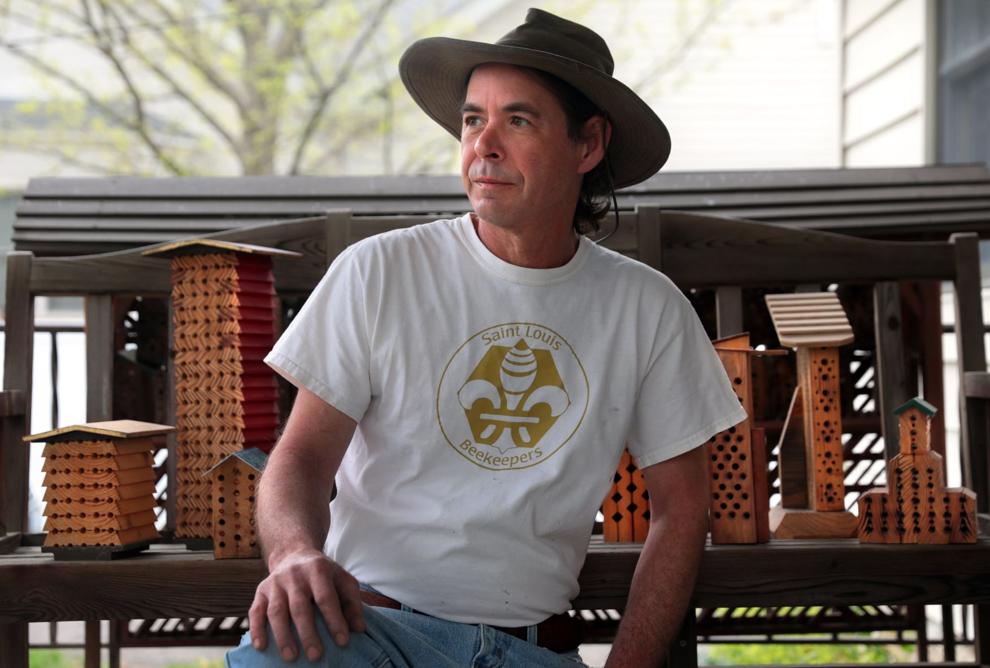 Klein became interested in bees about 15 years ago, when he was expanding his garden. He and his partner, Jane Sueme, joined a local beekeeping association. They started a honeybee hive. But it didn't help their plants, and they couldn't figure out why.
"That led us on a whole path of discovery," said Klein.
Honeybees were the wrong solution. The striped flyers, which are not indigenous to North America, live in colonies. They're more prone to stinging. And they aren't great at pollinating native plants.
"Honeybees get a lot of attention because there's a lot of money associated with honeybees," said Nina Fogel, who works at St. Louis University's Camilo Bee Lab. "They're considered livestock. They're the chicken of the bird world."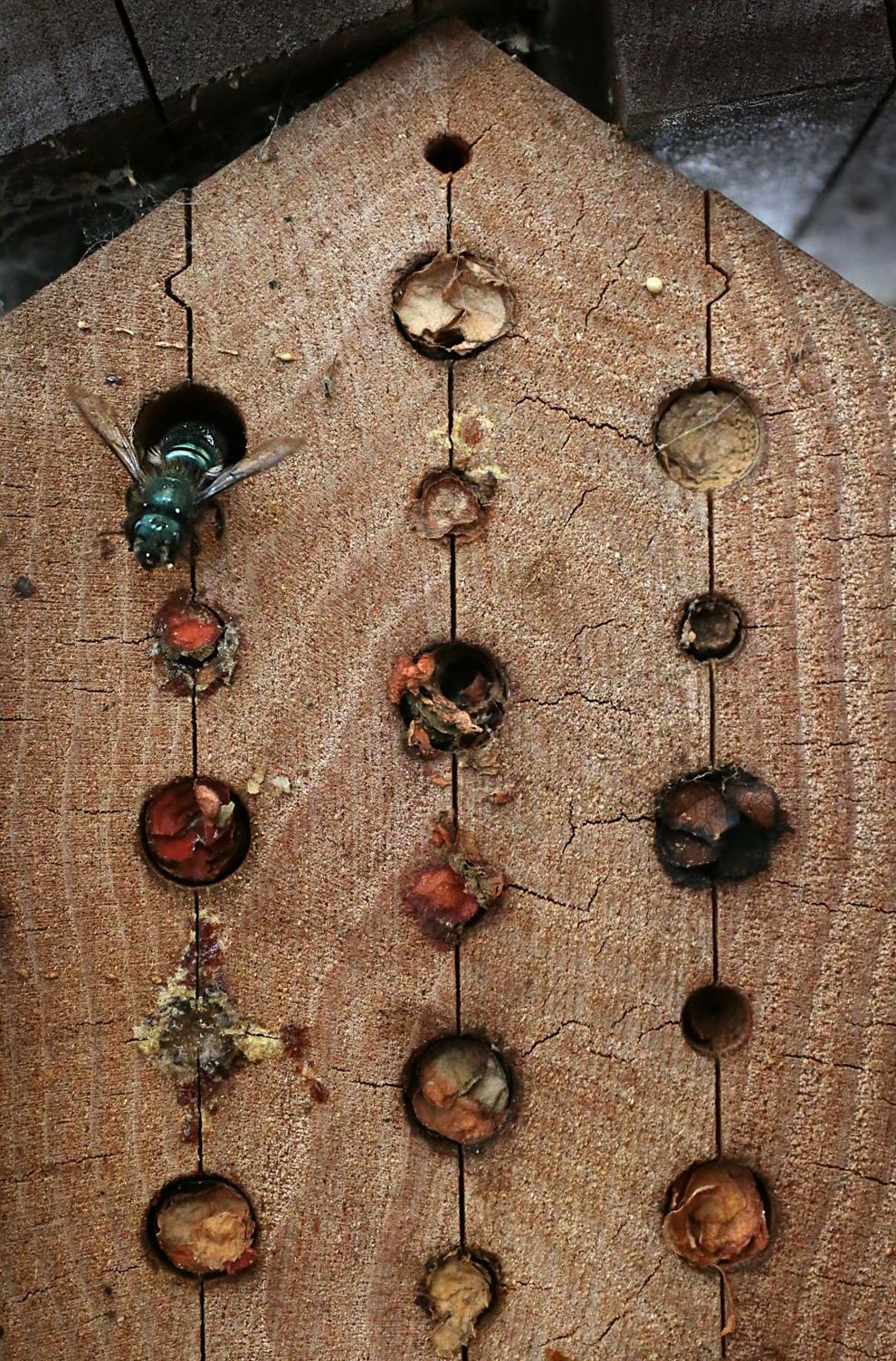 For three years, Fogel has been studying native bees in residential gardens. In that time, she has seen homeowners' attitudes shift from regarding the industrious insects as nuisances to viewing them as assets.
"It's a social contagion," she said. "As more and more people learn about native bees and native birds, they think there's something they can do as well."
After the honeybee confusion, Klein started researching bee lodging. He turned to Ed Spevak, curator of invertebrates at the St. Louis Zoo. The nesting tubes have to be the right length and diameter — about that of a No. 2 pencil. The material needs to allow moisture to escape. And the hotels have to be cleanable — lest mites take over — if they are going to be reused.
Backyard ecosystems
Spevak was happy to share his knowledge. Bees can be a gateway to a more global interest in conservation, he said. They're accessible, their habits are easy to observe, and their success is our success.
"You can get directly involved and be active on the ground," Spevak said. He has kept bee houses — some homemade, some purchased — for years. Even an insect expert is sometimes surprised by what he notices.
One day, he tracked a native bee called a wool carder to a white sage plant in his yard, and watched as it scraped the hair off the leaves — just like carding wool — to use for a nest.
"It looked like a big cotton ball underneath its belly," said Spevak. "It was the first time I had them nesting in a bee hotel. It was really kind of exciting!"
Klein, the BeeBarn maker, settled on a 6-inch-tall poplar block, with a metal roof to protect it from the elements. The BeeBarn has 21 cavities and is carved by Countryside Amish Furniture in Arthur, Illinois. Up to a dozen baby bees can burrow inside each tunnel; they spend the summer, fall and winter feeding from the provisions left by their mother, safely sealed in by a plug of mud or leaves. The following spring, they emerge. They mate, pollinate, and the whole cycle starts again.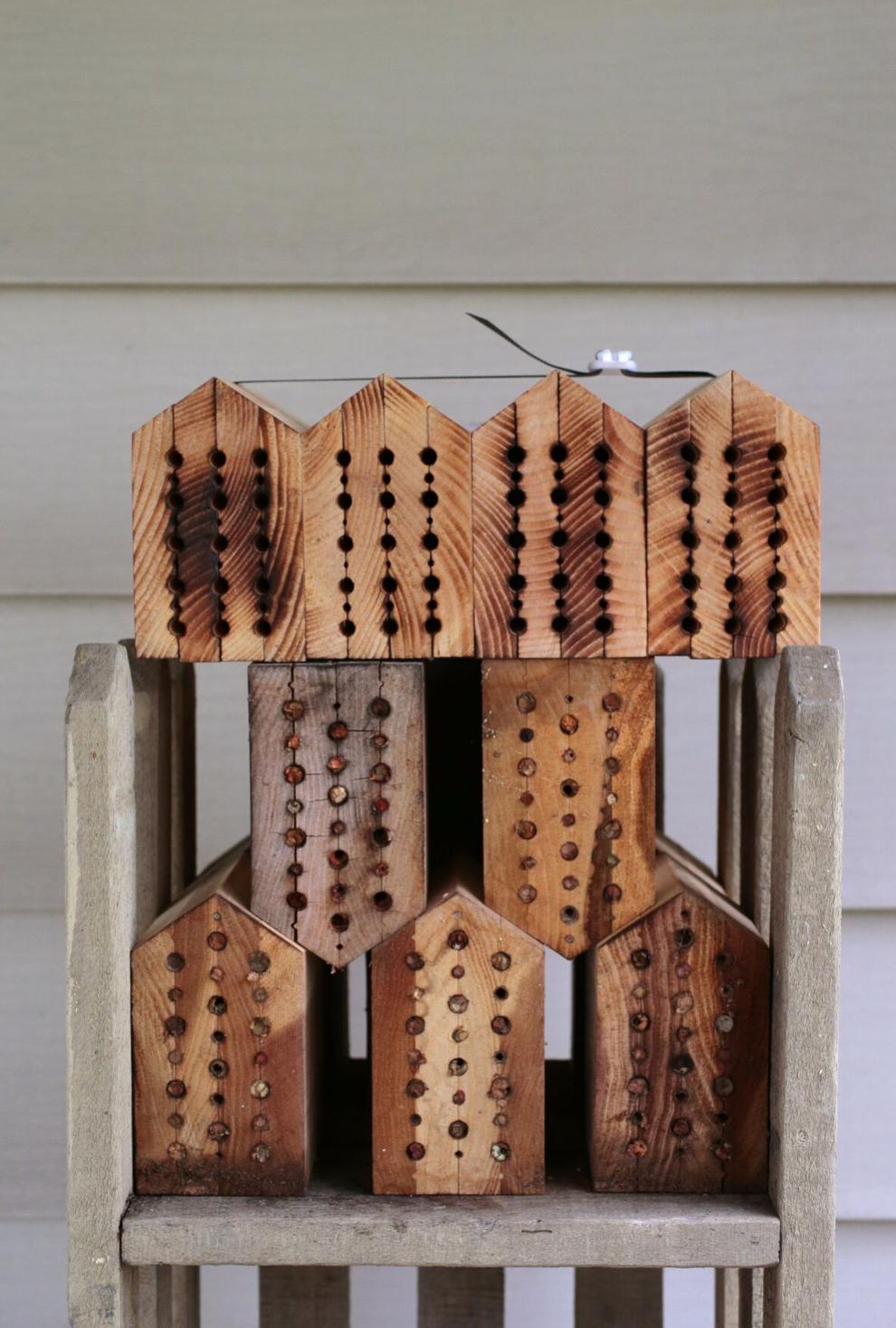 The first spring that Klein kept a BeeBarn at his house, just two of the cavities had residents. But eight years in, Klein's houseguests have multiplied, and his bee estate has grown. He has identified 12 species among the thousands of pollen collectors crisscrossing his garden.
He now sells about 300 of his bee shanties a year, at Isabee's, the Fenton beekeeping supply shop that Sueme opened in 2009, and at Missouri Botanical Garden's annual Best of Missouri Market.
Landscaper Susie Van de Riet of Tower Grove South was one of BeeBarn's first customers. She had turned her yard over to Eastern redbuds, ninebark and Jacob's ladder and wanted to help the pollination process along. Now she oversees three or four bee nurseries each spring.
"There's definitely a lot of bee activity," she said.
The native plants create the right environment for the bees to flourish, said Chris Hartley, an education coordinator at Sophia M. Sachs Butterfly House in Chesterfield.
Pristine yards, with close-cropped lawns, aren't pollinator-friendly, he said. And pesticides are widespread.
"This part of the Midwest has a lot of agriculture that can be rough for pollinators. There's a lot of chemicals in use," Hartley said.
Bee houses can help. But they're finicky, too.
Back to the drawing board
The bee nursery that Ames Chiles of Springfield, Missouri, developed in 2019 won a design contest. But it was impractical: too bulky, expensive to ship and not fully recyclable.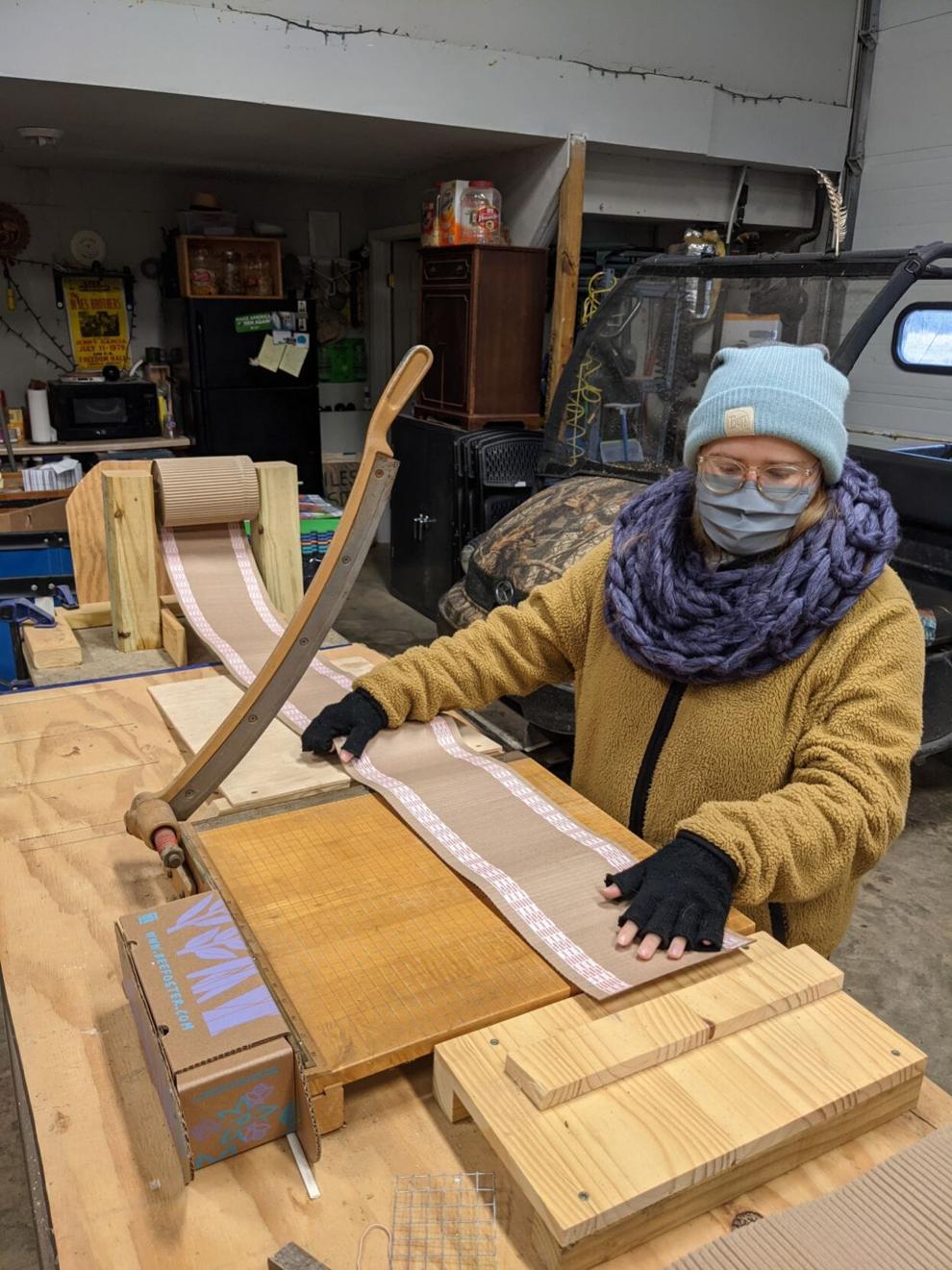 "It was just a pretty lawn ornament," Chiles said. She sold about 50 that year.
She went back to the drawing board, working in a spare building on her family's 200-acre tree farm. She switched to a water-resistant cardboard box, which secures to a wall or tree. Inside, 57 paper straws are bundled together, with enough space left for ventilation. A scrap of blue tissue pokes out of the middle to beckon the bees, and a metal screen covers the opening to thwart potential predators.
The Beestra sells for $20 and is meant to be replaced annually. The used carton can be recycled or composted.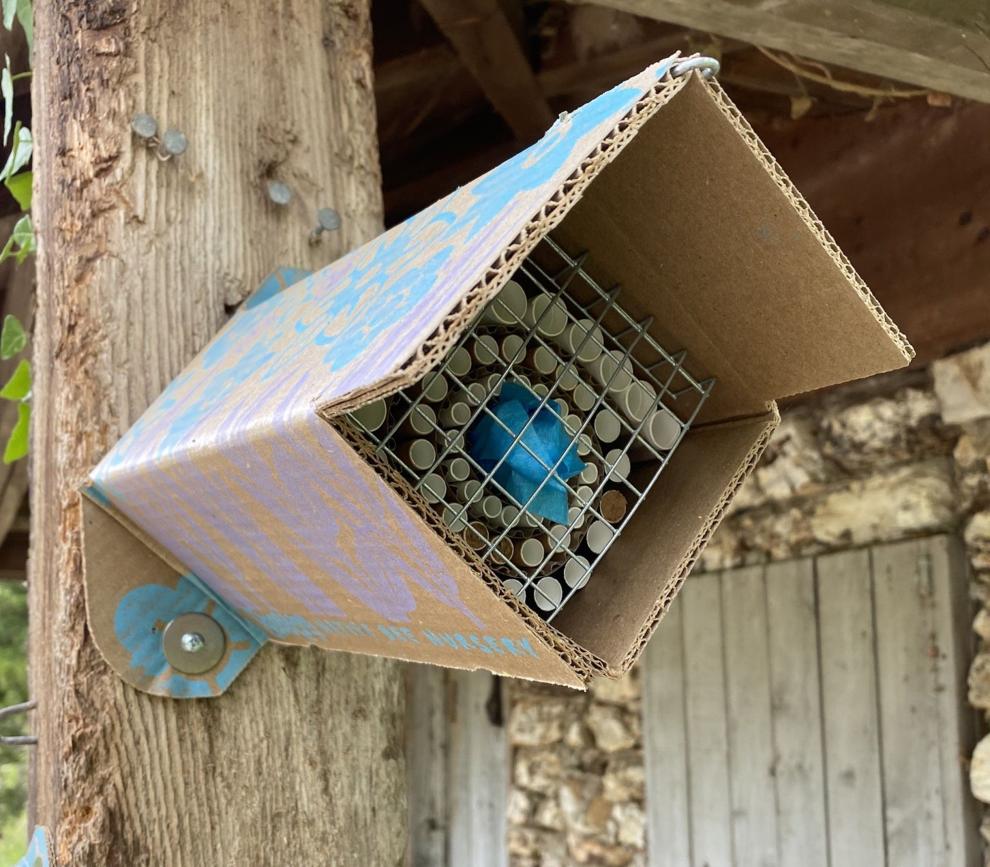 "Our product is supposed to be a little more approachable," Chiles said, for people just starting to pay attention to their backyard ecosystems.
Last year, she sold 280 Beestras. So far in 2021, she has almost doubled that.
The misconceptions haven't disappeared. Chiles still fields a lot of questions about honey, and whether bees are included in the order. But people are learning.
"I had no idea you wouldn't have a hive. I had no idea you'd have a different habitat for native bees," said Connie Langdon of Springfield, Missouri.
She and her husband, Barry, bought a Beestra last year for their yard, which is dominated by fruit trees, vegetables and wildflowers. They spend most of their free time in the garden, tending to their flowers and picking fresh salads for dinner.
"When the bees show up," Langdon said, "we get so happy."