Anthony Rocco Tersigni is one of the most powerful business leaders in the St. Louis area, but his is not a household name.
A thoughtful, low-key executive, Tersigni often leads business meetings with a prayer. The multibillion-dollar organization that he has headed for 10 years also enjoys a low profile in its hometown.
But under Tersigni's leadership, Ascension has emerged in the past decade as the nation's third-largest health care system — acquiring dozens of nonprofit hospitals and immersing itself in numerous for-profit ventures.
That dramatic growth culminates Tuesday with the grand opening in the Cayman Islands of the first phase of a $2 billion "health city" complex — a project that seems far removed from the nonprofit health system's humble origins and its Catholic mission to serve the poor and vulnerable.
Ascension executives say they hope through this joint venture with a for-profit, India hospital chain to learn ways to reduce medical costs.
But the Caribbean investment also illustrates how dramatically U.S. health care is changing. In its rapid-fire evolution, Ascension has become a leading example of a nonprofit health system that often acts like a for-profit, blurring the line between businesses and charities. Its health ministry has drawn criticism for risk-taking and its ties to Wall Street. And some critics have raised questions about its tax-exempt status.
Not so long ago, Ascension was a little-known entity with ties to a religious order called the Daughters of Charity of St. Vincent de Paul — which created schools for orphans and hospitals for the poor, including the first hospital in St. Louis, in 1828.
Ascension was formed in 1999 with the merger of the St. Louis-based Daughters of Charity National Health System and the Michigan-based Sisters of St. Joseph Health System. A wave of hospital mergers in the past 15 years catapulted its journey from a regional hospital operator to the nation's largest Catholic and nonprofit health system.
Its parental sponsor, Ascension Health Ministries, is a corporation within the Roman Catholic Church that reports to the Vatican on its key transactions and must adhere to church directives such as the prohibition on abortions.
Ascension's headquarters, which houses several hundred employees, is located in a nondescript office building in Edmundson, not far from Lambert-St. Louis International Airport. Tersigni and his deputies travel first class and on charter jets to conduct business across the country and overseas, espousing health care's Holy Grail to deliver high-end medical care at lower prices.
In fiscal year 2013, Ascension's network of for-profit and nonprofit subsidiaries reported $17 billion in revenue, yet paid no corporate income taxes on its nonprofit operations and few property taxes, capital gains taxes and sales taxes. Like other nonprofit health systems, it has access to tax-exempt bond financing.
According to its financial statements, Ascension's $30 billion in assets include cash and investment portfolios worth about $15 billion. Its $2.7 billion in nonoperating earnings — such as gains from investments — in 2013 dwarfed its nearly $400 million in earnings from its hospitals.
Ascension is not the only nonprofit health system to have spawned for-profit ventures. Chesterfield-based Mercy Health has for-profit subsidiaries that distribute medical supplies and provide emergency medical services. But industry experts say Ascension's scope of investment in for-profits is unrivaled in nonprofit health care.
Tersigni, through a spokesman, declined to comment for this story.
John D. Doyle, an Ascension executive vice president, said in an interview that the health ministry needs "new sources of revenue to sustain our enterprise. ... Our job as a generation of managers is to make sure our platform is strong for the next couple of hundred years."
That goal, he said, is complicated by the enormous cost and uncertainties of health reform, including lower government reimbursement rates.
Ascension's critics say the health ministry has strayed from its mission.
"Why is this organization charitable? In my view, it's not," said John Colombo, a professor at the University of Illinois College of Law and expert on tax-exempt organizations.
"They provide health services for the poor, but it's not their primary mission anymore," Colombo said. "Ascension has transformed itself over time to a major big business enterprise. I'm not denying that they do some charitable things, but so does Microsoft — and they pay taxes."
Doyle stressed that Ascension provides charity care to the poor and also $775 million in community benefits to the general public. Last year, it provided traditional charity care to the poor that cost $525 million, or about 3 percent of its operating revenue. That rate is comparable to other local nonprofit health systems.
"As a tax-exempt organization, Ascension acts for the public good," Doyle said. "We are a faith-based ministry that's trying hard every day to make sure we have the resources to take care of people."
Ascension's holdings include about 220 tax-exempt subsidiaries, from hospitals and nursing homes to outpatient clinics. Its largest nonprofit subsidiary, Ascension Health, operates 114 acute care hospitals in 23 states and the District of Columbia and has about 155,000 employees. The closest Ascension hospitals are in Kansas City.
Its subsidiaries also include more than 125 for-profit companies that specialize in radiology services, medical equipment sales and rental, outpatient surgeries, endoscopic centers and cardiac care services as well as investment firms, condominium associations, a laundry in Michigan and a local travel agency.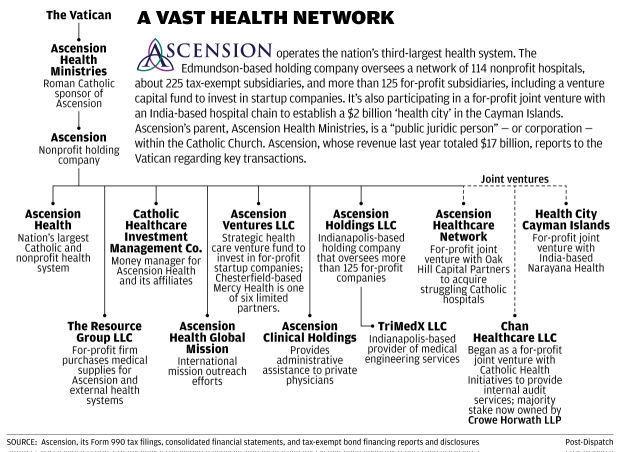 Ascension Ventures LLC., an Ascension for-profit subsidiary, has created venture capital funds on Wall Street to pool $550 million in investments in startup companies. Ascension and its limited partners, which include Mercy Health, have spawned startups that create medical devices and provide health technology services. In fiscal year 2012, Ascension Ventures reported income of $240,000, according to its parent's tax filing.
Olivette-based ISTO Technologies, which is developing products for sports medicine and spinal therapy, was among the startups that Ascension Ventures backed in its first venture capital fund. ISTO uses the cartilage and bone of dead children — made available through organ donations — to develop products for use in the surgery and repair of adult knees and spines.
Ascension Ventures has backed at least two other local startups: Clayton-based Neurolutions, which makes a headset to aid stroke victims; and St. Louis-based Stereotaxis, which makes robotic cardiology instruments.
Susan Feigenbaum, a professor of economics at University of Missouri-St. Louis with research focus in health economics, called Ascension's investment in startups "an incredible gamble. ... You're in effect playing roulette. What does a hospital know about being a venture capitalist? Hospitals are risk-averse institutions."
The goal of the venture funds, Ascension's Doyle said, is "to find and encourage innovation that will make a difference in health care. ... Because of our vetting process, we have a pretty good track record of selecting companies that will succeed."
Ascension also provides medical supplies and services to other health systems.
Indianapolis-based TriMedx LLC, an Ascension for-profit subsidiary, provides medical engineering services to about 1,000 hospitals and reported nearly $117 million in income in fiscal year 2012. Another subsidiary, the Resource Group LLC, which purchases medical supplies for Ascension hospitals and outside clients, reported nearly $23 million in profits that year.
In 2011, Ascension founded the Ascension Health Care Network, a for-profit joint venture with private equity firm Oak Hill Capital Partners to acquire struggling Catholic hospitals. "They don't have the capital to do it themselves, so this spreads the risk," Feigenbaum said. "Venture partners from Wall Street don't want to be partnering with a nonprofit. They want a payout. ... To get capital, you have to do business with the devil."
Tersigni, 64, is president and CEO of Ascension. He has been a health care executive for more than 25 years. In fiscal year 2012, he received total compensation of $4 million.
He and his wife, Flora, own two houses in Frontenac and also own a 7,000-square-foot house in Carefree, Ariz., that overlooks the seventh fairway of the Desert Forest Golf Club.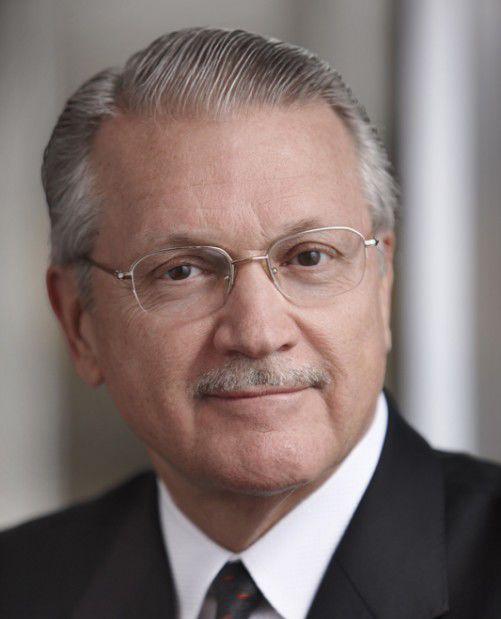 He's known to St. Louis-area business leaders as a generous executive who has given back to the community by volunteering his time to help run local civic organizations such as the Regional Business Council.
"He's a visionary," said Kathy Osborn, the council's executive director. "He's the kind of person who really challenges you, but in a way that you want to meet that challenge."
Tersigni also serves on the board of directors of a publicly traded company, ProAssurance Corp., an Alabama-based property and casualty company that sells professional liability insurance to doctors. In the last fiscal year, he received $88,585 in stock awards and board member fees from ProAssurance.
Since Jan. 1, 2011, ProAssurance has had an agreement with Ascension in which some physicians affiliated with its hospitals are provided liability insurance, according to papers filed at the Securities and Exchange Commission.
Tersigni has spoken publicly of Ascension's goal to provide "person-centered care," but not all of its affiliates may share that goal.
Chicago-based Accretive Health Inc. won early support from Ascension Ventures. Accretive collects debts for Ascension and other hospital systems. In 2012 Accretive was accused of illegal practices at two Minnesota nonprofit hospitals not affiliated with Ascension.
An investigation by the Minnesota attorney general found Accretive stationed bill collectors in emergency rooms, awarded prizes to hospital staffers who collected the most money and fired those who failed to meet quotas. Ascension, which owns a 7 percent stake in Accretive, said it "has policies regarding patient accounts that reflect our commitment to recognize the human dignity of our patients."
This was not a new issue. In 2004, Tersigni testified at a congressional hearing that collection agencies hired by Ascension had at times been overzealous.
"There have been instances, and I believe they are rare, when collection agencies have been more aggressive in their practices than our values would support," he testified. "That there may only be a few instances does not excuse us."
Ascension hospitals have earned high marks in recent years by significantly reducing its number of preventable injuries and deaths, but it does not operate any of the nation's highest-ranked centers for cardiology and heart surgery, cancer, or neurology or neurosurgery.
In 2012, Ascension announced its plan to build and operate a 2,000-bed medical center on Grand Cayman Island in partnership with India-based Narayana Health, a for-profit hospital chain that is known for its low-cost surgeries. Narayana's chairman, Dr. Devi Shetty, is a pediatric cardiologist who has long sought to create a medical tourism center in the Caribbean.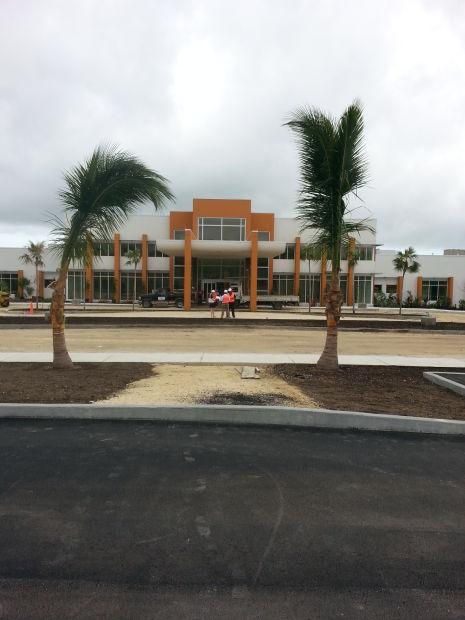 Health City Cayman Islands plans to accept its first patients in March. The initial, 140-bed hospital will offer cardiac surgery, cardiology, orthopedics and joint replacement. Plans call for the for-profit medical center to expand in the next decade and to include specialties such as neurology and oncology.
The new hospital, Doyle said, marks the first time Grand Cayman residents will have access to certain specialized care on the tropical island and also offers an opportunity to help transform U.S. health care.
"What we think we can learn from Dr. Shetty is how we can do (cardiac surgeries and procedures) with more efficiency," Doyle said.
He said there's no plan to refer U.S. patients to the Cayman facility, but "those who seek out higher quality, lower cost options would be welcome."
Leigh Turner, an assistant professor at McGill University Health Centre, has questioned Ascension's choice of the Cayman Islands, which is best known as an offshore tax haven and tourist destination with a high standard of living.
"My guess is that they thought this will be a wealthy enough island with a built-in domestic market, and if you attract other patients from other islands and other countries they think it's a plausible model," he said.
Dr. Tarun Khanna, a Harvard Business School professor, said medical costs in Narayana hospitals are "a tiny fraction" of U.S. hospitals and that low-cost surgeries at the Cayman center should attract uninsured and underinsured patients from the United States. "I'm very optimistic about this experiment."