Updated at 10 a.m. Monday
Housing and Urban Development Secretary Julián Castro announced Monday that the city of St. Louis will receive $29.5 million to redevelop the city's Near North Side neighborhood.  
Other cities receiving grants through HUD's Choice Neighborhoods Initiatives are Denver; Louisville, Ky.; Boston; St. Louis; and Camden, N.J.
"These game-changing investments will breathe new life into distressed neighborhoods and offer real opportunities for the families who call these communities home," Castro said in a statement. "What we do today will leverage private investment and bear fruit for generations of families looking for an opportunity to thrive in neighborhoods that are connected to the economic and social fabric of their communities."
The St. Louis grant is targeted at an area cut off from downtown by warehouses, vacant parcels, and the distressed Preservation Square project-based Section 8 housing development.
Our earlier story, posted at midnight Monday.
Housing and Urban Development Secretary Julian Castro is expected to announce a major federal grant in St. Louis on Monday, securing more federal help for an area just north of downtown that has long struggled with poverty and neglect.
It's the latest federal spending the administration of President Barack Obama has awarded to the region's poorest neighborhoods, including the planned $1.75 billion western headquarters of the National Geospatial-Intelligence Agency.
For a region that seemed to attract more attention from federal officials following the Ferguson unrest, it also may well be the last piece of major federal funding before the Donald Trump administration implements its own, still unclear approach to urban assistance.
Those who will be in charge of the $30 million HUD grant — meant to rehab a housing complex, fund a suite of social services and spur the construction of a new community center on the city's near north side — say the assistance should be secure, despite the changing of the guard in Washington.
Still, it is likely the final round of the administration's Choice Neighborhoods grant program, a prestigious designation that has been awarded to a handful of cities and housing authorities since 2010. It's designed to concentrate resources in impoverished areas to spur actual change rather than just rebuilding subsidized urban housing. St. Louis is expected to be one of at least four cities awarded the grant Monday.
To be considered, St. Louis had to win commitments from other partners to fund education, health and job training services, and its application beat out 29 other cities. According to the city's application, it expects to leverage $75 million or more worth of services on top of the federal money.
"This Choice Neighborhoods program, it provides a carrot," Mayor Francis Slay said. "It provides a carrot of $30 million if the local community pulls together a coalition of anchor institutions and government in the area to put together a real plan to invest not just in brick and mortar, but in people."
The program centers around the 675-unit Preservation Square (formerly known as O'Fallon Place) subsidized housing complex, owned by McCormack Baron Salazar. McCormack Baron along with St. Louis Public Schools and social services coordination firm Urban Strategies, partnered with the city on the grant application.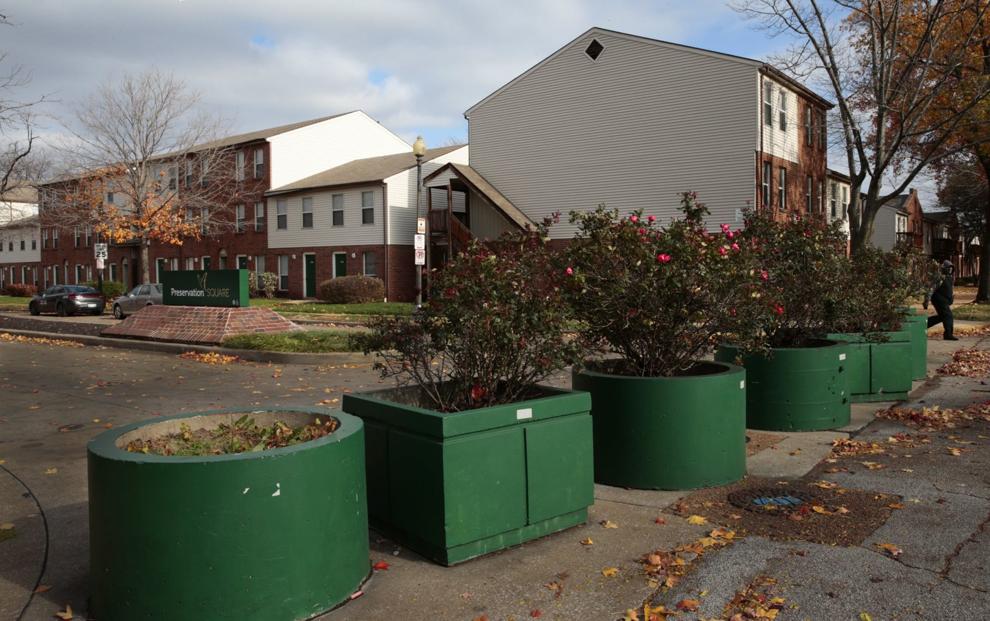 Some $20 million of federal money, in combination with other funds, would be used to update the housing units and reconfigure streets to open up the complex, which some residents say feels like a prison because it has only one entrance accessible to traffic.
Plans call for retail space along the complex's 14th Street property in an effort to better connect the area with downtown. Plans are in the works to rehab the old Carr School into a new Jonas Hubbard Jr. Family Center operated by the YMCA and Carr Square Tenant Management Corp.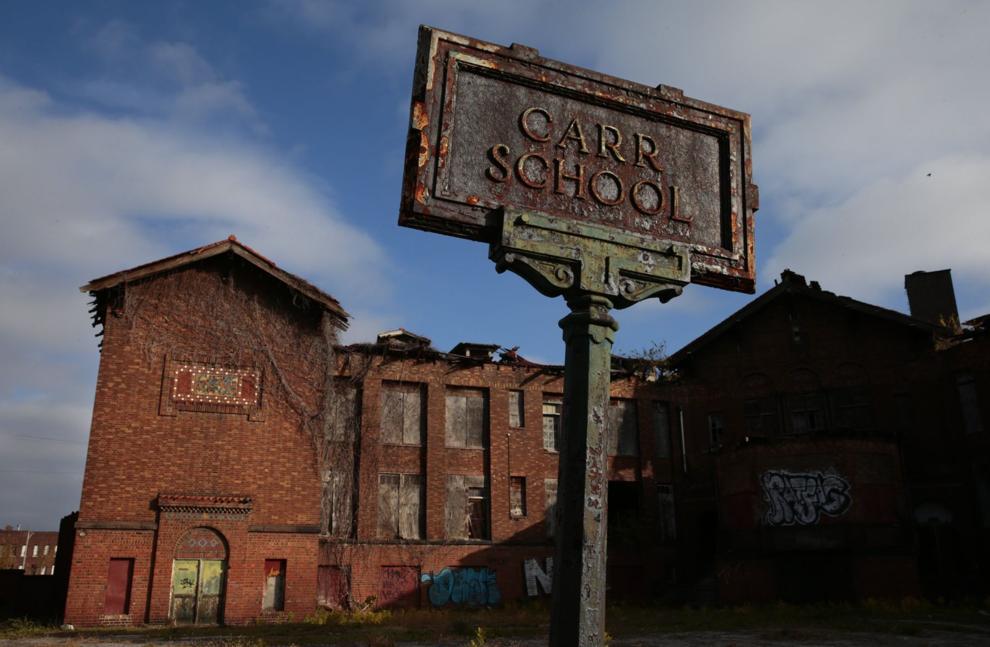 Education, health and job training services will be available to residents of St. Louis Place, Carr Square, Columbus Square and Old North.
St. Louis' successful Choice bid was likely helped by north St. Louis and north St. Louis County's designation as a federal Promise Zone, which gives the region bonus points on applications for federal grants to aid the poorest neighborhoods in St. Louis.
Secretary Castro was here in early 2015 to announce the St. Louis region's inclusion in the exclusive Promise Zone program. A few months later, he was back to announce $24 million in federal grant funding for north St. Louis County housing developments.
The area has also won grant money from the Justice Department, and layering federal grant programs focused on education, job training and other services in one area to try and truly spur improvement has been one of the Obama administration's strategies.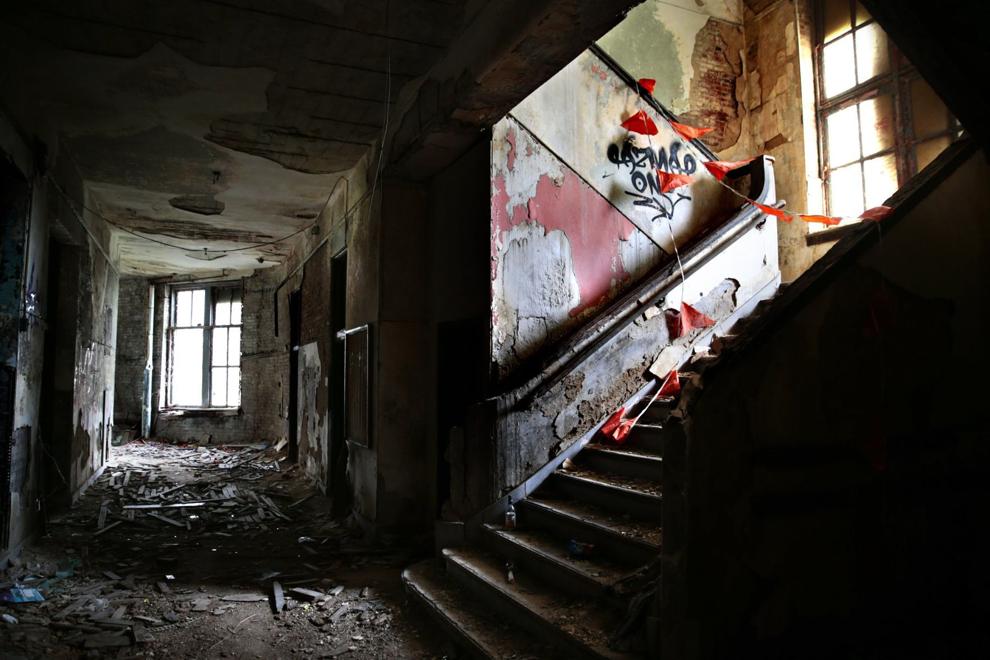 "That's what the Obama administration is built on," said Todd Swanstrom, a professor at the University of Missouri-St. Louis who has studied the administration's approach to urban development.
Slay agreed that the outgoing administration "has really focused very strongly in distressed communities." He pointed to the Promise Zone and St. Louis' inclusion in the "Strong Cities Strong Communities" program, which embedded a federal staffer in Slay's office to help the city find and apply for federal grant opportunities.
That program recently expired for St. Louis and the staffer has departed, Slay said, but he has been in Washington to urge Obama administration officials to find a way to make sure the Promise Zone and Strong Cities programs stay intact.
"We benefited tremendously from that," Slay said. "It didn't necessarily guarantee these things (federal grant awards), but I think those designations gave us a little bit of an advantage."