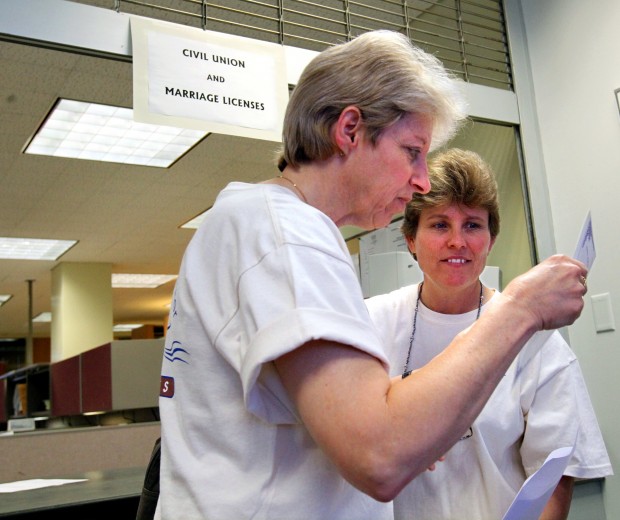 Illinois same-sex couples in civil unions are discovering an unpleasant quirk of their new status. The state of Illinois will make them do their federal taxes twice.
Illinois' civil union boosts drudgery at tax time, and it probably won't save same-sex couples any money.
Here's why: Illinois law requires that same-sex couples in civil unions be treated as if they were married for tax purposes.
The state income tax form requires that they transfer numbers from their federal income tax form. To produce the proper numbers, civil union couples must fill out a federal tax form as either married filing jointly or married filing separately, and submit it with their state forms.
But the federal government doesn't recognize civil unions. It won't even take a married tax form from a gay couple that tied the knot in a state recognizing same-sex marriages.
To keep on Uncle Sam's good side, both partners have to fill out the federal forms again, filing as singles.
Heterosexual married couples often save on their federal taxes by filing as married. That's mainly because federal taxes are progressive, and the brackets are adjusted to be kinder to those who are married. But the Illinois income tax is flat, with no progressive brackets. Generally speaking, that means no savings on state income taxes.
"I don't think anybody anticipated this issue," says lawyer Todd Sivia of Edwardsville, who has a specialty in tax, estate and real estate issues in civil unions.
By act of the Illinois legislature, residents starting last year were able to join in civil unions. Sivia expects that other unexpected issues may pop up in the titling of property, estate planning, and especially in divorce.
"The law on this will be evolving for the next 10 or 15 years," he says.