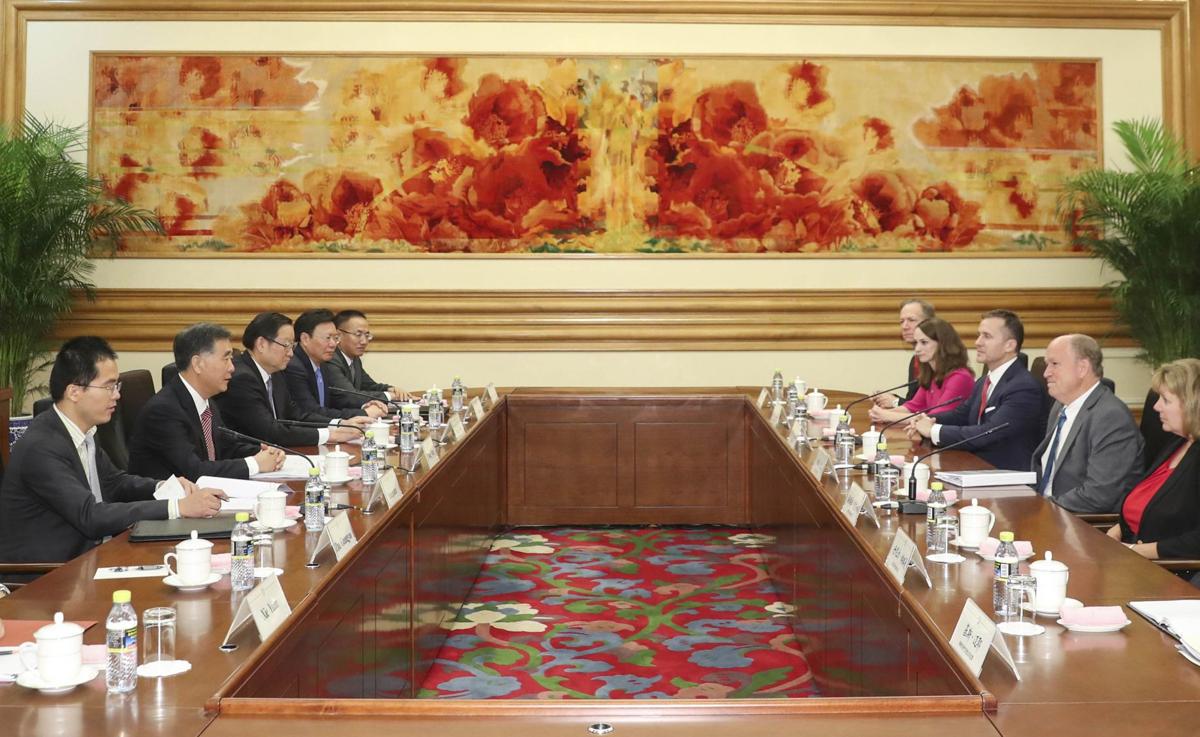 JEFFERSON CITY • Amid escalating international trade tension that has sent jitters through the stock market and spread worry across farm country, Missouri has revamped the way it represents itself in foreign trade offices around the globe.
In a move that officials say will save money and allow the state to be more nimble in its response to inquiries about doing business with Missouri, Gov. Eric Greitens' administration in December eliminated its contracts with representatives in 11 individual nations and put the program under the umbrella of one company.
"Our companies will not even know our operation has changed," said Ann Pardolas, manager of Missouri Department of Economic Development's international trade office.
Under the new contract, the state will establish business hubs in Europe, Asia, Middle East, the Americas and one key metropolitan area located within the United States, DED spokeswoman Maggie Kost said.
"As part of these hubs, we will maintain physical offices in Canada, China, France, Germany, India, Israel, Japan, Korea, Mexico, the United Arab Emirates, United Kingdom and in New York," she added.
The change comes as the U.S. and China are jostling over President Donald Trump's imposition of tariffs on steel and aluminum. In response, China has imposed tariffs on incoming products such as pork and fruit.
China is Missouri's third-largest trading partner, and pork exports represent a significant portion of what flows from the Show-Me state to Asia.
In 2016, Missouri's exports of goods to China totaled $1.8 billion, up 76 percent from a decade ago, the U.S.-China Business Council said.
Missouri's exports to China supported 17,200 American jobs in 2015, the council said.
"People around the world are paying attention to what we are doing in Missouri. They are interested in buying our products and investing in job-creating businesses in our state. I'm proud to fight for Missouri jobs and Missouri businesses by promoting opportunities for our state overseas," Greitens said in October.
His office, however, has not responded to multiple questions about whether Greitens supports Trump's tariffs or if he is concerned about the economic effects of China's response on farmers in Missouri.
Greitens, who faces a May 14 jury trial on felony invasion of privacy charges related to a 2015 extramarital affair, is currently not scheduled to travel out of the country after going on three overseas trade missions last year, including the China trip, which included a stop in South Korea.
Scott Oslica of the Hawthorn Foundation, which plans and finances trade missions on behalf of the state and a coalition of major corporations, said no trips are planned before the end of the state's fiscal year on June 30.
Pardolas, who has worked in the international trade and investment office for nearly a quarter century, said the firm OCO Global of Belfast, Ireland, won a competitive bidding process that will reduce the cost of maintaining the overseas offices to $1.25 million, down from $1.91 million last year.
"This is kind of a new approach for us," said Pardolas, who was in Seattle last week for a forum on aerospace defense supply contractors.