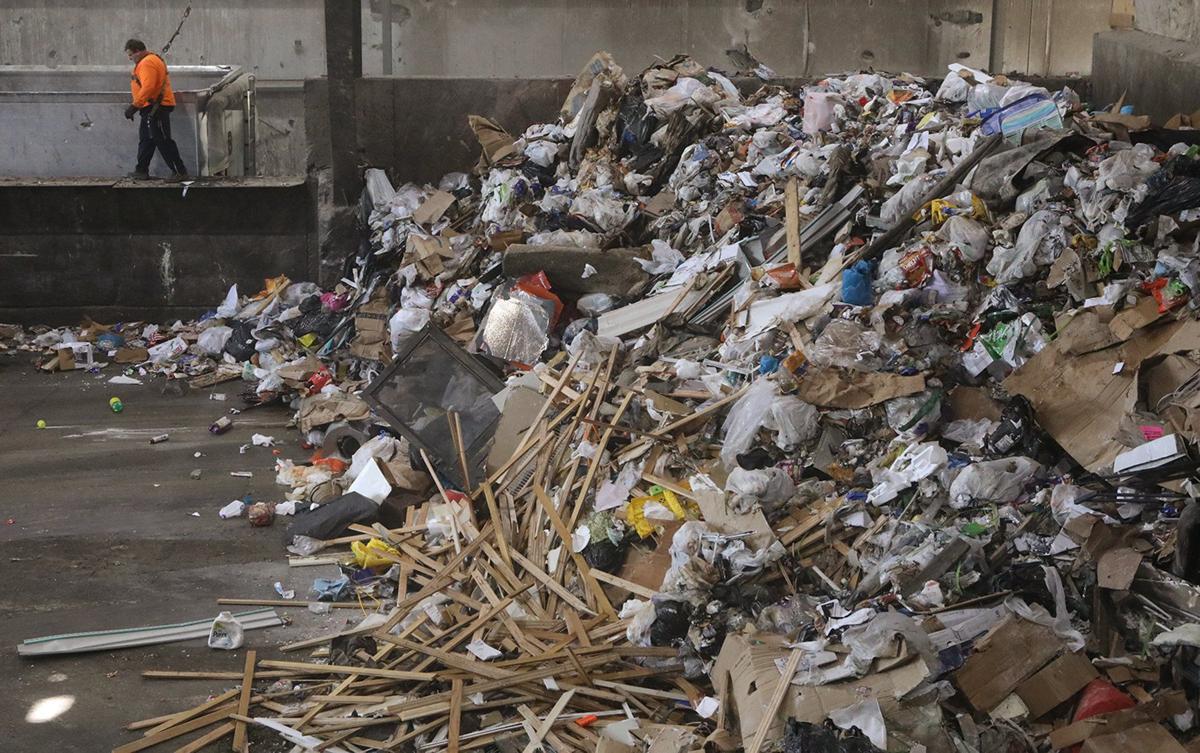 Next month, Wildwood residents will become the latest in the St. Louis area to see changes in how they recycle following major upheavals in the global recycling market.
China last year severely tightened its standards for what waste it would accept, a decision that hit recycling companies and the cities they serve especially hard.
"It was like a row of dominoes started falling with the recycling facilities here in America and with the haulers," said Joe Vujnich, Wildwood's co-interim city administrator.
It caused disruptions for haulers such as Meridian Waste, which had used Resource Management's facility to process recycling for the cities it services, including Wildwood.
More sorting ahead
Contamination of recyclables has been a key issue, leading more cities to examine whether to ditch single-stream recycling. That's what's happening in Wildwood, where Meridian Waste is distributing about 11,000 rollcarts to prepare for dual-stream curbside recycling on April 1.
It means the end of mixing all recyclables in one container for pickup. Instead, residents must sort them into separate rollcarts with pickups on alternating weeks for items dubbed "rigids" such as plastics, aluminum cans and metals, and for "fibers" such as paper and cardboard.
No glass will be accepted curbside. The city and Meridian are finalizing plans for four locations where glass can be dropped off to be recycled, Vujnich said.
Residents will pay 50 cents more a month for basic trash service.
By converting some customers to dual-stream recycling, Meridian has been able to identify "additional processors of specific recyclable materials" at more cost-effective rates than those offered by the only single-stream processor in the market, the company said in a statement Thursday.
"Most importantly, by dividing the recycling into dual stream we are able to address contamination and, with our customers' care and assistance, create a cleaner recycling stream resulting in more materials truly being recycled as opposed to collected and then, unfortunately, disposed of due to too much contamination and no processor willing to accept the material for recycling," the statement said.
The company said it will keep working toward cleaner recyclables and encouraging cities to embrace dual-stream recycling, which it said benefits the environment and is cheaper than single-stream. Meridian also said its strategy is helping keep more recyclable materials in the United States, which it hopes will spur the economy and help reduce ocean pollution.
Meridian ended all curbside recycling in Warrenton at the beginning of this year and encouraged residents to drop off recycling at designated sites.
St. Peters has run its own recycling processing center for more than 20 years. Residents sort their recyclables into two bags — one for paper and small pieces of cardboard, the other for containers such as laundry detergents, aluminum and glass — to keep items from being contaminated. The city hires people to sort the recyclables and bales the products to sell, which it can do because it has a low contamination rate.
St. Peters has been able to process O'Fallon's recycling, which it's doing on a month-to-month basis, without problems, said David Kuppler, group manager of health and environmental services for St. Peters.
"Their residents are doing a fantastic job of cleaning out the recycling stream so it's not contaminated beyond our ability to handle the contamination," Kuppler said.
O'Fallon is not paying St. Peters to handle its recycling because the volume of material is enough to cover the city's costs and administrative fees, and the additional material aids St. Peters in creating revenue to offset what its residents must pay, Kuppler said.
The two cities are looking into establishing a longer-term recycling agreement. Until that is finalized, Kuppler said St. Peters is holding off on taking in more cities' recyclables. It must determine its capacity to handle processing more recycling, and whether residents of other cities would do as well as O'Fallon's in sending clean recyclables.