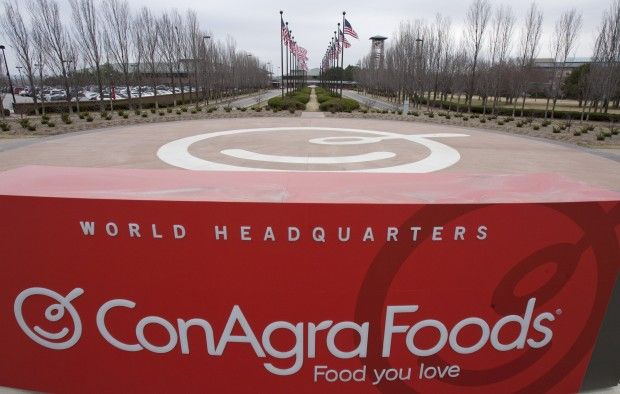 When ConAgra ponied up about $5 billion for St. Louis-based Ralcorp this week, the Omaha-based conglomerate did something that food companies have been doing for a while: It got a lot bigger.
ConAgra Foods Inc., which produces some 60 brand name products — everything from Slim Jim sausage snacks to Manwich mixes to Wesson cooking oil — will now become one of the largest food companies in the world, with about $18 billion in sales, up from $12.3 billion in the fiscal year ended on May 11.
Globally speaking, that would put ConAgra among the top 20 food companies in the world, up from its current spot of 31 and well ahead of food juggernauts General Mills and Kellogg.
But ConAgra's new neighbors on the list of global food-and-beverage big shots probably won't be there for long.
In a turbulent food marketplace that has struggled in recent years, companies are trying to out-big each other — or, at least, redefine what they are, by splitting, spinning off and window-shopping for each other's discards.
"There's been a lot of repositioning," said Paul Mariani, director of investment banking for Chicago-based Variant Capital Advisors. "These packaged food companies are trying to figure out what they ought to be."
In buying Ralcorp Holdings Inc., ConAgra gobbled up a dominant player in the private label food business — one of the few areas of the American market that has seen sparks of life over the past decade. And it's the rising popularity of private label, in-house brands, driven by economizing consumers, that has thrown the industry into its identity crisis.
"Private label — in consumption, not in sales — has forever been about 20 percent. That goes back to the 1980s," explained Harry Balzer, of NPD Group, an industry analysis group that tracks how Americans eat. "Then in 2000 it goes up — to 30 percent — and it's up for one reason: The country's not getting wealthier. Fifty percent of the country has a median household income under $50,000, and that hasn't moved for 10 years. If you're looking for a way to economize, you look for a private label."
Balzer explained that the market for processed foods exploded in the 1950s, enabling women to go work rather than spend time cooking. But since 2000 the percentage of women working has come off its peak of 60 percent, although attitudes about cooking, he believes, haven't changed appreciably.
"The food world has been in flux for the last 10 or 12 years, mainly because of female employment," Balzer added. "Prior to the last 12 years, we've had more women working, greater household income and less time to prepare meals, so we needed convenience. Since then, household incomes are down, but we still don't want to cook."
The driving force behind the growing popularity of in-house value brands may be consumers, but another force is the growing domination of Wal-Mart Stores Inc., now the nation's largest food retailer.
Wal-Mart's own in-house brands have caught on with consumers looking for value, and are taking up more precious shelf space. That has grabbed food manufacturers' attentions.
"With the way Wal-Mart plays ball, private labels have become very important," said Mary Hendrickson, a professor of rural sociology at the University of Missouri, who studies food systems. "Wal-Mart has never used their market power to extract prices out of consumers. They always use it on the producers."
With its enormous buying power Wal-Mart exerts pressure throughout the supply chain, all the way from the manufacturer to the farmer.
Manufacturers in recent years have had to pay record high prices for commodity grains, on the one hand, and on the other, have had to keep prices low to keep the retail giant as a customer. So, the thinking goes, they're being forced to grow to maintain competitive prices and stay alive.
"You can't blame corporations for doing it when they're going up against Wal-Mart," said Phil Howard, an associate professor at Michigan State University who studies food production. "They're dictating the terms of all their suppliers. This is a way to level the playing field with Wal-Mart."
While this year saw the split of two food giants, Kraft and Sara Lee, the general trend of consolidation seems to be growing, Howard says.
"I would say it hit a peak in the late 1990s and early 2000s. That's when you saw a wave of acquisitions; that slowed in 2008 because of a lack of financing," Howard said. "But it looks like it's picking up again with ConAgra."
That trend has some food industry watchers wary.
"My concern would be further consolidation in production," Howard added. "With private labels, it's very difficult for consumers to know where their food comes from."
The consolidation of the food industry, and the agriculture that supports it, has in recent years triggered a consumer wariness, too. A tripling in the number of farmers markets and a rise in the number of small-scale farmers, according to the U.S. Department of Agriculture, suggests that buyers are becoming wary of long supply chains and mega-producers.
"It's obviously a reflection of what's been going on in the food business," Hendrickson said. "The question is: Are there good reasons to have good policy that looks at competition, to make sure that power is shared through the system?"