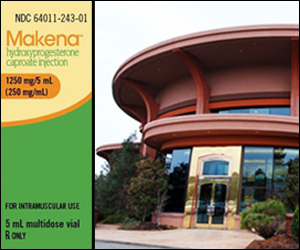 A proposed class action lawsuit against KV Pharmaceutical Co. alleges the drugmaker misled investors in positive public statements about its pregnancy drug Makena — just before KV stock tanked earlier this year.
The stock price plummeted as Makena became embroiled in a national controversy over its high cost.
The drug, a prescription hormone, is designed to reduce the risk of preterm birth among women who have already had at least one early delivery.
If the class action goes forward, a judge or jury will need to sort out a tangle of issues about the marketing of Makena, a drug that KV officials are banking on to lead the Bridgeton-based company back to profitability.
Did executives at the Bridgeton-based firm have good reason to make positive statements about Makena's future sales, or did they intentionally dupe investors? Were company officials simply exuberant and optimistic about their latest product, or were they acting with reckless indifference to the truth?
"We don't have to find a smoking gun. We don't need to prove intent to mislead. We just need to show that they acted recklessly," said Mary Blasy, a San Diego attorney who on Oct. 19 filed a proposed class action against KV Pharmaceutical in federal court in St. Louis.
The case was brought on behalf of investor Frank Julianello and potentially thousands of other investors who bought KV stock between Feb. 14 and April 4.
According to the lawsuit, officials at KV and its subsidiary, Ther-Rx Corp., defrauded investors by making a series of false and misleading statements that caused investors to buy these KV shares at "artificially inflated prices," the suit alleges, and to suffer significant losses as the stock's price fell.
Named as defendants are KV's chief executive Gregory Divis and Scott Goedeke, a senior vice president for marketing at Ther-Rx.
KV's general counsel, Patrick Christmas, declined to comment on the pending litigation.
A second proposed class action lawsuit against KV was filed Monday in federal court in St. Louis on behalf of Ramakrishna Mukku and other investors. A third complaint on behalf of investor Hoichi Cheong and others was filed there on Wednesday.
On Feb. 4, the Food and Drug Administration approved KV's high-risk pregnancy drug, Makena, and gave KV the exclusive right to market the drug.
Ten days later, KV announced its initial list price at $1,500 per injection — a 100-fold increase over the price of a nonpatented version of the drug, called 17P, which had been produced for years by compounding pharmacies.
According to the lawsuits, KV officials also made public statements on Feb. 14 that its patient financial aid program for Makena would provide co-pay assistance for uninsured patients and ensure access to the drug "for every eligible patient."
According to the suits, KV officials on Feb. 17 released a letter to compounding pharmacies in which the drugmaker indicated that the FDA had no choice but to protect the firm's monopoly status by ordering compounding pharmacies to stop making and selling 17P, a far cheaper version of Makena that did not have FDA approval.
But leading national medical organizations and advocacy groups, including the March of Dimes as well as two U.S. senators, publicly criticized KV's list price and the adequacy of its financial aid program.
The lawsuits allege that KV knew or had reason to know that the FDA might not protect its exclusivity.
On March 30, the FDA announced that — because KV had failed through its pricing to make Makena available to many uninsured women — the agency would no longer exercise its enforcement discretion with regard to compounded versions of the drug. It would allow other companies to continue to make and sell 17P.
Two days later, KV reduced the list price of Makena by nearly 55 percent, to $690 per injection. Also on April 1, KV announced that it would expand its financial assistance program so that the majority of women who are clinically eligible for Makena would have a co-pay of no more than $20 per injection.
As the market absorbed these disclosures, the suits allege, KV's Class A stock price dropped from about $6.50 in mid-February to about $5 a share in early April. KV's Class A stock closed Friday at $1 a share.