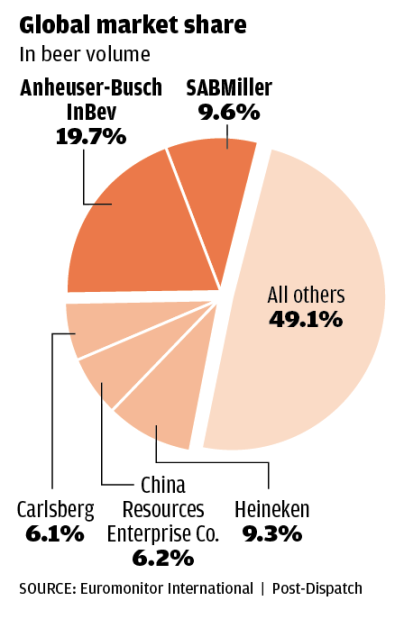 But there's another merger of brewers that could eclipse it.
A number of industry analysts say they have reason to believe that A-B InBev could be preparing another blockbuster purchase by acquiring rival SABMiller, the world's No. 2 beer company.
Rumors of a tie-up between Belgium-based A-B InBev, already the world's largest brewer, and London-based SABMiller have been around for years, but talk of a deal between the two is heating up.
"I think that we've come to a break point, a decision point," said Tom Pirko, president of Bevmark, a food and beverage industry consulting firm in Buellton, Calif. "I think that we're close now."
Speculation was already brewing when the Financial Times, or FT, Britain's equivalent of the Wall Street Journal, reported in early June that traders believed bankers were working to raise $60 billion in debt to fund some kind of European takeover, and that SABMiller was a possible target.
"The chatter has intensified," said Harry Schuhmacher, publisher of Beer Business Daily, a trade publication.
He noted that the FT broke the news six years ago about InBev's takeover plans for A-B. Though the newspaper has yet to write a story confirming that a deal is indeed in the works, Schuhmacher drew parallels between the 2008 sale and the current flurry of speculation.
"It's like 'Groundhog Day'," he said. "When there's smoke, there's usually fire."
Robert Ottenstein, a senior managing director at New York-based research firm ISI and head of its global beverages team, believes a combination between the makers of Budweiser and Miller Lite could happen this year or 2015.
"More than at any point in the last 10 years, SABMiller appears ripe for a combination with ABI," Ottenstein wrote in a May research note, adding A-B InBev has digested its 2013 $20.1 billion acquisition of Mexican brewer Grupo Modelo, with most cost-savings expected to be realized by the end of this year.
For Ottenstein, a former investment banker who headed investor relations for A-B InBev after A-B's sale, the deal is compelling.
A combination of the two companies would bring together eight of the 10 leading global beer brands: A-B InBev's Bud Light, Budweiser, Corona Extra, Skol, Stella Artois, and Brahma; and SABMiller's Aguila and Miller Lite.
The only top-10 global beers not under their control are Heineken and Guinness.
Combined, A-B InBev and SABMiller would account for about $65 billion in sales and nearly 30 percent of global beer volume.
Ottenstein contends A-B InBev's strong global brands would pair well with SABMiller's extensive global footprint. A-B InBev has invested heavily in building flagship Budweiser's sales globally following its purchase of A-B, he pointed out in the May report.
In 2010, Budweiser grew its global sales volume by 1.7 percent, even as its U.S. sales declined. Budweiser has continued its sales momentum globally, increasing volume by 6.3 percent in 2013, with sales in China, Brazil and Russia, among other major markets.
Meanwhile, SABMiller's market position is strong in regions with high growth potential, including Africa and China.
"The potential to introduce (A-B InBev's) global brands to SABMiller's regions extends their growth and margin potential," according to Ottenstein's report.
Additionally, A-B InBev could reap $2 billion in cost-savings through an acquisition of their largest rival, through global procurement and shared services, and eliminating job redundancies, he wrote.
"They're not great brand builders, but they're the smartest bankers in the world," said beer industry consultant David "Bump" Williams, chief executive and president of Stratford, Conn.-based Bump Williams Consulting. "No matter what they buy, they find ways to eliminate waste and reductions."
Growing through acquisitions is in A-B InBev's DNA. The deal to buy Anheuser-Busch came just four years after Belgium's Interbrew and Brazil's Ambev combined to create InBev. Last year, A-B InBev bought the rest of Grupo Modelo, maker of Corona and other beers, that it didn't already own for $20.1 billion. And this year, it acquired the leading brewer in South Korea, Oriental Brewery, for $5.8 billion.
SABMiller's strength in Africa, China and other countries where InBev wants to grow makes it an attractive combination, Williams said.
"I think SABMiller is their number one target," he said. "InBev wants to be the global, dominant player in beer, and this would help them do that."
A combination of the two beer giants would be closely watched on Pestalozzi Street, where A-B InBev's North American operations are based. The 2008 deal made some A-B executives and shareholders very wealthy, but it also resulted in job losses. What impact a deal with SABMiller would have in St. Louis is unclear, but many analysts say it would be minimal as SABMiller would likely have to divest its U.S. operations to satisfy antitrust concerns.
If a megasized deal is in the works, many roadblocks would stand in the way, including the high price SABMiller would command and antitrust battles domestically and overseas.
Some analysts are speculating SABMiller could make a defensive move and partner instead with London-based Diageo, maker of Smirnoff, Guinness and Baileys, to stave off a hostile bid. A-B had considered a similar move with Grupo Modelo in 2008.
"Logistically and strategically, the best pair-up would be A-B InBev and SABMiller," said Morningstar equity analyst Philip Gorham. "I certainly think a big deal could be done. A-B InBev has the cash to do something. It should be SABMiller."
However, the high price it would take to acquire SABMiller makes the deal out of reach even to A-B InBev, Gorham said. "I don't see how (A-B InBev) could create value at today's price."
A-B InBev already has the largest market share in the United States, followed by Chicago-based MillerCoors, a joint venture created in 2007 by SABMiller and Molson Coors Brewing Co. to sell their beers in this country.
A merger would likely require the sale of SABMiller's stake in MillerCoors in the U.S. to another party to satisfy antitrust concerns, akin to what happened with Modelo. In a January interview with Bloomberg News, SABMiller CEO Alan Clark said a case could be made for a combination between SABMiller and A-B InBev, but it would likely require U.S. divestitures. "You could get the numbers to work," Clark told Bloomberg. "There would be value loss and value destruction because they'd know that they'd have to sell the U.S. though."
In late June, Denver-based Molson Coors Brewing Co.'s Chief Executive Peter Swinburn wouldn't rule out the possibility of his company acquiring MillerCoors in an interview with the Wall Street Journal. "The important thing for me is to put the company in position to take advantage of whatever comes our way," Swinburn told the financial newspaper.
The U.S. Justice Department sued to block A-B InBev's purchase of the rest of Modelo in early 2013, arguing that the merger of the nation's No. 1 and No. 3 biggest beer-sellers would be bad for beer-drinkers. The Justice Department relented only after a deal was struck for New York-based Constellation Brands to acquire the Grupo Modelo's U.S. beer business from A-B InBev.
Bevmark's Pirko said Brito has a track record of looking beyond obstacles to make a deal come together.
"There are antitrust issues galore here, but the way Brito thinks and acts, this is just the sort of 'go for the gusto' thing he likes," Pirko said.
Pirko also doesn't agree that there's a price too far out of reach for A-B InBev. "That's the same thing we heard about the St. Louis deal," he said. "This really is a workable deal."