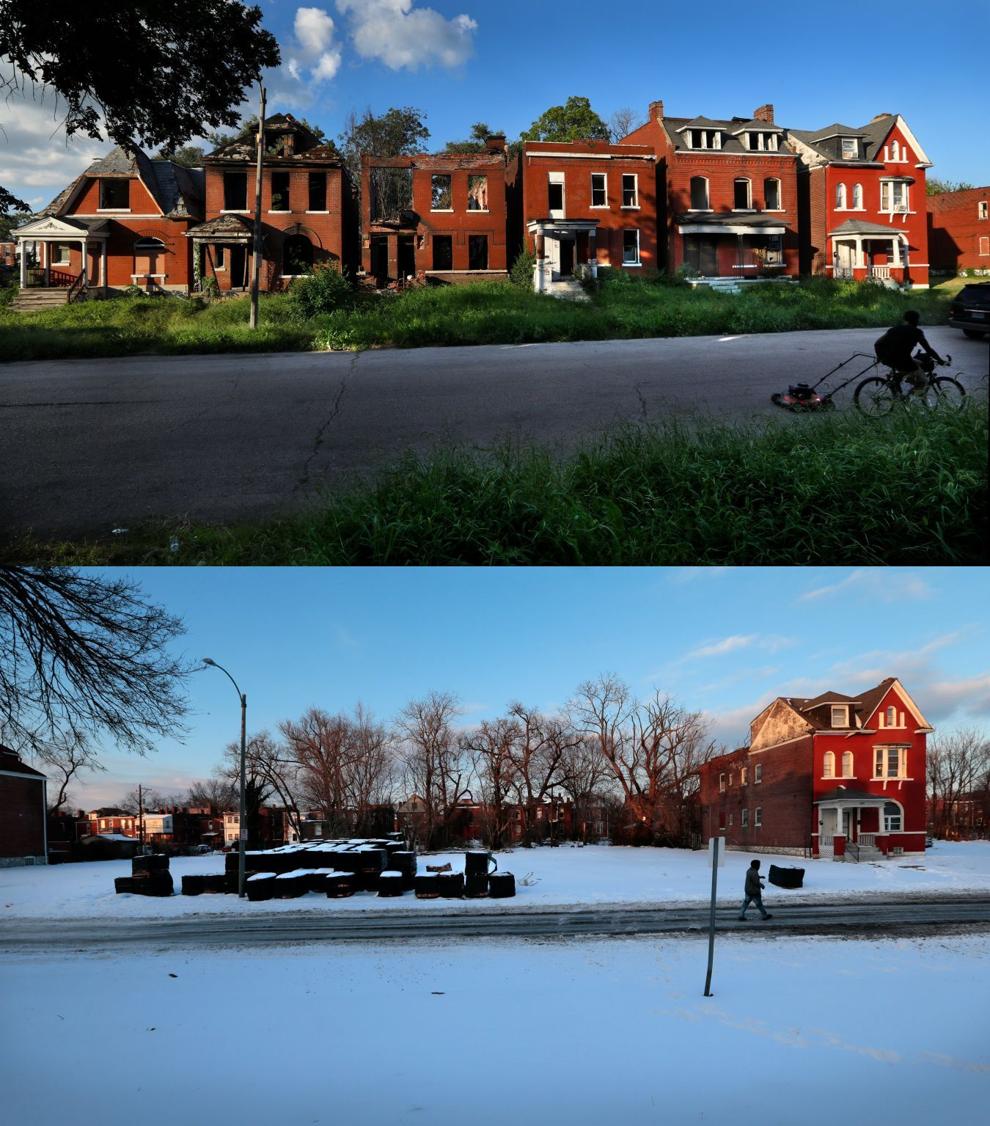 ST. LOUIS — Housing in St. Louis is a study in extremes. Century-old mansions in one neighborhood. Crumbling brick row houses in another.
But some housing is booming in St. Louis. Over the past decade, student housing has risen in Midtown. Apartments are blooming in The Grove. And tendrils of development now stretch north to Delmar Boulevard, and south down Kingshighway.
That leaves the four candidates in this spring's mayoral election with a unique opportunity to focus on affordable housing: To either demolish or rehabilitate empty run-down homes, spur the construction of new housing in neighborhoods that need it, encourage banks to lend in struggling areas, and boost homeownership citywide.
"We've created a system in which people are only granted as much dignity as they can afford," said Blake Strode, executive director of nonprofit anti-poverty advocates Arch City Defenders. "We need to think critically and creatively about how to provide safe, decent, affordable housing to all residents, regardless of the profit motive that has driven decision-making here."
Mayor Lyda Krewson has moved the needle, some of the candidates said. But not enough.
The future of St. Louis will rest, in part, on its ability to renovate dilapidated brick row homes, turn warehouses into affordable apartments, build new homes on empty lots, entice new residents to move in, and create new homeowners wherever possible.
The lone Republican candidate, Andrew Jones, a vice president at Southwestern Electric Cooperative, said the city needs a community development plan. In order to get residents into affordable and market-rate homes, he said, the city has to tailor a plan for each neighborhood.
City Treasurer Tishaura Jones said the city lacks safe, quality affordable housing. She proposes a tenant bill of rights to outline apartment standards. She also urges investment. "Parts of north St. Louis have been left to fail and left to decline for decades," she said. "It's up to the next mayor to make sure we have intentional investment in these communities."
Aldermanic President Lewis Reed said access to housing is the biggest issue. He wants to help new homeowners get a hold of the thousands of city-owned houses and lots, and redevelop them. "We have places all across the city that have been just absolutely underdeveloped and under-invested in for years," he said. "When we have half the city left dormant … it impacts us all."
Cara Spencer, alderman in the city's 20th ward, wants to hold landlords accountable, improve loans to residents, and entice new residents to move in. "We've got to start growing our population," Spencer said.
The next St. Louis mayor will also have to deal with the colossal backlog of eviction cases piling up in court. Governments continue to buy time with a patchwork of moratoria, but eventually, it's going to come to a head.
"We're going to have to contend with the fact that there are thousands and thousands in the region and across the state that can't pay that back rent, by no fault of their own," Strode said. "And we need to do everything in our power to keep folks in their homes."
The four candidates will square off March 2 in a first-round primary, which will narrow the field to two. The April 6 general election will determine the city's 47th mayor.
Vacancies and demolition
The city is littered with run-down brick houses, some so dilapidated they're dangerous.
But the mayoral candidates don't all want to continue tearing them down apace.
Spencer doesn't plan to fund demolitions at the same level Krewson has. "I'm not interested in tearing down our city," Spencer said. She renovated a three-story house in the Marine Villa neighborhood, and hopes to see others do the same.
Tishaura Jones agrees. Instead of focusing her time and funding on demolitions, she'd like to engage developers to talk about potential use of vacant parcels and historic buildings.
Reed said he would "at minimum" keep the same rate of demolitions in place. In wards with more unsound structures, he'd like to increase the number.
Andrew Jones says a good, solid plan can fix a lot of issues, and he said he'd take a look at Krewson's current demolition rate to see if it fits into his community development plans. But he also said he'd keep some level of demolitions going, as it's important for the city to continue getting rid of those eyesores.
All four also said they'd fund the city's $6 million Affordable Housing Trust Fund — which pays for housing developments, rent and mortgage assistance, and a bevy of other services to low-income residents — at current levels.
Reed and Tishaura Jones said they might try to find more money for the fund. Spencer said she'd like to use the funds to help people purchase homes. Andrew Jones said such funds aren't often successful without a comprehensive plans.
Incentives
Jones said she has not been shy about her plans to scale back incentives in areas that are already doing well and direct them to areas that need help.
"Just take a drive through North St. Louis and parts of South St. Louis, and you can immediately see which areas have not been invested in," Jones said. She cited an audit from Missouri Auditor Nicole Galloway that revealed 52% of tax-increment financing and tax abatements were concentrated in the city's central corridor.
The Whole Foods in the Central West End was going to be built and successful, Jones said, with or without incentives.
Reed said the Board of Aldermen started refocusing investments into struggling neighborhoods years ago. As an alderman, he focused on Washington Avenue, and helped it rebound, he said. Still, he said, redeveloping struggling neighborhoods takes time.
Disinvestment on the north side has been a historical pattern, said Andrew Jones. His answer once again: A plan.
"People are rightfully discouraged by what happened," he said. "They don't believe leadership whatsoever because nothing has ever been done. And I gracefully say to you that this is because no plan was ever done." His plan will have benchmarks, dates and scorecards, so residents can evaluate what's supposed to happen, and when.
And if he fails? People can say, "It's Andrew Jones' fault!"
Spencer agrees a "smart strategy" for development incentives is needed, and she'd like to see the whole process be led by the city, rather than by developers. City government is too reactive.
"We need to be proactive in how we are appropriating incentives, to drive investment where we want it," she said. To her, using incentives responsibly means not providing 95% tax abatement to a project in an area that's already doing well.
Mending broken credit
When developers look at rough neighborhoods, they are often thwarted by the "appraisal gap": When a renovated home appraises for less than the cost of the rehab.
Other times, banks try to dissuade homebuyers from buying in risky neighborhoods.
All four candidates plan to get creative with tools to get credit flowing again.
Jones said he doesn't want to reinvent the wheel, and is familiar with gap financing programs, such as the Gateway Neighborhood Mortgage fund, which is designed to specifically address credit issues in St. Louis communities. He said he'd work with banks to structure loan products low-income St. Louisans can sustain.
Spencer, Reed and Tishaura Jones all committed to putting more money toward the Gateway Neighborhood Mortgage.
Reed said he'd also like to look at lowering the credit score required for entrance into the program.
Tishaura Jones mentioned the Office of Financial Empowerment she created in 2014, and said she's already been encouraging homeownership in north St. Louis, as well as financial independence, through it.
"We have a mantra in our office that nothing changes your life more than God or love, or a 100-point increase in your credit score," Jones said. Continuing to build strong relationships with banks and financial institutions is a part of her plan as mayor.
Spencer said she doesn't want to promise more than can be delivered, but does want to look into a program guaranteeing loans for low- to moderate-income residents, and also hold banks accountable when they fail to uphold lending agreements.
"We have to make sure we're encouraging banks to do the right thing," Spencer said, "and holding their feet to the fire when they're not."
Watch now: St. Louis mayoral candidates discuss housing issues in the city
St. Louis Post-Dispatch data reporter Janelle O'Dea talks with St. Louis mayoral candidates  Andrew Jones, Tishaura Jones, Lewis Reed and Cara Spencer to discuss housing issues in the city and how she would deal with it as mayor.
The candidates on housing
| Topic | Andrew Jones | Tishaura Jones | Lewis Reed | Cara Spencer |
| --- | --- | --- | --- | --- |
| Fund demolitions at current level? | Yes | No; wants to rebuild, too | Yes, and more where needed | No; wants to rebuild, too |
| Fund Affordable Housing fund at current level? | Yes | Yes | Yes | Yes |
| Scale back subsidies in established areas? | Incentives should be last resort, anywhere | Yes | Yes | Yes |
| Help homeowners, especially in north St. Louis? | Work with banks to create suitable loan products | Help residents build credit, banking, and secure loans | Sell city property to potential homeowners at low cost | Cut city business with banks not lending in poor communities |
| | | | | |