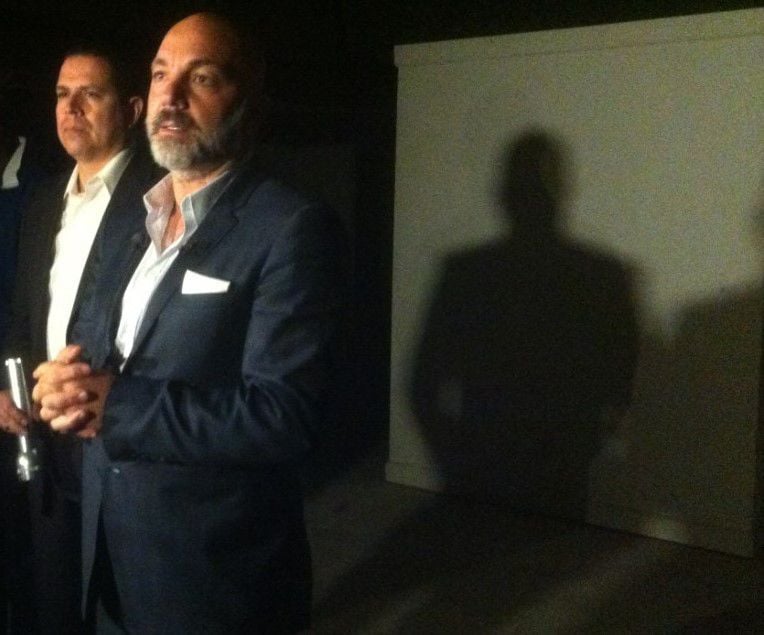 Mukemmel "Mike" Sarimsakci is turning his attention to St. Louis.
Over the next few months, many of his team will relocate from Dallas, where they're close to finishing the conversion of a half-million-square-foot building constructed around the turn of the 20th century into apartments and a hotel.
"We're going to live downtown," Sarimsakci said. "We're leasing apartments from our friend Tim McGowan."
Sarimsakci, who said he'll go home to San Francisco on the weekends, closed last month on the Jefferson Arms, which is on Tucker Boulevard downtown. The $7 million purchase of the dilapidated hotel and an adjacent parking garage, which the McGowan brothers now own and are rehabbing, marked a big step in a project that the Turkish-born developer has talked about for more than a year.
In an interview between meetings here, Sarimsakci offered more details on the construction timeline and the mix of uses in the giant structure that for years has been one of downtown's most notable vacancies.
Still being finalized, however, is financing for the rehab work. He said that should be nailed down by the end of the year, in time to start fixing up the place in March.
The building's remediation — the old structure needs to be cleansed of lead, asbestos and other materials — is expected to start in October, Sarimsakci said. He plans to use his own capital for that work, estimated at between $5.5 million and $6 million, and then be reimbursed with Missouri Brownfield tax credits.
He has also applied for Missouri historic tax credits, which he hopes will help reimburse $15 million to $18 million of the rehabilitation work. St. Louis officials have already approved up to $17.6 million in tax increment financing for the project as well as a special sales tax district that's expected to provide $2.6 million.
When rehab work starts next year, Sarimsakci said he first plans to renovate the basement up to the second floor for offices, co-working space, retailers and restaurants.
"The faster I finish my ground floor, the faster I think everything comes together," he said.
The second phase, which he said should start sometime in 2019, would turn the remainder of the 13-story building into a 200-room hotel and about 240 apartments and take about a year to complete.
"Given that it's an old building," he cautioned, "it's full of surprises."
His plans for the ground floors include showrooms for European furniture maker Koleksiyon and Turkish kitchen cabinet maker Linea Décor. He also hopes to lure a coding program he has worked with in Dallas, and said he is in talks with Dallas-based accelerator Tech Wildcatters.
Meanwhile, Sarimsakci said he is about two months away from closing on a purchase of a warehouse at 1920 North Broadway. It will serve as a construction staging area and also a warehouse for Koleksiyon and Linea Décor.
As for the hotel, he said he is now "married" to the Marriott AC flag, a European-inspired concept focused on urban areas.
Alterra previously courted controversy with plans to potentially use the Trump Organization's Scion hotel brand in both the Jefferson Arms and a vacant lot in Dallas. Some people worried that Alterra's foreign investors could create conflicts of interest with the White House. Others just don't like President Donald Trump.
"We decided not to do any projects with them at this point," he said of the Trump Organization.
Alterra's $4 million loan to buy the property came through Gold Lion Holdings Ltd., which lists an address on the English Channel island of Jersey. A $1.5 million loan from a McGowan company is also referenced in real estate documents.
Sarimsakci said additional financing will come from "friends" and other investors. The deed of trust on the Jefferson Arms secures up to $40 million in financing.
Yes, St. Louis is a higher-risk, Sarimsakci said. But with low real estate prices, the return will be greater if he gets in early and other investors follow.
"This was the strategy two years ago when we started looking at this market," he said.