A $5.5 million project to rehab a vacant building at 2200 Washington Avenue into new offices for Twain Financial Partners is part of a larger effort to better tie Downtown West to Midtown Alley, its developer told economic development officials Thursday.
Developer Jassen Johnson of Renaissance Development Associates is one of the people behind the rehab of the Washington Avenue building near Jefferson Avenue, along with members of Twain Financial Partners. Twain, which specializes in tax credit and complex financial transactions, will move its offices from downtown a few blocks west to the new building.
Johnson said the rehab ties in with his Jefferson Connector project, which envisions a new hotel and a Boxyard development — a complex of bars and restaurants made out of shipping containers — near Jefferson Avenue and Locust Street.
Jassen Johnson project would connect Midtown Alley to downtown and add regional draw with hotel, parking and entertainment. 
"It's really just expanding the Jefferson Connector a little further east," he told the board of St. Louis' economic development arm on Thursday.
The St. Louis Development Corp. board agreed to help, approving an allocation of $4 million in federal New Markets Tax Credits for use in the Washington Avenue project. A city board in June recommended five years' tax abatement worth 90 percent of the property's value.
Johnson, who has spent years working to rehab historic buildings along Locust Street for lofts and offices for creative firms, last year described plans for the Jefferson Connector project. He hopes it creates a hub of offices and people in what he calls a "void" along the central corridor between midtown and Downtown West.
Plans call for rehabbing the former Beaumont telephone building and AT&T building in the 2600 block of Locust Street into 60 apartments, 16 live-work office suites and about 3,500 square feet of co-working space. It would be renamed the Malone.
A hotel is planned just to the east of that, with the Boxyard planned across Locust Street from those projects.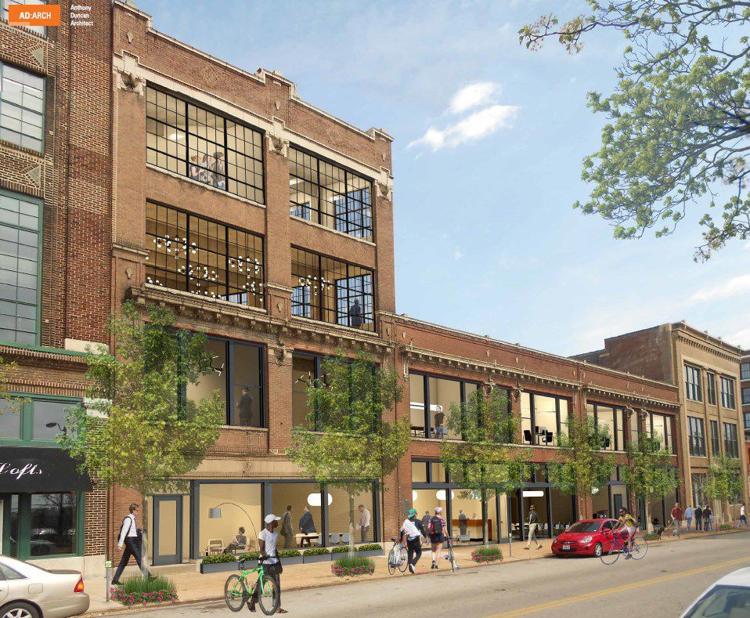 Already, work is underway to renovate the building at 2315 Locust Street, a project dubbed the Martin.
It will add some 52,000 square feet of office space, subdivided for smaller users, and a rooftop restaurant.
Johnson has partnered with ND Consulting and Twain Financial on the project as well as two Tulsa, Okla., companies, Ross Group and Nelson + Stowe Development, for the hotel and Boxyard development, respectively.
He's finalizing his loans for the project, which he said was "well on its way." Renaissance Development has closed on purchases of several buildings as part of the project and has six more under contract, according to a city report.
Construction is scheduled to begin in the spring on the hotel and Boxyard, with openings on developments slated through 2021.
The $60 million plan for the area will fill in an area and help connect the Gateway Arch "all the way to Clayton" with contiguous development, Johnson said.