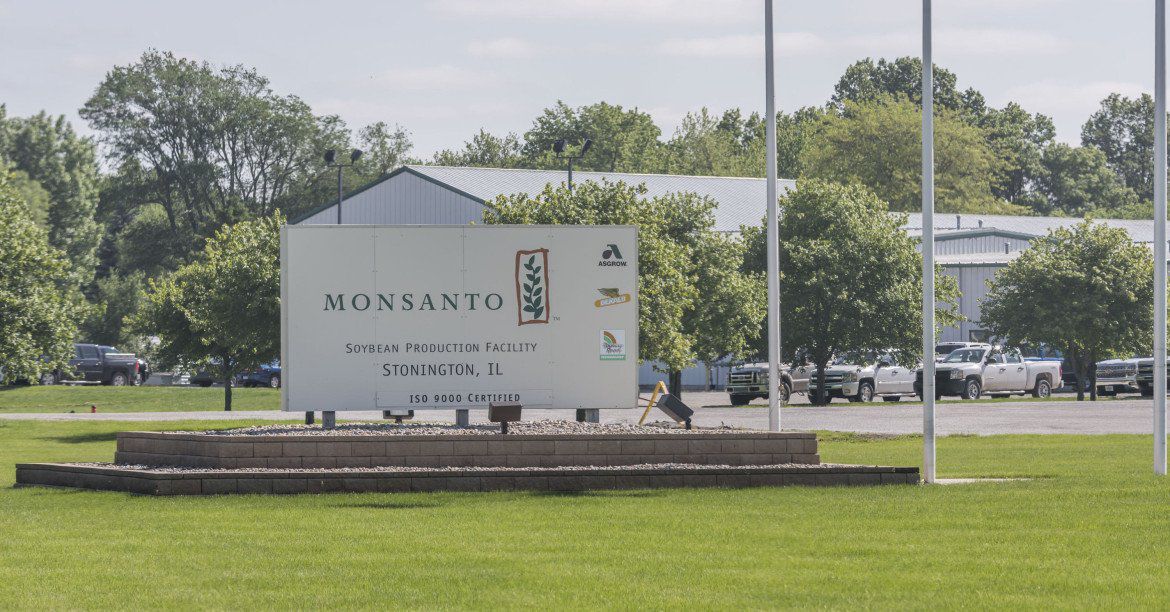 Updated at 5:40 a.m. Saturday 
SAN FRANCISCO • A jury's $289 million award to a former school groundskeeper who said Monsanto's Roundup left him dying of cancer will bolster thousands of pending cases and open the door for countless people who blame their suffering on the weedkiller, the man's lawyers said.
"I'm glad to be here to be able to help in a cause that's way bigger than me," Dewayne Johnson said at a news conference Friday after the verdict was announced.
Johnson, 46, alleges that heavy contact with the herbicide caused his non-Hodgkin's lymphoma. The state Superior Court jury agreed that Roundup contributed to Johnson's cancer and Monsanto should have provided a label warning of the potential health hazard.
Johnson thanked jurors "from the bottom of my heart" for their work, along with his lawyers and his family.
His was the first case filed by a cancer patient against the agribusiness giant to reach trial. It was expedited because court filings indicated that Johnson was dying. His victory may set the precedent for many others.
"A unanimous jury in San Francisco has told Monsanto: 'Enough. You did something wrong and now you have to pay,'" said Brent Wisner, Johnson's lead trial lawyer. "There's 4,000 other cases filed around the United States and there are countless thousand other people out there who are suffering from cancer because Monsanto didn't give them a choice ... We now have a way forward."
Jurors in state Superior Court agreed that the product had contributed to Johnson's cancer and that the company should have provided a label warning of the potential health hazard. Johnson's attorneys sought and won $39 million in compensatory damages and $250 million of the $373 million they wanted in punitive damages.
"This jury found Monsanto acted with malice and oppression because they knew what they were doing was wrong and doing it with reckless disregard for human life," said Robert F. Kennedy Jr., a member of Johnson's legal team. "This should send a strong message to the boardroom of Monsanto."
Monsanto denies that glyphosate, the world's most widely used herbicide, causes cancer and says decades of scientific studies have shown the chemical to be safe for human use.
The company, a Creve Coeur-based unit of Bayer AG after a $62.5 billion acquisition by the German conglomerate, said it would appeal the verdict.
"Today's decision does not change the fact that more than 800 scientific studies and reviews ... support the fact that glyphosate does not cause cancer, and did not cause Mr. Johnson's cancer," Scott Partridge, a Monsanto vice president, said in a statement.
Johnson's case, filed in 2016, was fast-tracked for trial because of the severity of his non-Hodgkin's lymphoma, a cancer of the lymph system that he alleges was caused by Roundup and Ranger Pro, another Monsanto glyphosate herbicide. Johnson's doctors said he was unlikely to live past 2020.
Johnson, a former pest control manager for a California school system, applied the weedkiller as many as 30 times per year.
Johnson used Roundup Ranger Pro at a San Francisco Bay Area school district, his attorneys said. He sprayed large quantities from a 50-gallon tank attached to a truck, and in gusty wind, the product would cover his face, said Brent Wisner, one of his attorneys.
Once, when a hose broke, the weedkiller soaked his entire body.
Claims that glyphosate, the active ingredient in the widely used weed killer Roundup, can cause cancer have been evaluated by international ag…
Johnson read the label and even contacted the company after developing a rash but was never warned it could cause cancer, Wisner said. He was diagnosed with non-Hodgkin's lymphoma in 2014 at age 42.
"The simple fact is he is going to die. It's just a matter of time," Wisner told the jury in his opening statement last month.
But George Lombardi, an attorney for Monsanto, said non-Hodgkin's lymphoma took years to develop, so Johnson's cancer must have started well before he began working at the school district.
The U.S. Environmental Protection Agency says Roundup's active ingredient is safe for people when used in accordance with label directions.
However, the France-based International Agency for Research on Cancer, which is part of the World Health Organization, classified it as a "probable human carcinogen" in 2015. And California added glyphosate to its list of chemicals known to cause cancer.
Environmental groups were quick to applaud the verdict.
Ken Cook, president of the Environmental Working Group, said in a statement, "Monsanto made Roundup the oxycontin of pesticides, and now the addiction and damage they caused have come home to roost. This won't cure DeWayne Lee Johnson's cancer, but it will send a strong message to a renegade company."
Over the course of the four-week trial, jurors heard testimony by statisticians, doctors, public health researchers and epidemiologists who disagreed on whether glyphosate can cause cancer.
Johnson's case is not part of proceedings consolidated in Missouri, Delaware or California state court, where most of the Monsanto cases are pending.
It is also separate from consolidated federal multidistrict litigation pending before U.S. District Judge Vince Chhabria in San Francisco.
Chhabria decided in July to allow hundreds of Roundup lawsuits to proceed to trial, finding there was sufficient evidence for a jury to hear the cases despite calling plaintiff's expert opinions "shaky."
The Associated Press, Reuters and the Post-Dispatch contributed to this report.