KIMMSWICK — A lemonade jar, about a quarter-full of cash, sits on an entryway table at the Blue Owl Restaurant and Bakery. "Any donations are appreciated," reads a hand-written sign taped to the glass.
The restaurant is famous for its towering caramel-apple-pecan pie, and draws diners from across the region. But the jar isn't for the restaurant, its waiters or diners. The Blue Owl is trying to help its town survive.
"By year's end, Kimmswick will, for all practical purposes, be out of money," wrote Mayor Phil Stang in a recent message on the city website.
The pandemic has compounded a wave of financial problems for this river town, population 160, about 25 miles south of downtown St. Louis. Most of the city's revenue comes from two annual events: the Strawberry Festival, in June, and the Apple Butter Festival, in October. But the city canceled the Strawberry Festival last year as flooding on the Mississippi River endangered roadways. Then COVID-19 hit, forcing the city to call off the festival again. Apple Butter festivities, scheduled for this coming weekend, were also scrapped.
Stang estimates 225,000 people come to Kimmswick for the two festivals. Allowing them to happen this year, during a pandemic, would make him "complicit in disaster," he said.
So the mayor, faced with cutting hours, pay or even employees, took to the airwaves. His message, across St. Louis television and radio stations: Come shop, dine and donate in Kimmswick.
The troubles started last summer.
The Mississippi River was flooding, threatening two of the three roads in and out of town. Officials raised an emergency levee and rented a fleet of pumps. Flood costs for the year exceeded $150,000, money that came out of city savings, "totally depleting our reserves," Stang wrote on the city website.
The 180-person town may not be able to get FEMA cash for its work to stave off this year's Mississippi River floodwaters.
Then the city canceled the Strawberry Festival, and a day rained out the Apple Butter celebration, together costing Kimmswick another $85,000, according to city records.
Now the city is anticipating almost no revenue from either festival this year, adding another $200,000 loss.
Smaller events, like the Kimmswick Cookie Walk, have not been canceled. Organizers hope to raise $5,000 by selling 1,000 tickets at $30 each, with $5 from each ticket going to the city.
Stang said the city has raised about $15,000 so far. But it needs $200,000, he said, to survive 2021.
"We just have a gigantic hole in our budget," he said.
Shop owner Betteanne Smith said local businesses have struggled through the pandemic. But the recent publicity from the mayor's tour has boosted traffic, making her more hopeful.
Smith helped ring up a steady stream of customers Sunday afternoon at her store, Mississippi Mud Gallery & Gifts. Music wafted into the shop from a quartet singing outside the Blue Owl.
"People have responded," Smith said. "They don't want Kimmswick to disappear."
Chris Delk, a software engineer from St. Louis County, heard about the town's plight on the news. He and his wife drove in Sunday to dine and shop.
Others did too. Around town, store clerks were busily ringing up customers. At 2 p.m., there was an hour wait for a table at the Blue Owl.
"When we first got here I was amazed," Delk said.
"Just look, the parking lot's full," he said, gesturing to the bustling lot outside the restaurant. "I love the idea that people are stepping up."
Mary Hostetter worked the hostess stand Sunday afternoon, taking down reservations and welcoming customers to the Blue Owl, which she has owned for 35 years. She wore a blue owl pin on her blue apron, and a necklace with a blue owl charm.
The lemonade jar sat near the entrance. It encouraged visitors to donate any amount and enter to win a pie for Thanksgiving, with proceeds benefiting the city. Hostetter said there are similar donation jars at other businesses throughout Kimmswick.
The Blue Owl closed for seven weeks when the pandemic hit, Hostetter said. It then offered curbside pickup for two weeks, before reopening indoor and outdoor dining. The numbers were slower at first, but have picked up. On Saturday, she said, the restaurant served about 500 people, not including carryout orders. Last year, a weekend day might see 700 to 800 patrons. She said the restaurant is only using 24 tables, out of 48, and is requiring that customers wear masks until they are seated.
Hostetter steered the restaurant through the 1993 flood and the Great Recession. But 2020 brought new challenges.
"This has been the strangest thing that I've been through," she said. "That's for sure."
---
Who are the people behind city names?
Clayton, Kirkwood, O'Fallon: Who are the people behind the city names?
Ballwin: John Ball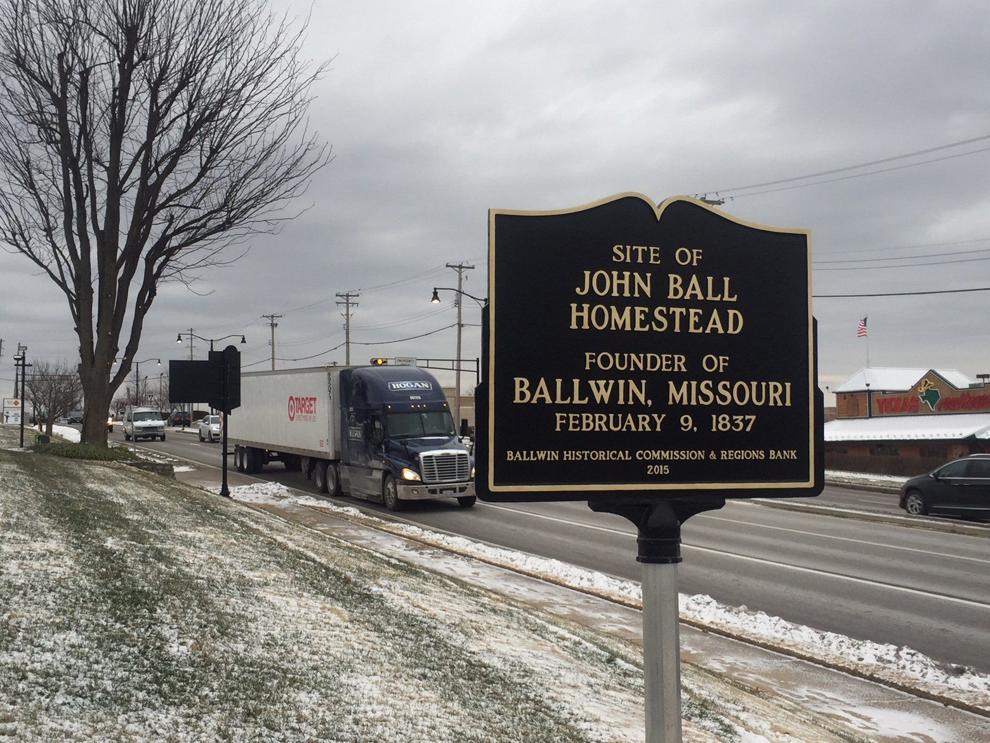 John Ball's father, James, came to America from Dublin and served in the Revolutionary War and was reportedly a friend of Daniel Boone. John Ball moved to the west St. Louis County area in the late 1700s, and he acquired 400 acres along Grand Glaize Creek.
After Jefferson City was established as the state capital in 1826, people needed an overland mail route to get mail there from St. Louis. A road that eventually became Manchester Road was built, which happened to go by Ball's property.
From his homestead, he laid out a town. Ball originally recorded the name as "Ballshow" but renamed it two days later. It's unclear why, but a great-grandson said that because of the town's rivalry with nearby and more prominent Manchester, Ball was confident his town would "win out" in reputation and growth.
Ball died in 1859 at age 79 and was buried in a community cemetery that was laid out when he plotted the town. But progress didn't stop him: his and his wife's remains were relocated several years later to Manchester Methodist Cemetery, when Manchester Road was rerouted.
His homestead is now the site of a Regions Bank, and a historic marker rests on the bank's lawn. Grand Glaize Creek still flows nearby.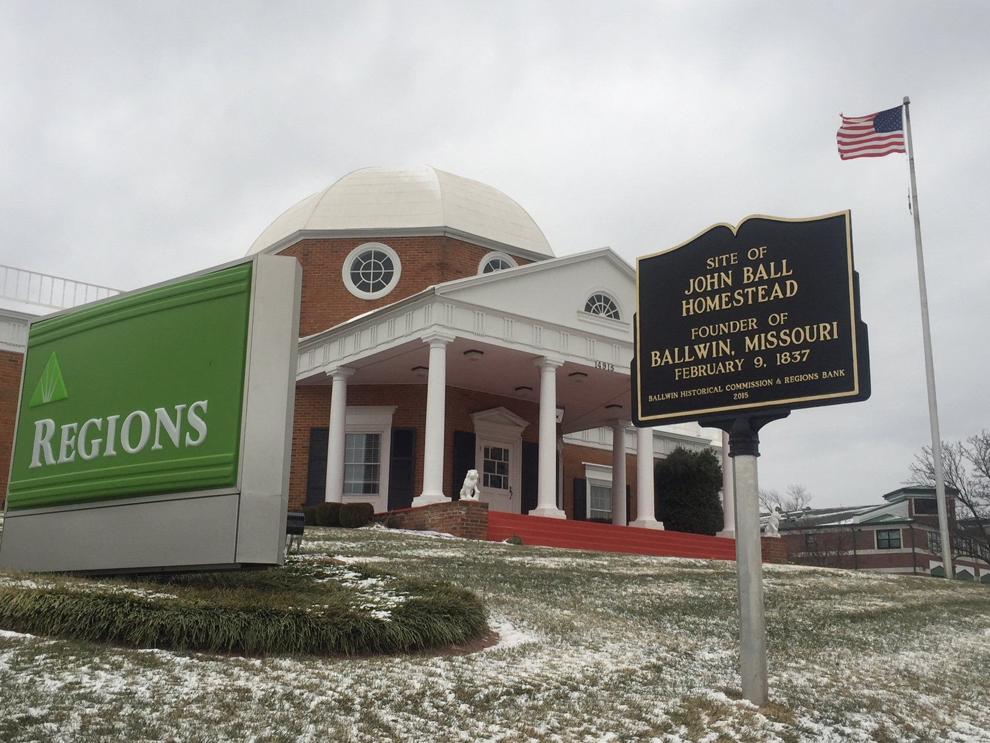 Hedy Boone, the city's recreation superintendent and liaison to the historical commission, moved to Ballwin when she was in fifth grade — from Baldwin, N.Y. "It was like, wait a minute, I thought we moved from there," she said.
But Ballwin natives shouldn't be confused — while there are several Baldwins in the United States, Ballwin is the only one with that spelling.
Clayton and Hanley Hills: Ralph Clayton and Martin Hanley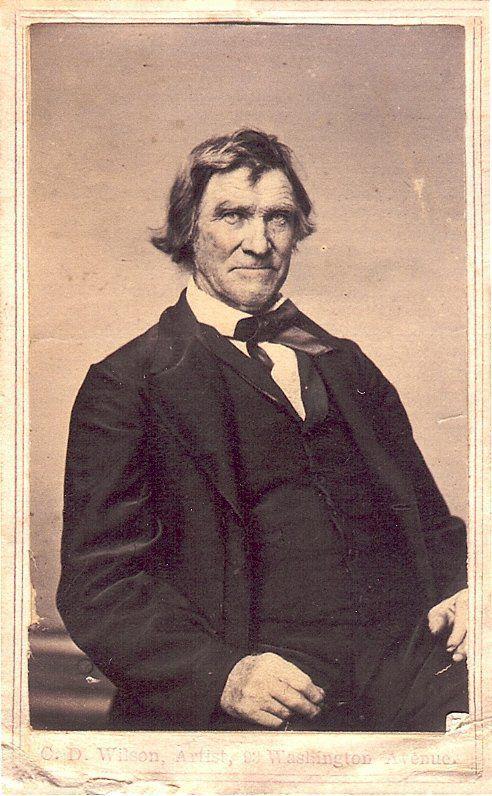 During the great 1876 divorce of St. Louis and St. Louis County, county officials needed a place to put their courthouse. Two farmers from Virginia, Ralph Clayton and Martin Hanley, stepped up and donated their land.
Ralph Clayton told government officials that the land, a mere "half a day's ride from the city" was a more central spot than other areas they considered, like Kirkwood and Mount Olive. He only asked that they name the area around it after him. On April 19, 1878, he offered a prayer and dug the first spade of dirt for the new courthouse.
The 100-acre donation makes up the bulk of the present-day Clayton business district, said Sarah Umlauf with the city of Clayton. Hanley threw in four acres, mostly to have his name attached to the donation.
"You can see why Clayton got the city named after him," she said.
In 1855, Hanley built a two-story farmhouse that still stands and is open as a house museum. (Both of Clayton's homes, a log cabin and a brick home, burned in fires.) The village of Hanley Hills is named for Hanley; Hanley Road, too, of course. In 2018, voters turned down an effort to dissolve Hanley Hills.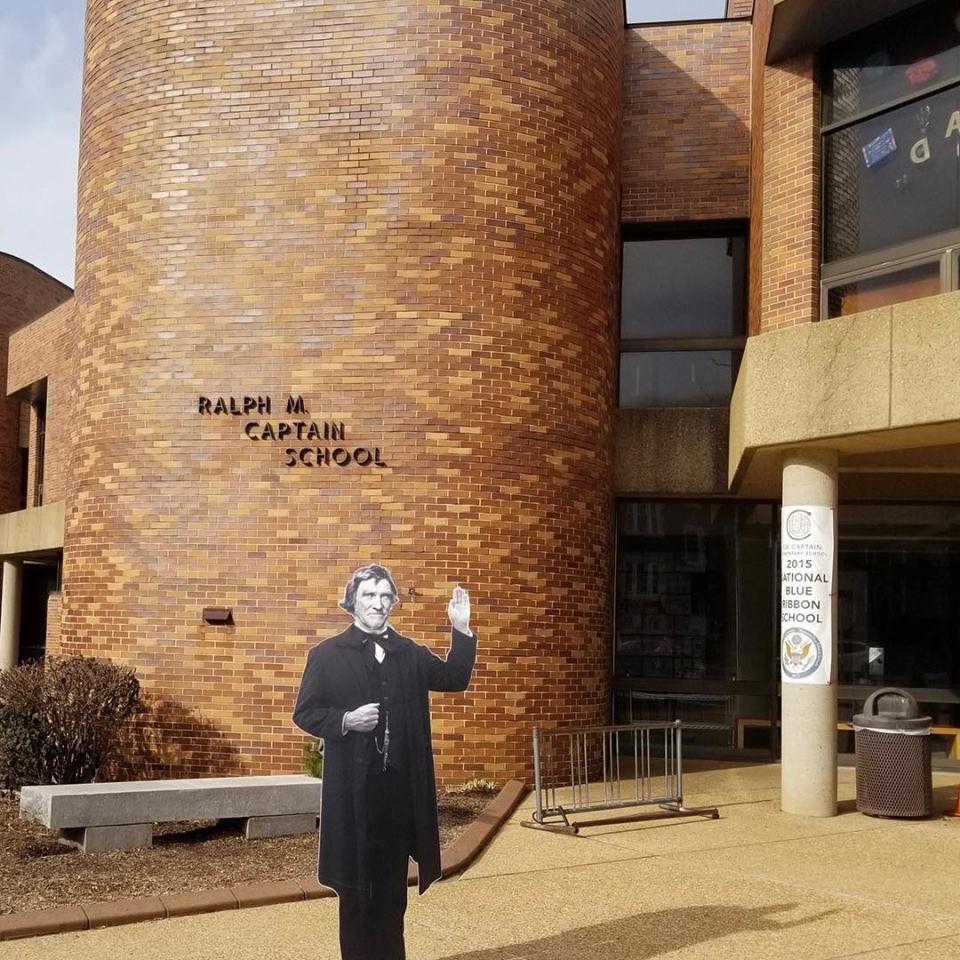 Recently, the Clayton Century Foundation had a cardboard cutout of Ralph Clayton made based on an old picture. They've placed it at schools around town and posted pictures on social media. Each post gives a history of the school and is written in his voice.
"February will mark my 231st birthday, and I thought what better way to celebrate than to visit these schools, both past and present," says one.
As Clayton stops around his town, he's smiling.
Kirkwood: James P. Kirkwood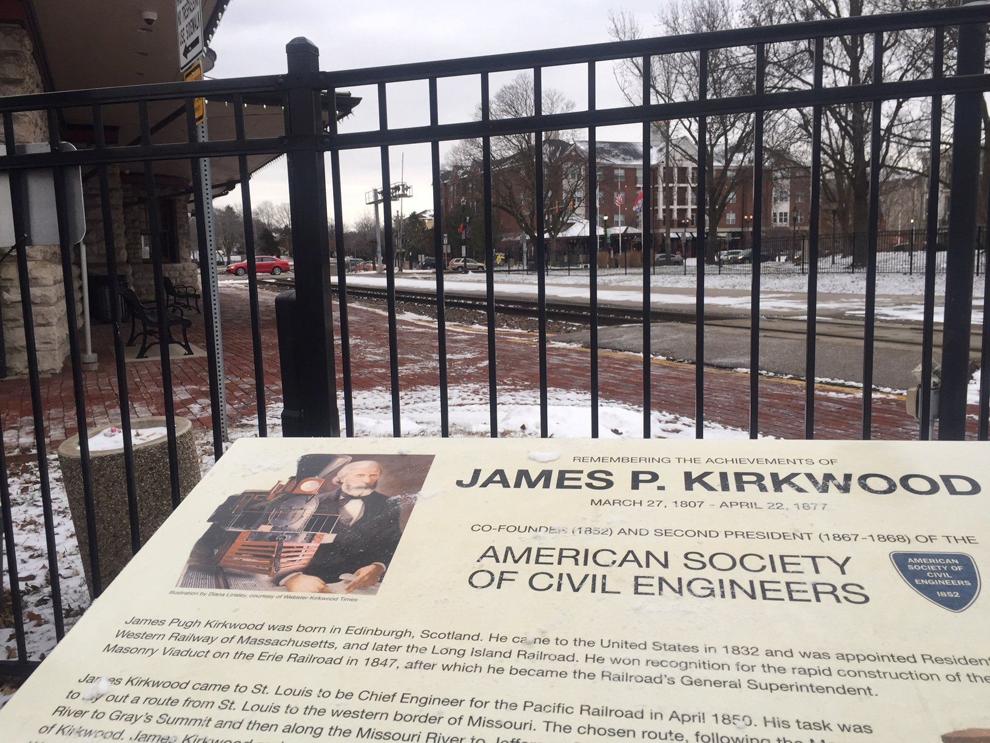 Scottish civil engineer James Pugh Kirkwood lived in St. Louis for part of his adult life, and he managed to get a town here named after him. He was the superintendent of the Missouri Pacific Railroad in the 1850s and was in charge of locating and building the railroad. Established in 1853, Kirkwood was the first planned suburb west of the Mississippi River.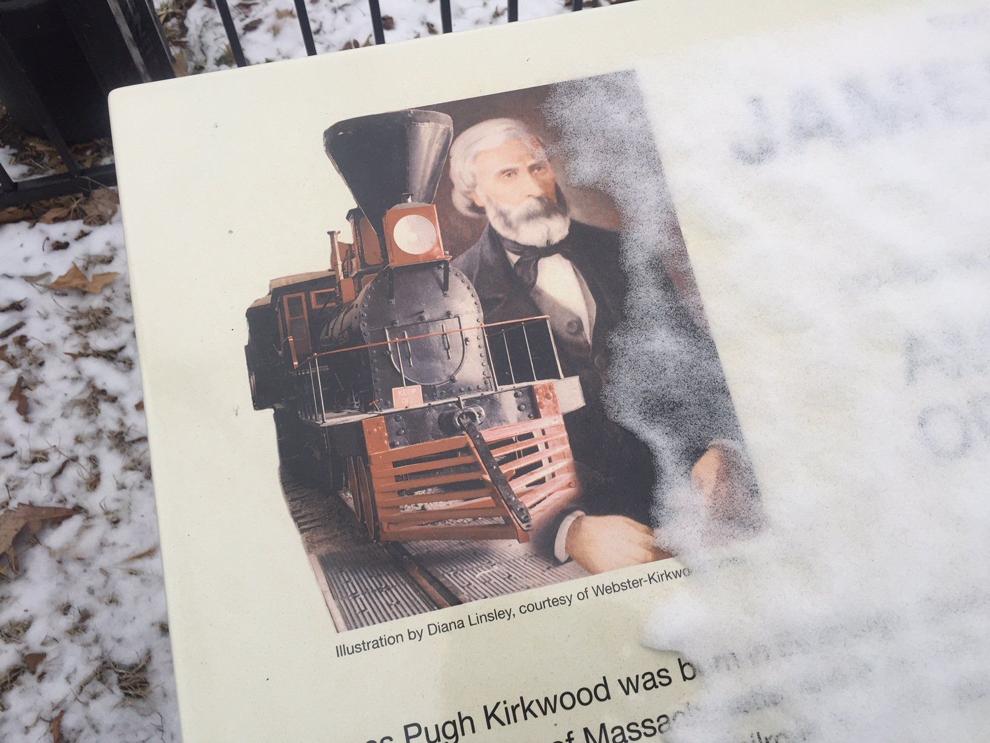 After James Kirkwood left the area, he was in charge of water resources and aqueducts in several cities around the country. He returned to St. Louis to work on pumping stations here. He built the city's first major water treatment plant at Bissell's Point, now the location of a present-day plant, according to the city's water division.
He moved to New York and died there in 1877. Kirkwood, N.Y., is also named for him, and a historic marker at Kirkwood's train station is dedicated to him.
Kimmswick: Theodore Kimm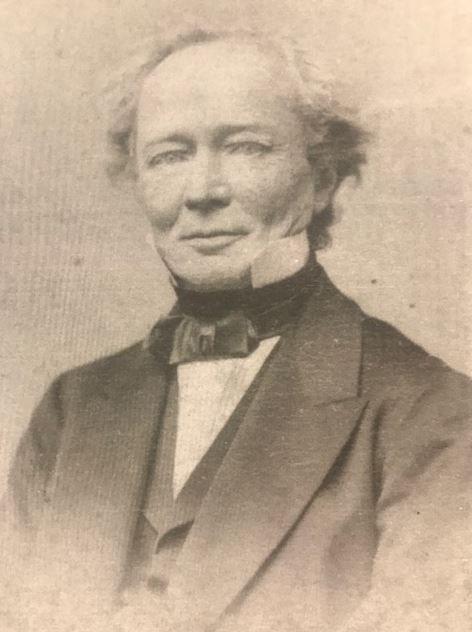 The mastodons found Kimmswick before Theodore Kimm did — the area gained notoriety in 1839 when a skeleton of the creature was found there. Kimm was a German immigrant and dry goods merchant from St. Louis who left the city after the great St. Louis fire of 1849 wiped out the riverfront's warehouse district, which included his own warehouse. The cholera epidemic also prompted him to go south.
Kimm laid the town's first five blocks on a grid in 1859 and became its first postmaster, adding the suffix "wick" to his name, which means a settlement or a town. The grid looked similar to the city of St. Louis, using the same or similar street names, says Diane Nagy, president of the Kimmswick Historical Society.
After Kimm retired, he and his wife traveled often to Europe, and he died in Switzerland and is buried there. His wife, Wilhelmine, and son Ernest, who died at age 9, are buried in Kimmswick.
The Mississippi River and the railroad served the town well until the advent of the automobile and the closing of its railroad station in 1938, as well as the building of Interstate 55 in the late 1950s. But preservationists fought to save its early buildings, and the small town attracts thousands each year to its unique shops and events like its apple butter and strawberry festivals.
Nagy, who works at the town's historical museum, isn't sure if people think much about the name.
"When people come to the museum, that is one of the things that we tell them," she said. "But there are lot of old family names, people who were here in the very beginning, and some of their ancestors are still around, like the Zieglers and the Escoffiers — just people that they're not famous, but they were here.
Fenton: Elizabeth Fenton Bennett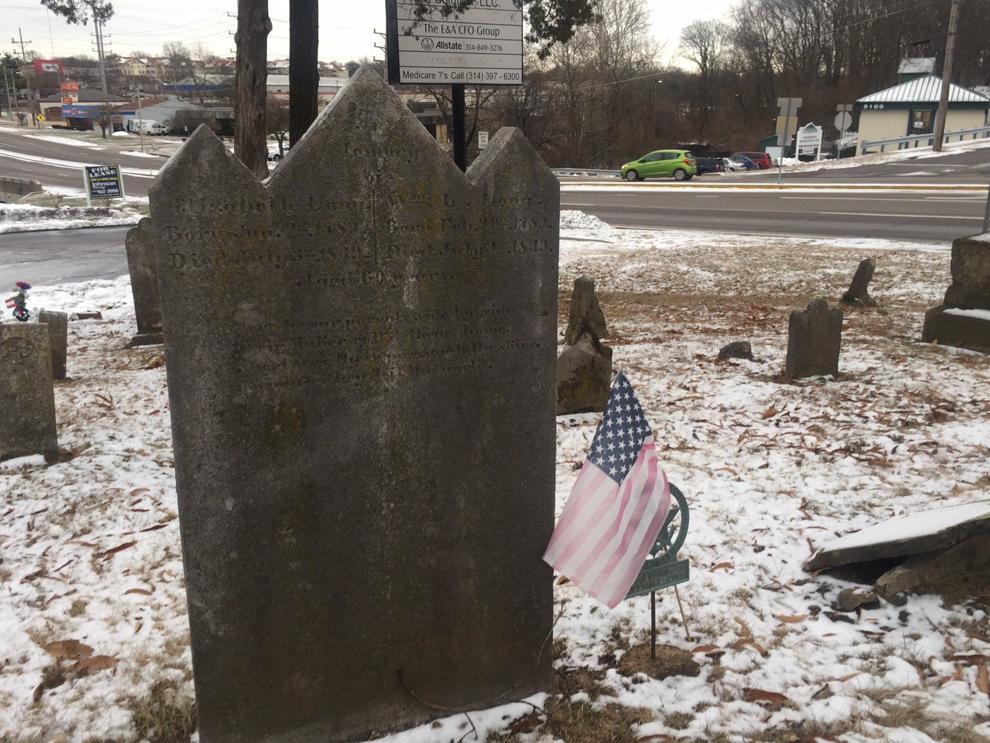 The Meramec River brought the earliest people to the area, including mound-building American Indians who arrived as early as 2,000 years ago. According to the Fenton Historical Society, the next major wave of settlers came in the 1770s, and William Lindsay Long founded the town in 1818. He named it for his Welsh grandmother, Elizabeth Fenton Bennett.
"Contrary to other popular beliefs, people had thought it was named after the Earl of Fenton, except there is no such person as the Earl of Fenton," said George Luebbers of the Fenton Historical Society.
A ferry and post office built in 1833 brought even more people to the town, and in 1854 a group of businessmen had the first bridge built across the river.
Long was married to Elizabeth Sappington, sister of Thomas Sappington, who was the original owner of Sappington House in Crestwood. The Longs also built their first home, known as "White Haven," which was later owned by Ulysses S. Grant and is now a National Historic Site. Long sold White Haven to move to the new town of Fenton. He later moved back near White Haven, where he built a log home that still stands along Pardee Road and is owned by the county. One of his sons, John Fenton Long, later became a judge and a police chief in St. Louis.
Long is buried in Sappington Cemetery, in the shadow of Route 66 (Watson Road) and an insurance building.
Ferguson: William B. Ferguson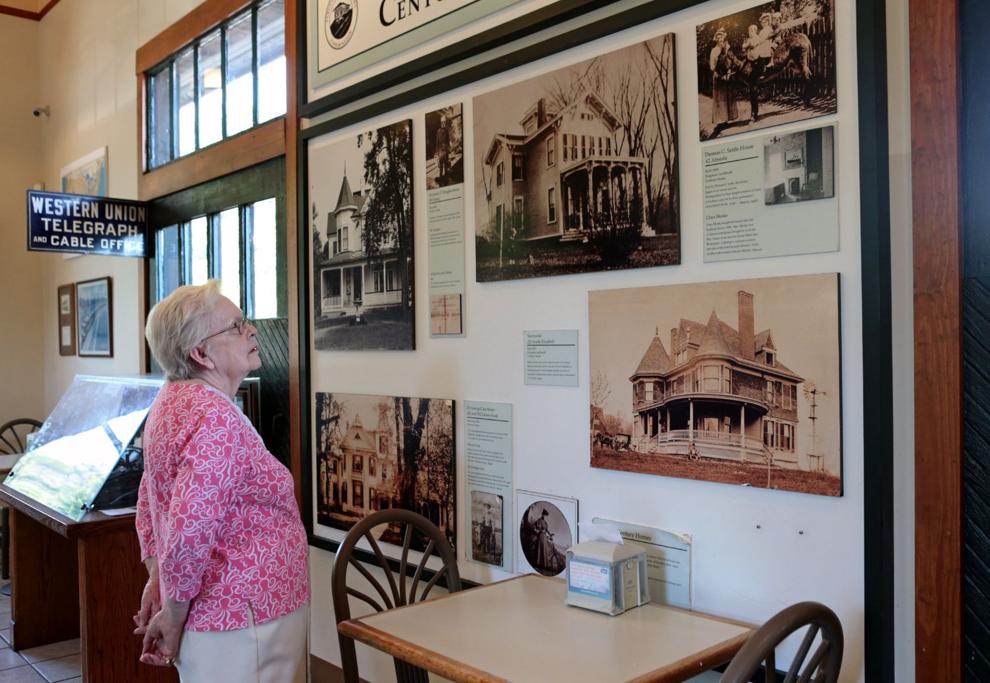 Like Kirkwood, the railroad shaped this St. Louis suburb. William B. Ferguson, who came here from Ohio, bought some land and deeded part of it in 1855 as a right-of-way for the railroad. The caveat? That they name the station after him.
After Ferguson served in the Civil War, he began laying out streets and selling property to farmers. The town grew around it and became more of a St. Louis rail suburb when workers built a spur line linking Ferguson to downtown St. Louis in 1876. The city was incorporated in 1894. Brown only spent about 30 years in Ferguson, and later moved to California, where he died in 1911 at age 97.
Another depot was built about 20 years after the original one, and the building still stands. It was most recently open as a frozen custard shop and restaurant.
Ferguson historian Ruth Brown said that after the Michael Brown shooting in 2014, she got calls from people around the nation asking if the town's namesake owned slaves. Ferguson did not; he had tenant farmers. "He was a real estate investor. He didn't do the farming himself. He started the first Presbyterian church that Ferguson had, donated land for it and helped build the little building. He was very interested in civic events. In a growing nation, that was a good idea."
O'Fallon, Mo., and O'Fallon, Ill.: John O'Fallon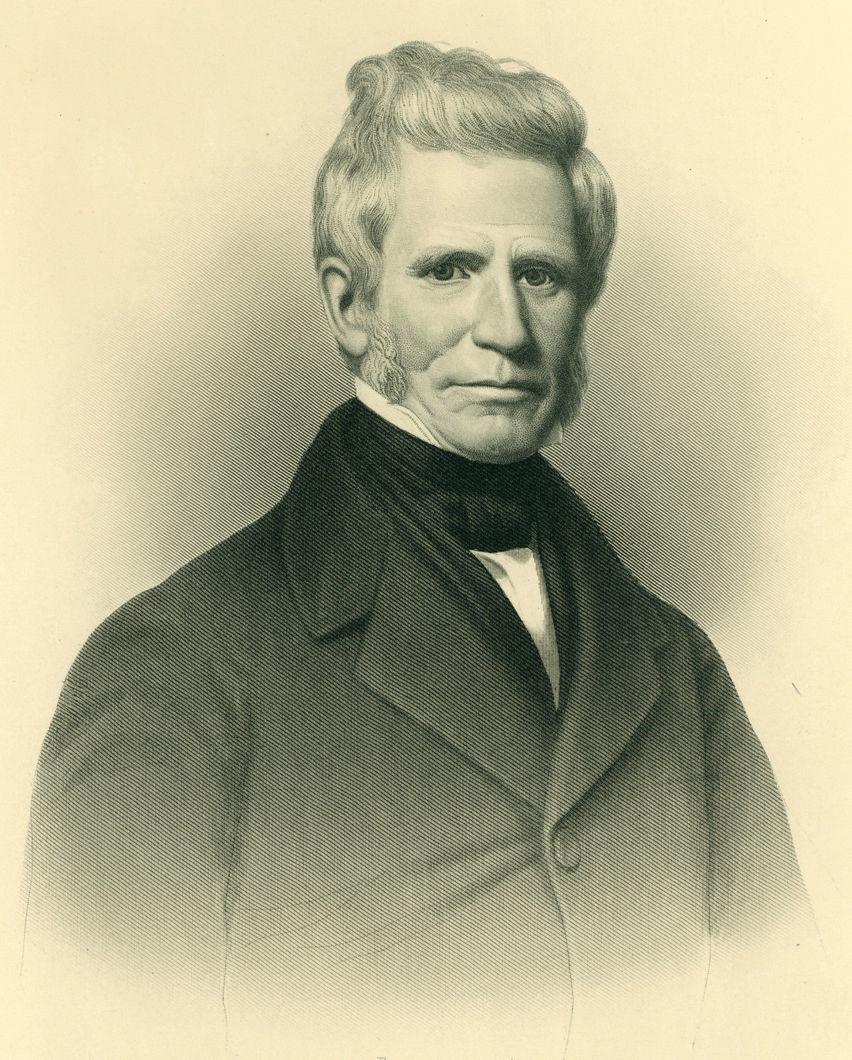 John O'Fallon was such an influential guy he got two metro area towns named after him. He was an Army-captain-turned-whiskey-maker-turned-Missouri-state-representative-turned-bank-president-turned-railroad-president. An overall generous man, he donated land for St. Louis University and Washington University in St. Louis. His country estate became O'Fallon Park in St. Louis.
In the 1850s, brothers Nicholas and Arnold Krekel founded the town in Missouri they named after O'Fallon because his railroad contributed to the city's growth. Nicholas Krekel's house still stands, across from city hall and facing the railroad.
O'Fallon, Ill., was first known as O'Fallon Station, named for the railroad that was named after the railroad president. O'Fallon Station was built in 1854, along with a water tank; city lots were platted and sold that year.
John O'Fallon, who was also the nephew of explorer William Clark, died in 1865 and is buried in Bellefontaine Cemetery.