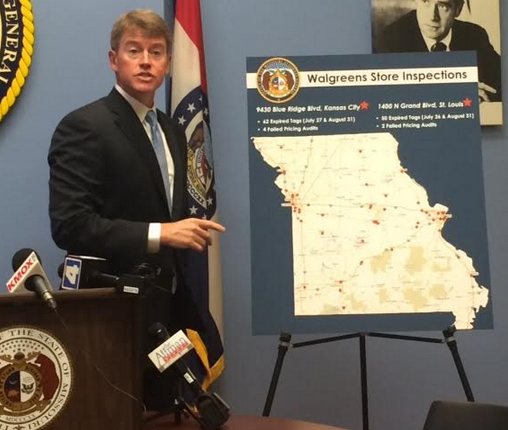 Missouri Attorney General Chris Koster says Walgreens is violating a 2014 settlement with his office in which the drugstore chain agreed to fix problems over alleged deceptive pricing.
On Tuesday, Koster filed a motion to hold the drugstore chain, owned by Walgreens Boots Alliance Inc., in contempt of court.
The motion comes after Koster's office conducted an independent, one-week investigation in July and found more than 1,300 expired and inaccurate sales tags at 49 stores across the state. Koster alleges that hundreds of tags were weeks past the expiration date and two had expired two years earlier.
"Consumers have a right to rely on the pricing that they see on the shelves without having to verify the cost of each item in their basket when they go up to the cash register," Koster said.
Instead, he said Walgreens has continued their "shoddy" business practices putting the "burden" on consumers to make sure they're not being overcharged.
Koster called Walgreens actions a "flagrant defiance of the court's order."
The contempt motion, filed in Jackson County Circuit Court, asks the court to fine the company up to $5,000 for every violation Koster's investigation turned up, plus an additional fine for every day that an expired tag is found on the store shelves.
To prevent expired or inaccurate tags from appearing in stores, Walgreens agreed to allow independent auditors check pricing at its Missouri stores, Koster said.
So far, Walgreens has already paid the state $136,500 for pricing violations found during those audits, Koster said.
Koster's office said it began its own investigation into expired sales tags in July after "noticing this term was not being honored."
Walgreens would not comment on the most recent allegations but did say: "We believe this (independent auditing) process is in our customers' best interests and we will continue to work with the Attorney General's office in order to ensure pricing accuracy on behalf of consumers across Missouri."
On Tuesday, Koster reminded customers to be "vigilant" while shopping at Walgreens, pointing out that there are consumer protections in place.
Under the 2014 settlement, a consumer who is overcharged for an item priced under $5 is entitled to receive that item free of charge. A consumer who is overcharged for a product that is more than $5 will receive a $10 store gift card, plus receive the item at the lowest advertised price.
Samantha Liss • 314-340-8017
@samanthann on Twitter