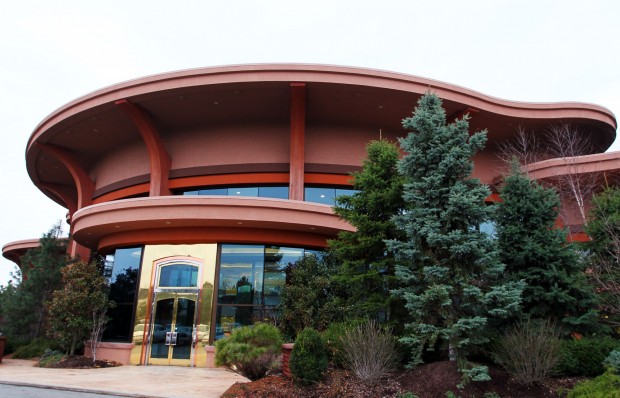 KV Pharmaceutical Co., once among the St. Louis region's strongest public companies, now faces yet another survival struggle after filing for bankruptcy.
The scandal-plagued drug maker's failed gamble to charge an extraordinarily high price for its prenatal drug, Makena, dealt a crippling blow. But the bankruptcy follows a long string of recent troubles for KV involving over size morphine tablets, a criminal prosecution, and the banishment of KV's former chairman, Marc Hermelin, from doing business with federal health programs.
KV Pharmaceutical's petition for Chapter 11 protection, which was filed on Saturday in U.S. Bankruptcy Court for the Southern District of New York in Manhattan, listed the company's assets as $237 million and its debts as $728 million.
The filing came on the same day that the Bridgeton-based company failed to make a $95 million payment it owed to Hologic Inc., a Massachusetts firm that was KV's partner in developing Makena. The drug aims to reduce the risk of premature births.
KV, which specializes in women's health products, faced a crisis last year when the Food and Drug Administration publicly declined to enforce the company's exclusive right to sell Makena – following public outrage about its high price, initially $1,500 per injection.
KV neither invented nor patented Makena, but agreed to pay Hologic nearly $200 million for "orphan drug" status – and seven years of market exclusivity – for the rights to sell the branded drug. The FDA granted the approval to Hologic, which presented the application and argued for the drug based on medical research sponsored by the National Institutes of Health. KV helped finance the application for approval.
Makena sparked a national controversy over its sky-high price – a 100-fold increase over the average cost – about $15 – for an already widely available non-branded version of the drug produced by compounding pharmacies.
Leading national medical organizations and advocacy groups, including the March of Dimes and two U.S. senators, publicly blasted the pricing.
On March 30, 2011, the FDA announced that it would not enforce KV's market exclusivity because of concerns that the drug would be unaffordable to many women. Hours later, the federal Centers for Medicare and Medicaid Services indicated that states could purchase the compounded version, called 17P, from specialty pharmacies.
The resistance prompted KV executives to dramatically lower Makena's cost, but the move failed to forestall the backlash. As a result, KV's ambitious sales projections for its latest drug failed to materialize.
In its bankruptcy filing, KV offered no specific restructuring proposal for its creditors. Its largest creditors include $201 million in debt securities owned by Deutsche Bank Trust.
KV executives were unavailable for comment. However, KV issued a written statement indicating that the company will continue to operate during the bankruptcy proceedings.
"The Chapter 11 filing is intended to provide K-V with the time needed to continue to conduct our business and restructure our financial obligations as we continue our efforts to ensure that all clinically-indicated patients have access to Makena," Greg Divis, KV's chief executive, said in the statement.
"It is our intention to emerge from this restructuring as a stable and competitive company, able to continue to provide quality products," he wrote.
A motion to meet the company's payroll has been submitted to the bankruptcy court, according to a company spokesman.
But at least one Wall Street analyst said the Chapter 11 filing could spell the end of KV.
"With the failure of Makena, the bankruptcy was a long time coming," said Kevin Kedra, an analyst at Gabelli & Co., an investment management firm in Rye, NY. "They were making pennies on a dollar."
Kedra said the company's assets probably won't fetch much money for creditors. "They're sort of limited in what they have left to sell," he said. "They've been shedding assets all along to keep themselves afloat."
KV's bankruptcy was presaged by a crisis in 2008 that sent the company into a tailspin. At that time, executives decided not to fully alert the authorities that the company had produced oversize drug tablets.
KV's problems first surfaced in March 2008 when pharmacists in California and Canada reported that it had produced oversized morphine tablets. The strangely shaped tablets contained double doses of the powerful painkiller.
KV initiated recalls of its morphine tablets in June 2008, but failed to report to the FDA that it had also produced oversized tablets of two other drugs: propafenone, prescribed for irregular heartbeats; and dextroamphetamine, an ingredient in the attention-deficit disorder drug Adderall.
These quality control failures led to a nearly two-year manufacturing shutdown, layoffs of three-quarters of its workforce, the felony conviction in March 2010 of its subsidiary, Ethex Corp., and the exclusion of Marc Hermelin, the company's former chairman and former chief executive, from doing business with federal health care programs for the next 20 years.
Family trusts affiliated with Marc Hermelin and his son David Hermelin still retain ownership of a substantial portion of KV stock. On Monday, the New York Stock Exchange suspended trading of KV stock; class A shares last traded at 32 cents.