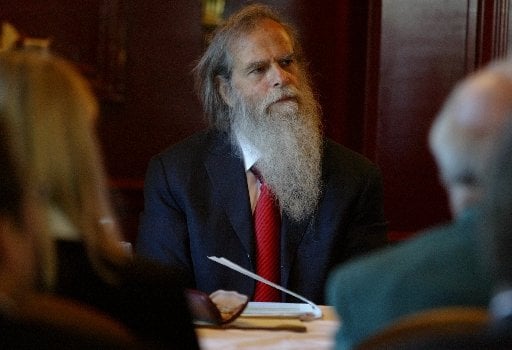 KV Pharmaceutical Co. has filed a lawsuit against its former board chairman and chief executive, Marc Hermelin, hoping to avoid paying him about $36.9 million in retirement benefits, plus legal expenses.
The lawsuit, filed Oct. 7 in circuit court in St. Louis County, accuses Hermelin of breaching his fiduciary obligations to the Bridgeton-based company through his alleged misconduct in shipping oversize painkillers to pharmacies.
The suit asks the court to grant a declaratory judgment that KV Pharmaceutical has no legal duty to pay tens of millions of dollars in retirement and termination fees to Hermelin, nor to reimburse him for his considerable legal expenses associated with his tenure at the drug company.
KV also seeks a court order that Hermelin repay the company all the executive compensation he received during the time of his "knowing and intentional breach of his fiduciary obligations to KV," as well as repay the company for "other things of value by which he was enriched as a result of the wrongs he committed."
Finally, it asks that Hermelin be ordered to pay the highest allowable financial interest on the amount of damages sustained by KV "as a result of his culpable conduct."
Hermelin, who is living in Israel, could not be reached for comment. An attorney for KV Pharmaceutical declined to comment.
By 2008, KV was considered one of the most successful publicly traded companies based in the St. Louis area, posting nearly $600 million in revenue and employing 1,700 people. But in December of that year the pharmaceutical company's board of directors removed Hermelin as chairman of the board and also ended his tenure as chief executive after the board's internal investigation concluded that he had not acted in good faith.
According to the company's lawsuit, Hermelin was terminated "for cause" because of misconduct involving "his willful failure to perform his duties in the best interests of KV."
Hermelin's employment agreement called for retirement and termination payments to Hermelin, but not if the board concluded that he had intentionally acted against KV's economic interests and caused significant adverse effects for the company.
Food and Drug Administration regulators shut down the pharmaceutical business of KV and its wholly owned subsidiary, Ethex Corp., in 2009 after pharmacists discovered that the company was shipping oversized morphine pills. KV's stock price tumbled, and the company laid off about three-quarters of its employees.
In early 2010, Ethex pleaded guilty to two felony counts of criminal fraud for failing to report to the FDA that it was distributing medicines of the wrong size and shape that could be harmful to patients. Ethex, which was ordered to pay $27.6 million in fines and restitution, has been dissolved.
"Hermelin knew that many of his actions were improper, and that they risked severe sanctions against KV - sanctions so severe that they could end KV's ability to do business," the suit alleges. "He acted solely to protect his own interests and bonus, which was, by contract, calculated as a percent of KV profit, so taking appropriate action would be costly to him."
KV's lawsuit describes Hermelin's alleged misconduct as including "failure to take appropriate actions with respect to the FDA, multiple attempts to impede the work of those investigating matters at KV's facilities, and multiple efforts to conceal critical information with respect to KV's production facilities and processes from internal audit and quality personnel and KV's own board and its committees."
KV's suit also alleges that the company has been held captive by Hermelin. According to the lawsuit, Hermelin and his family controlled the majority of the voting power of KV stock, but only about one quarter of the economic interest. Public shareholders owned the remainder.
A consent decree between Ethex and the FDA in March 2009 barred KV Pharmaceutical from permitting Hermelin to have any role in the decision-making, management or operation of the company. Nonetheless, the suit alleges, Hermelin in June 2010 "caused the re-election of himself to the board."
In November 2010, at the demand of federal regulators, Hermelin resigned from KV's board. Shortly after, the Office of Inspector General of the federal Department of Health and Human Services banned Hermelin from participating in any business involving Medicare, Medicaid and all other federal health care programs for 20 years.
In March, Hermelin pleaded guilty in federal court in St. Louis to two criminal misdemeanor counts of mislabeling drugs. Hermelin was initially sentenced to 30 days in St. Louis County jail, but he was released by a federal judge after serving only about half that time. Under a plea agreement, Hermelin also agreed to pay a $1 million criminal penalty and to forfeit an additional $900,000 in ill-gotten gains.
Hermelin claims that he was not fired by KV, but instead resigned. Hermelin has demanded that he be paid retirement benefits and reimbursed for his legal expenses in connection with the criminal proceedings against him, governmental investigations, and other lawsuits. KV contends that it owes him nothing.