GRANITE CITY • The work was hot and dirty, but a job at the steel mill here offered a $64,000-a-year ticket to the middle class for people who never went past high school.
Now, as a second winter without a paycheck approaches, many are worrying when and if they will climb back to the lives they knew. Granite City, an old-economy town that still lives by making things, is worrying with them.
"These were great manufacturing jobs. They paid very well. They became the American dream for young guys with a wife, young kids," said steelworker Jerry Halbrook, 53.
Casey Ballentine, 29, is one of those young guys.
Life was good when the mill was running. Most years, Ballentine could pull in $75,000 with overtime. "I got up to $92,000," he said.
Now, his unemployment has run out. He was just short of the three years of seniority at the mill needed to qualify for supplemental unemployment benefits (SUB) provided under the United Steelworkers' union contract.
Two weeks ago, he stood in a line for a free turkey at a giveaway for laid-off steelworkers at the Granite City township hall. He held 1-year-old Kyli in his arms as 5-year-old Harper circled around his legs. "I'm struggling to find a job," he said. "I have two little girls at home."
Few employers will pay $75,000 to a high school graduate. Ballentine said he found work this summer at a lawn service, but that ended in October. His wife works at the front desk at a doctor's office.
"We're in credit card debt. It's 'do or die' now," he said. Little Harper, a daughter from a previous marriage, lacks health insurance, and it worries him.
What comes next? "I don't know," he said. He's hoping the mill reopens soon. "If not, it will be a way hard couple of years doing odds-and-ends jobs," he said.
The iffy nature of the situation is making it harder for steelworkers to find new jobs, workers say. Employers think they will quit when the mill reopens.
Other workers have different problems. "Not many people want to hire somebody with leukemia," said Mike Buckingham, 57.
Most cancer victims out of work since February would be in deep financial trouble, and Buckingham is feeling the strain. But his situation illustrates a point: If you have to be laid off, it's best to be a union steelworker. The United Steelworkers contract provides a cushion for older employees, and Buckingham has 37 years at the mill.
That qualifies him for two years of health insurance, plus $2,200 a month in SUB pay. About $300 of that goes for child support, and Buckingham is living with his elderly mother. "I'm barely making it," he said.
The amount of cushion depends on seniority, and SUB pay is reduced every few months. A large block of steelworkers will run out of SUB pay in December.
Trade and Trump
Frustration led some steelworkers to break from their union, which supported Hillary Clinton for president. They were drawn to Republican Donald Trump's promise to crack down on unfair trade and put steelworkers back to work.
Halbrook, a steelworker for 27 years, always voted for Democrats. But this time he went for Trump. "A whole lot of people are getting tired of the system," he said. "This is the second time I got laid off under the Democrats."
Ballentine also picked Trump. "I know he's against unions, but unions don't matter if you don't have a job," he said.
"A lot of members are hurting, trying to make ends meet, trying to change careers," said Jason Chism, president of Steelworkers Local 50, one of two Steelworkers locals at the plant. The average steelworker made $64,000, says Chism.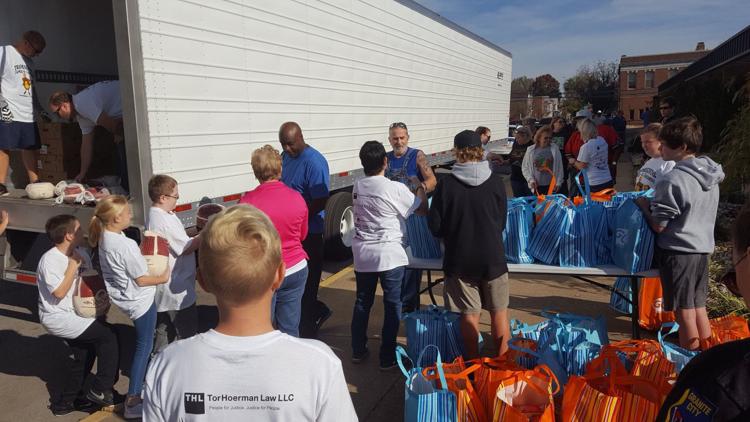 The people of the Granite City area have stepped up to help, he said. They raised $50,000 at a fundraiser sponsored by the Rotary Club at Gateway Motorsports track in early November. It will go to a hardship fund for steelworkers run by the United Way.
About 100 steelworkers came during a special food distribution at the Granite City Community Care Center in September. "I do know a few that lost their homes," said Debra Homyer, manager of the Community Care Center. "More and more we're hearing that they had to sell their homes."
Steelworkers qualify for free job training under the federal Trade Adjustment Assistance program, and taking training can extend unemployment payments. Some are learning to be truck drivers and heating system specialists, said Dan Simmons, president of Local 1899 of the USW.
"They have not found good, substantial work," he said.
Most of Granite City's steel went for making tubes, mainly for the oil and gas industry. That industry has been on its back since oil prices plunged two years ago, turning the fracking boom to bust.
U.S. Steel's Lone Star tube plant remains shut, and that's where much of Granite City's steel was shipped. The company's tube plants in Birmingham, Ala., and Lorain, Ohio, slog on at low levels.
When announcing the layoffs last year, U.S. Steel complained of a flood of low-price steel imports from Asia. The Commerce Department in May ruled that China, other Asian nations and Italy were dumping steel at unfair prices, and imposed countervailing charges.
That slowed the import flow, and union leaders say it led U.S. Steel to keep the steel finishing operation working in Granite City. But pipe-makers are still working through a nine-month supply of imported steel. Union leaders hope that the rest of the mill may reopen once the surplus is used up.
"The trade case worked," said Chism. "I'm optimistic it will be better in 2017."
Steel prices have been trending up recently, and U.S. Steel turned a $51 million profit in the September quarter, up from a $46 million loss a year earlier.
But analysts don't see a major revival ahead in the face of a worldwide glut of steelmaking capacity. "We expect selling prices to remain under pressure from weak energy market demand, and low utilization rates should continue to lead to low shipments and high unit costs," said analysts at J.P. Morgan in a report this month.
Factory town
Between the plants are older blue-collar neighborhoods where household income of $44,000 per year is about 80 percent of the average for metro St. Louis.
It's hard to judge the impact of layoffs on the city, says Hagnauer. The city will get a hint at year-end, when tax revenue rolls in.
About a third of mill workers live in the 62040 ZIP code, which includes mainly Granite City and Pontoon Beach.
In downtown Granite City, next to the mill, retailers say they've lost some business since the mill closed, although the loss isn't critical.
Jim's Pawn and Jewelry is a local mecca for Hollywood and 1960s nostalgia a couple of blocks from the mill. There is a collection of velvet paintings and posters of Marilyn Monroe, Audrey Hepburn and Elvis among the standard fare of pawned jewelry and power tools for sale.
Just after the layoffs, the store saw a spurt of steelworkers coming in to pawn items, but that ceased fairly quickly. The major effect has been a drop in sales of big-ticket items, said clerk Logan Schellhardt. "We're still seeing a lot of the guys, but they're not buying the big stuff. We feel for them," he said.
Steelworkers would drop in at Stephanie's Spiritual Therapy for foot detox, meditations, vibration oil massages or the oils and candles on the shelves.
The mill closing hasn't caused a major drop in business, said Miranda Pryor, who was minding the store on a weekday afternoon. "We liked seeing them in here. They were our regulars," she said.
Retailers tell the mayor that their sales have declined less than 20 percent. That may be because laid-off workers shop close to home, rather than heading off to big malls elsewhere in the metro area. In 2009, the last time the mill closed, Granite City had one of its best years for sales tax collections, said the mayor. "People stayed at home," he said.
Ruth Petri, 91, was working the grill on a recent afternoon at Petri Cafe, two blocks from the mill. Son Larry Petri was on the register.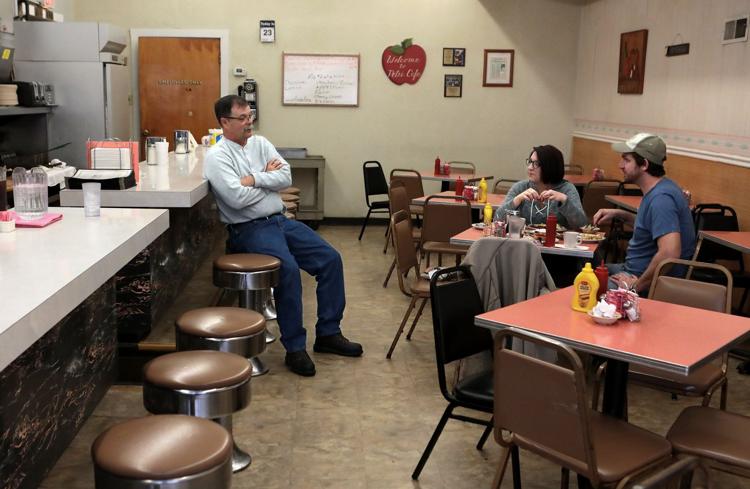 The cafe has survived the ups and downs of the steel industry for 70 years. It has a crowd of loyal customers, many of them older, says Larry Petri.
But he misses the steelworkers, and the plant contractors who would come for lunch.
"I'm not saying it doesn't hurt us. It does," said Larry Petri, after bidding goodbye to a retired teacher who has been coming since the 1960s. But like Granite City, Petri's will go on.
Daily updates on the latest news in the St. Louis business community.