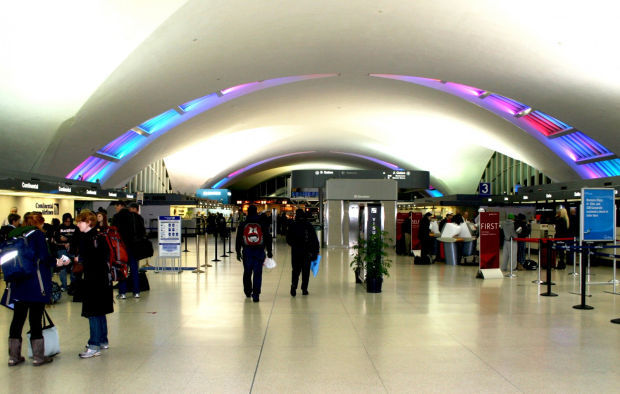 The renovation of the historic Terminal 1 ceiling vaults at Lambert-St. Louis International Airport received a 2013 AIA Chicago Design Excellence Award in the Divine Detail category.
St. Louis-based Kwame Building Group Inc. is the project manager for the $70 million Airport Experience Program, the largest renovation in the airport's history.
The Kwame project management team recommended several key solutions to implement the new lighting scheme, which was designed by Webster Groves-based Randy Burkett Lighting Design.
The renovation of the dramatic concrete vaults and skylights in Terminal 1 was part of Phase I of the project. Before the renovation, the skylights separating the four vaults in the ceiling were hidden by acrylic coverings. The Kwame project management team recommended opening the vaults to dramatize the skylights, which are now in full view, a feature that was evident in the airport's original mid-century design by Minoru Yamasaki.
Fluorescent lighting inside the skylights has been replaced with LED lighting to reduce energy and maintenance costs while also providing both quality white light and color programmability.
Daily updates on the latest news in the St. Louis business community.