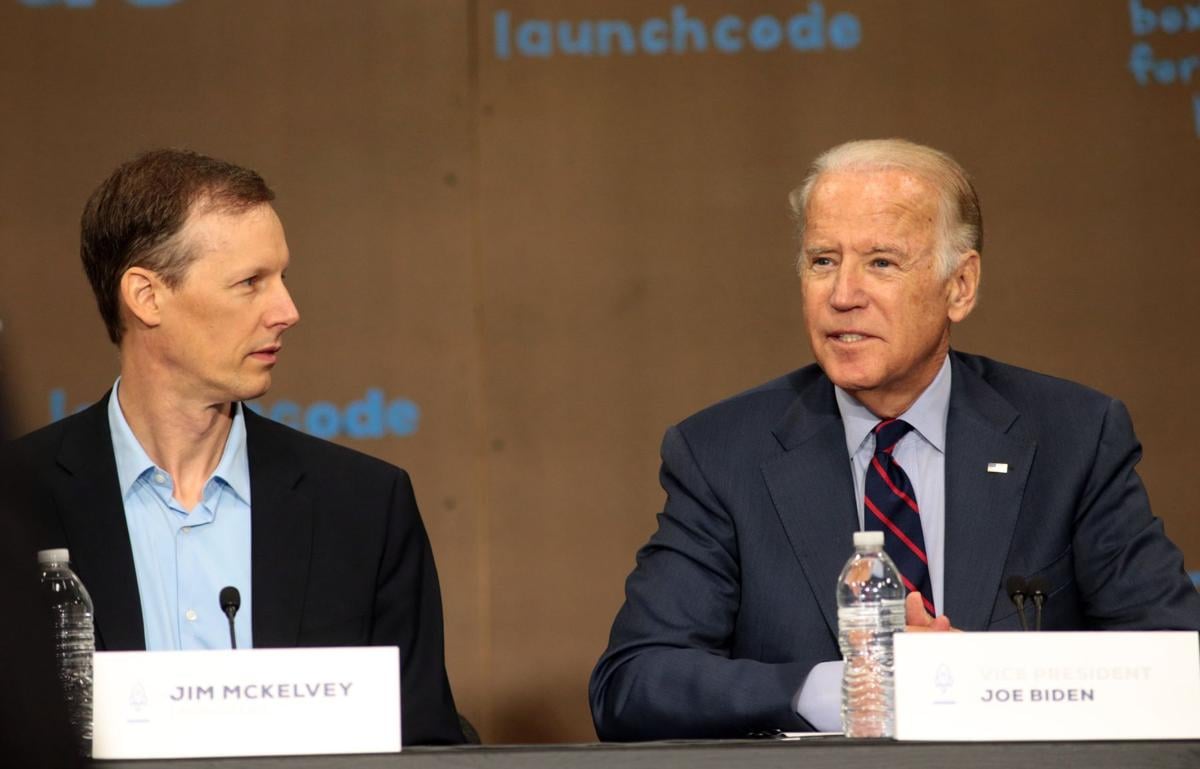 St. Louis-based LaunchCode's national expansion efforts have been dealt a setback in Rhode Island just over a year after the tech nonprofit group opened shop there with public financing.
"They are not doing anything targeted in Rhode Island right now," Rhode Island Department of Labor and Training spokeswoman Laura Hastings said. The state's funding contract with the nonprofit ended in May, Hastings said.
LaunchCode executive director Mark Bauer said the nonprofit organization no longer has staff on the ground in Rhode Island, but still has company partners there for potentially placing future apprentices.
"Fundamentally, yes, funding was a big part of why we decided ultimately to reduce our presence there," Bauer said.
LaunchCode received $497,000 in grants from the state to host intensive computer coding classes called "boot camps" and 90-day internships with employer partners. LaunchCode was created by local tech entrepreneur and Square co-founder Jim McKelvey in 2013 to put candidates with less education and experience into computer programming apprenticeships and jobs.
But results in Rhode Island failed to meet expectations. LaunchCode had proposed placing 130 candidates in apprenticeships over a two-year period, and ultimately placed 20.
"While the partnership fell short of mutual goals and didn't perform the way we hoped, we're not going to lose sight of the fact that LaunchCode generated awareness and enthusiasm, helped a number of previously unemployed and underemployed workers get high-paying tech jobs, and resulted in dozens of people receiving high-quality job training in Rhode Island," Hastings said in an email.
Rhode Island Department of Labor and Training spokesman Michael Healey said LaunchCode's 16-week boot camps attracted nearly 500 applicants "but many lacked the necessary IT skills to handle the rigor of the training." Ultimately 51 Rhode Islanders completed the training.
LaunchCode recruited and screened nearly 800 candidates for "software development internships," which LaunchCode counts as apprenticeships. Fourteen were placed in internships and 13 were hired to full-time jobs, Healey said.
LaunchCode counts 19 Rhode Islanders placed in apprenticeships, but not all of those individuals returned forms to the state to be counted in its official numbers, said Jeff Mazur, LaunchCode vice president of public partnerships.
LaunchCode's Rhode Island office, in Pawtucket, was one of six locations where LaunchCode had put offices since 2015. The nonprofit organization had opened offices in Miami and Kansas City prior to Rhode Island, and earlier this year set up shop in Seattle and Portland, Ore., also funded through the federal TechHire Initiative.
Nationwide, LaunchCode says it has placed more than 700 apprentices. More than 400 of them were placements in the St. Louis area.
Meanwhile in Washington state, the organization's federally certified apprenticeship program waits to be placed on that state's list of eligible training providers.
Washington state's Department of Labor and Industries, which oversees apprenticeship programs, says LaunchCode hasn't met the requirements for state certification. Department spokesman Matthew Erlich said the state requires job trainers go through that process before being recognized on the provider list.
Mazur said the organization stopped pursuing the designation last year after discussions stalled, but still believes LaunchCode is legally entitled to it.
"They resisted largely out of bureaucratic inertia and turf protection," Mazur said.
In January, the U.S. Department of Labor issued guidance saying federally registered apprenticeship programs such as LaunchCode are automatically eligible for such lists under the federal Workforce Innovation and Opportunity Act. Erlich directed questions about the federal guidance to the state Workforce Training Board, where a spokeswoman said LaunchCode was welcome to re-engage the process with the state.
Organizations seeking federal workforce dollars use those lists in every state to identify potential partners.
The impasse hasn't stopped LaunchCode from operating in Seattle, which it has since earlier this year in partnership with Seattle Central College and supported by a federal grant for tech jobs training awarded last summer.
LaunchCode has placed two people in apprenticeships in Seattle this year, and Mazur said that number is low because the program is in its infancy.