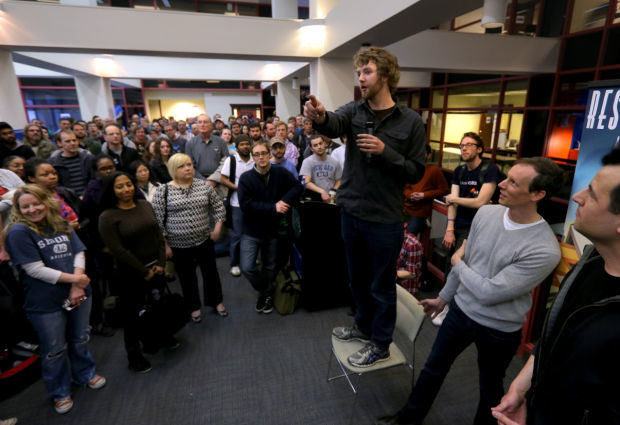 A group of unemployed St. Louisans will soon attend a coding boot camp to start them in a career in computer programming or IT.
LaunchCode is partnering with St. Louis Community College and the city of St. Louis' workforce department, SLATE, to offer reBootU. The new class, which students attend at no cost, will be held at the T-REx incubator downtown.
As many as 40 students enrolled in the 20-week boot camp will attend the class eight and 12 hours a day, Monday through Friday.
"We will begin by teaching computer science basics so that they have a foundation to learn from, and then move into more specialized skills that orient them towards different types of work in the field of software development," LaunchCode education director Zach Lou told the Post-Dispatch.
The course curriculum, class size and other details are still being finalized, but it's expected to begin in late January or early February.
Steve Long, St. Louis Community College's associate vice chancellor for workforce solutions, said the college has been in talks with LaunchCode for several months about developing the pilot program. The college currently doesn't offer an accelerated coding course.
"We think that this pilot will prove that it doesn't take a full blown two-year, much less four-year degree, to be successful" in LaunchCode's apprenticeship model, he said.
"ReBoot U will re-skill folks and get them back into the workforce, and get them into 21st century jobs," said LaunchCode's program director Alex Miller.
Jim McKelvey, co-founder of payments firm Square and owner of Third Degree Glass Factory in St. Louis, started the nonprofit LaunchCode in 2013 to pair coders with engineers at dozens of local companies. The nonprofit is seeking to spur economic development and make the region known as a place for companies to find experienced programmers.
LaunchCode has already placed 132 people in apprenticeships in St. Louis, Miller said, and more than 90 percent of those apprentices were converted to full-time jobs. The average annual salary of a LaunchCode participant after their apprenticeship is $50,000.
Almost half of the participants were unemployed when they began taking LaunchCode courses, and most — 82 percent — lacked a college degree or had a nontechnical degree, he said.
LaunchCode's other programs are also attracting participants. CoderGirl, a free women's coding group that began last year, started a new session Wednesday night, with more than 300 attendees.
ReBootU is the first time LaunchCode has offered a full-time intensive program specifically geared for the unemployed, LaunchCode's program director, Alex Miller, said.
Some spots in reBootU class remain open, and those interested in applying can email bootcamp@launchcode.org or visit SLATE's office at 1520 Market Street in downtown St. Louis. The Missouri Department of Workforce Development is funding SLATE $500,000 for the reBootU program.
SLATE sent out a mass email this month to thousands of unemployed people in the region who may be interested in reBootU, and many were not aware LaunchCode provides free coding training, said SLATE's executive director Michael Holmes. Some unemployed individuals he's talked to about the program have Information Technology experience but need to learn new skills to be competitive for current job requirements, Holmes said.
"We believe in what LaunchCode is trying to do," Holmes said. "We know in this region, IT is a growing industry, and our job working with LaunchCode is to get people interested in IT engaged. IT is driving a huge part of the economy in the St. Louis area."