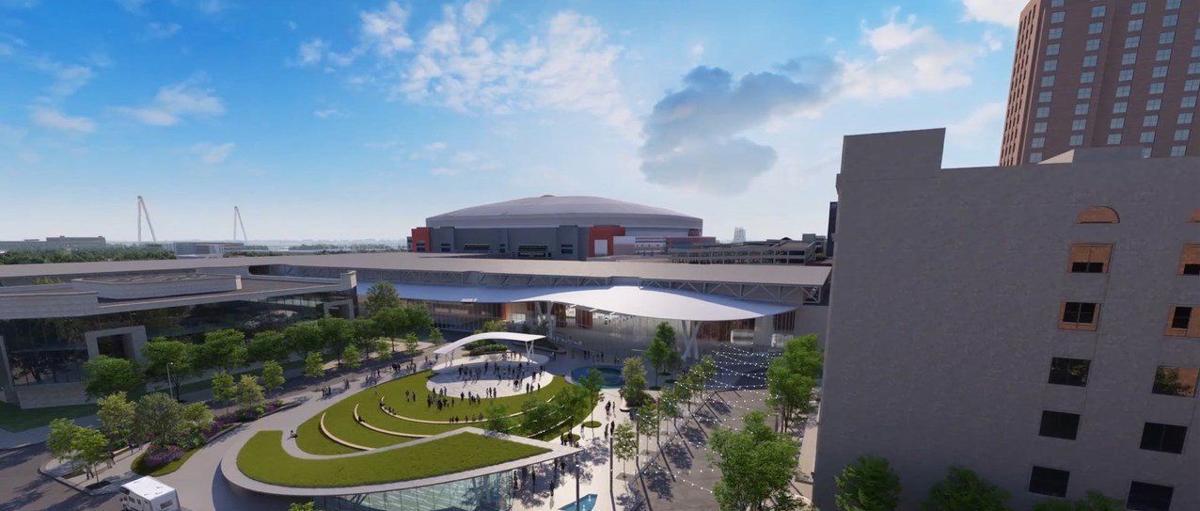 Regional leaders presented a $175 million plan to expand America's Center downtown that they say is necessary to compete with nearby cities for big conventions and the thousands of people they bring to the St. Louis area's hotel rooms and restaurants.
The project, announced Wednesday, would add 92,000 square feet of exhibit space along Cole Street and a 65,000-square-foot ballroom along Ninth Street as well as a new pavilion and green space on what is now a surface parking lot.
St. Louis city and county's 1.3 million residents won't be asked to shoulder any new taxes for the downtown convention center's expansion, said Kathleen "Kitty" Ratcliffe, president of the St. Louis Convention and Visitors Commission, which operates America's Center.
Instead, the fund used to service the debt issued in 1991 to finance the Dome at America's Center — built for the National Football League Rams, which left in 2016 — will be used to service new, 40-year bonds issued for the America's Center expansion. The Dome debt is set to be paid off in 2021. St. Louis and St. Louis County each contribute about $6 million a year to that fund through hotel taxes.
St. Louis Mayor Lyda Krewson and St. Louis County Executive Steve Stenger are both endorsing the plan.
"This is a good deal for county taxpayers as the proposed revenue will be paid from out of town visitors who stay in our county hotels and motels," Stenger said in a statement.
Though convention center upgrades have been talked about behind the scenes since the Rams left, Stenger had declined to commit to using the county's share of hotel tax to help with upgrades, saying he was waiting to see a final plan.
At an event Tuesday announcing the plan, Ratcliffe thanked Stenger specifically for his "due diligence" in assessing the proposal and making a decision that could be seen as politically difficult.
"I want to tell you how much we appreciate the stand you've taken on this," she said.
As for Krewson, she said America's Center upgrades had been "on my urgent list for a year and a half."
"Things don't stop at that city-county line," Krewson said. "And these big decisions are better made together."
The expansion comes as some downtown restaurateurs and hoteliers complain that their businesses have taken a hit from fewer conventions. The CVC said last month that hotel room night bookings associated with America's Center were down 30 percent year-to-date, to 230,554 from 327,578 in 2017.
Ratcliffe has long argued that upgraded facilities were needed to compete for conventions in cities such as Nashville, Tenn., and Indianapolis, which have spent hundreds of millions of dollars in recent years to revamp their tourism infrastructure. She said getting the two regional leaders on board was key to the project's success.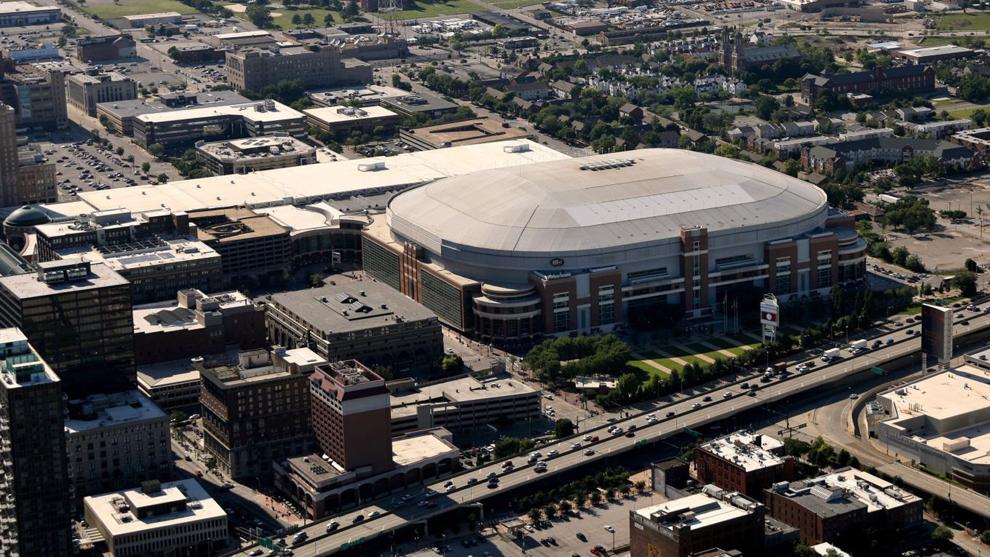 "It's a big step in our region to have the county executive and the mayor involved in something like this," Ratcliffe said in an interview Tuesday.
That garage will be demolished to make room for 92,000 square feet of new exhibit hall space. It will also allow 26 new loading docks to be added along Cole Street and let the convention center reorient the current 12 docks at an angle, so trucks don't block traffic along the street.
"If we can't get the freight in, it costs the clients money," Ratcliffe said.
Plans also call for adding a wall with art and some greenery to beautify the Cole edge of the convention center. The front entrance along Washington Avenue would also be spruced up.
The new exhibit space will allow current exhibit halls to the south toward Washington to be turned into a 65,000-square-foot ballroom, more than double the size of the current one. The current ballroom, Ratcliffe said, is not large enough to be competitive as a signature convention center ballroom. It will remain, however, as an option for groups to use.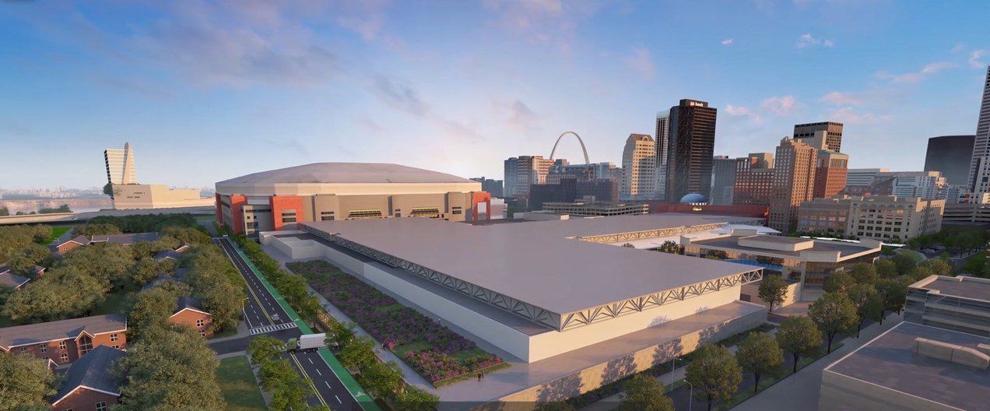 A new kitchen will be added to service the ballrooms, she said.
As America's Center was built in phases over the decades, including avoiding a privately held parking garage on Seventh Street that it was never able to acquire, the layout posed logistical problems. Now, for instance, the kitchen is on a different level from the ballroom and servers must take a "circuitous route" through the convention center that's the equivalent of a couple of city blocks.
"It's hard to get the food to hold up when it has to be plated and travel this far," Ratcliffe said. "It's a great kitchen, but it's not in the right location to serve the ballroom."
Just to the west of the new ballroom and its glass entrance along Ninth , a surface parking lot the St. Louis economic development agency bought this summer would be turned into green space and a pavilion. That will provide space for outdoor events and beautify the rough western edge of the convention center, which is currently dominated by unattractive surface parking.
"We need more green space around here," Ratcliffe said.
The surface lot just to the west of that, which the city agency bought as part of its transaction over the summer, would be held for future development, perhaps a parking garage and retail businesses, though details aren't final.
Both the St. Louis Board of Aldermen and the St. Louis County Council will need to approve ordinances authorizing the new financing plan.
Ratcliffe said she hoped to begin construction on the exhibit space and loading docks by late next year, with the ballroom and green space to follow. To avoid disrupting events, the project will have to be built in phases. The goal is to wrap up by the end of 2021.
"The fact is that this building has a huge impact on the regional economy," Ratcliffe said. "There's a lot of economic activity that's generated beyond the city."