ST. LOUIS — Two downtown St. Louis hotels — one open for just under a year — are in financial trouble, prompting lenders to seek other hoteliers to manage the properties.
The dual-branded Home2 Suites/Tru by Hilton on Locust Street last week was placed under receivership — in which a third party is appointed to temporarily manage a property — while the lender behind Hotel Indigo on Olive Street filed for receivership this week.
The receiverships occurred after the owners each failed to make payments on their respective loans worth millions of dollars, court documents show.
Hotel Indigo and the Home2 Suites/Tru by Hilton were part of a cache of nearly a dozen new hotels announced for opening in downtown St. Louis just as the pandemic hit the region in March 2020. Plans for several of those hotels stalled or fell apart, while others were delayed. Downtown hotels have experienced a slower recovery from the coronavirus pandemic compared to the overall region and business travel, a key customer group, has yet to return to pre-pandemic levels, hospitality experts say.
For the lender of Hotel Indigo, the move to receivership isn't commentary on the downtown market but rather how that particular hotel was managed, said the lender's attorney, Daniel Doyle of Lashly & Baer. The lender, Saint Louis Bank, has no plans to sell the hotel, he said.
"We think it's a viable hotel," Doyle said. "It needs some changes, and the owner is on board with that, too."
In 2020, hotel occupancy in the region fell to 38.5% as demand declined nearly 42% compared to the prior year. By 2022, occupancy rebounded to 59.3% and demand grew by 13.8% from the previous year, according to data from commercial real estate firm CBRE and Kalibri Labs.
The 88-room Hotel Indigo, a redevelopment of the LaSalle Building at 501 Olive, opened in January 2020 after a four-year renovation.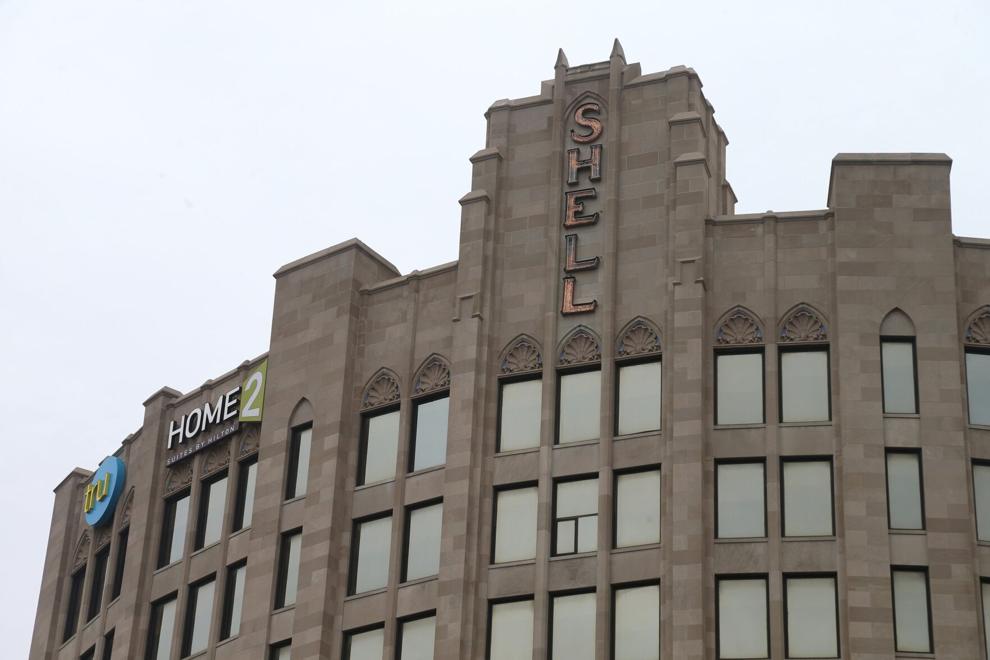 But the owner and developer, Olive Street Saint Louis LLC, failed to make payments and owes lender Saint Louis Bank more than $10.4 million with more than $2,500 in interest accruing every day. The manager of the property, court records show, is projecting a loss of $500,000 for 2023.
"The borrower has not made a loan payment for approximately six months, and due to continued mismanagement lacks the capability of making future loan payments," according to court documents.
Saint Louis Bank is asking the court to approve Midas Hospitality, a Maryland Heights-based hotelier, to serve as receiver. Edward Chen, a manager for Olive Street Saint Louis, did not respond to a request for comment.
The 201-room Home2 Suites/Tru by Hilton, a redevelopment of the historic Shell Building at 1221 Locust Street, opened last year after Arkansas-based Blueprint Hospitality embarked on a more than $38 million renovation in 2019.
But Blueprint Hospitality and its affiliated entities had failed to make payments on a $23 million loan beginning in 2020, according to court documents.
Last week, St. Louis Circuit Court Judge Jason Sengheiser approved a request by lender HDDA, affiliated with Atlanta-based lender Access Point Financial, to appoint local hotelier Equis Hotels to act as receiver to manage the property. Equis is slated to earn more than $15,000 a month as receiver, court documents shows.
HDDA attorney David Unseth of Bryan Cave Leighton Paisner did not respond to a request for comment. Blueprint Hospitality's attorney, Robert Eggmann of Carmody MacDonald, declined to comment. Equis did not respond to a request for comment.
Blueprint Hospitality, previously known as Reimagine Hospitality, also faced over $200,000 of unpaid claims from various contractors that provided goods or services to the hotel in the months before a receiver was appointed, documents show.
The largest claim was for $150,000 from Maryland Heights-based general contractor Paric Corp., which declined to comment.
Meanwhile a third hotel — Oyo Hotel at 400 South 14th Street, a few blocks from Enterprise Center — is up for auction after years of financial distress.
Colin Sherman, director of Hospitality Analytics for CoStar Group, said hotels, overall, experienced increased debt from rising interest rates and higher expenses due to inflation. The pandemic further strained financials, as many were forced to use money they would typically use for renovations to cover debt payments.
"The market isn't worsening, it's just adjusting to a difficult investment environment right now," Sherman said.