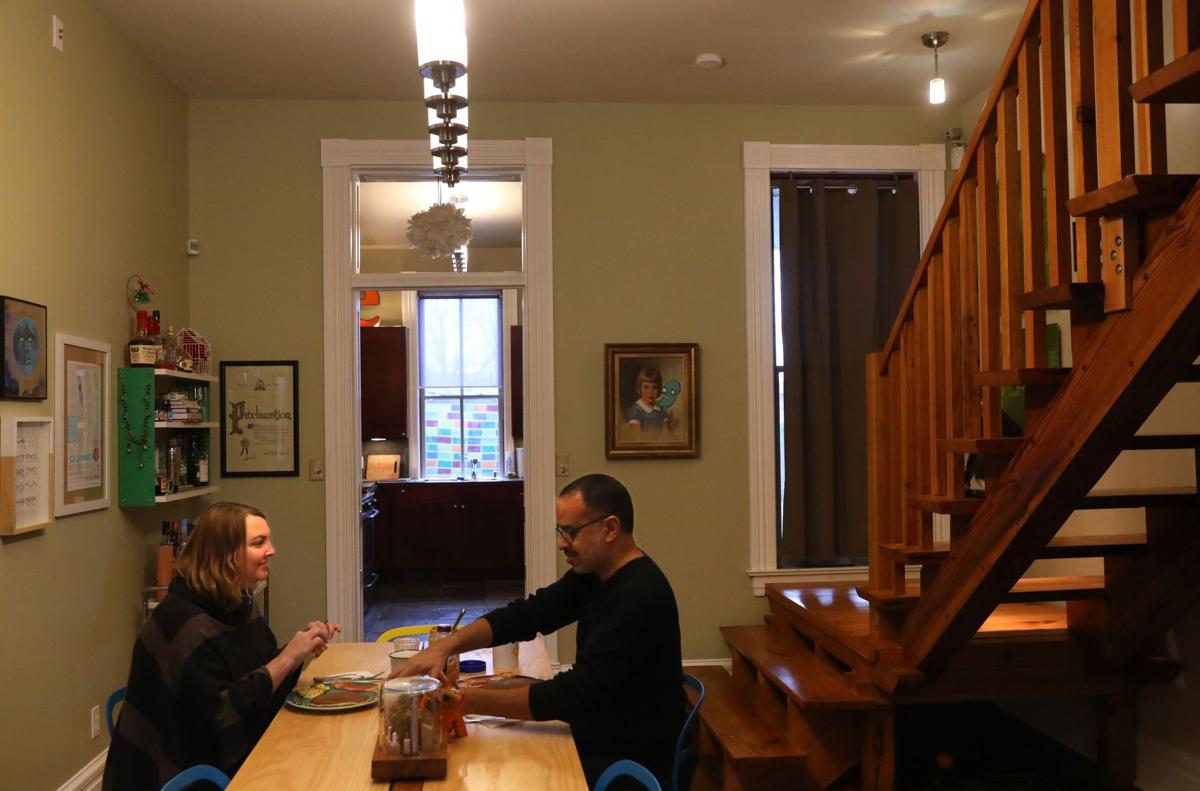 ST. LOUIS  •  Nearly 50 years after the federal Fair Housing Act was signed into law, banning racial discrimination in lending, black prospective homebuyers in the St. Louis area continue to be denied conventional mortgage loans at a much higher rate than whites — even when controlling for income, loan amount and neighborhood.
In the metropolitan area, African-Americans who apply for conventional mortgage loans are 2.5 times more likely to be denied than non-Hispanic whites. That's according to two years of Home Mortgage Disclosure Act (HMDA) data analyzed by Reveal from The Center for Investigative Reporting, a nonprofit news organization based in California.
The act requires thousands of financial institutions to provide mortgage records to the public. Analysis of the data was provided to the Post-Dispatch by the Associated Press in coordination with Reveal.
The racial discrimination analysis does not include credit scores or debt-to-income ratios of applicants.
"These are two of several factors that lending institutions use to decide whether to approve or deny a loan application," according to Reveal's explanation of the analysis. "As important as these two data points are, we couldn't control for them in our regression analysis."
Banks consider some of the information to be proprietary, which is protected under the federal Freedom of Information Act. Private and personal information, such as a person's credit score, is also protected under FOIA.
The Reveal report, which identifies 61 areas across the U.S. where lending discrimination still occurs, controls for nine other economic and social factors, including applicants' income, desired loan amount and the neighborhood where they wanted to buy property.
But no regression analysis is needed to see the historically persistent housing problem in St. Louis. The number of loan applications in specific neighborhoods alone tell the story.
Where there's more loan activity, houses have a chance to sell. Where houses sell, people move in. Where people move in, restaurants, community centers and grocery stores are built. None, or very little, of that is happening in low-to-moderate income neighborhoods in St. Louis, like those north of Delmar Boulevard.
In those neighborhoods, no matter the credit history of the applicant, getting a mortgage loan or refinancing a mortgage is time-consuming, difficult, or altogether impossible.
Such was the case for Travis and Gina Sheridan when they wanted to buy a home in Old North St. Louis. The couple moved from the Fresno, Calif., area in 2012 and rented in downtown St. Louis for a year and a half before landing on Old North as the place they wanted to establish permanent roots.
A couple of Travis' colleagues arranged an informal house tour for the Sheridans in Old North in April 2013.
"That's when we really found this neighborhood and fell in love with the neighborhood," Travis Sheridan, 44, said. Soon after, the couple found a walk-up duplex with a modern, renovated interior and classic, red-brick exterior for sale. They worked out an agreement with the sellers and went to the bank with an agreed-upon price. All they needed to complete the purchase was a financing agreement.
The Sheridans began talks with U.S. Bank in May 2013. Over the next year, the Community Reinvestment Act lender they worked with requested pay stubs, student loan information and other documents from them. The Sheridans said they provided everything requested in a timely manner, but still couldn't get a firm yes or no on the mortgage.
One night, Travis got a call on his cellphone. It was the U.S. Bank lender, whom the Sheridans had never met.
"She basically said, 'Look you qualify for this loan but you should probably just pick a different neighborhood,'" Gina said. The two weren't willing to give up so easily. Eventually, they found a mortgage product that worked for them through Midland States Bank.
The Sheridans agreed that their race didn't have anything to do with the denial for financing, particularly because everything with U.S. Bank was done through email. Gina, 39, identifies as white, and Travis, 44, as mixed race or African-American.
U.S. Bank would not discuss the Sheridans' specific case, citing respect for customer confidentiality. In an emailed statement, Senior Vice President Lenny McNeill said the bank "does not discriminate against any loan applicant on the basis of where he or she intends to buy a home," and noted the bank is committed to equitable housing in all areas of St. Louis.
Denying loans based on location or neighborhood is known as redlining. The exact origination of the term is disputed, though scholars and historians say it likely began in the 1930s. As a part of the New Deal, the federal government sponsored creation of the Homeowners' Loan Corp., which was tasked with thwarting residential foreclosure through low-interest, self-amortizing loans.
"As HOLC was nearing completion of its original lending in 1935, HOLC's parent organization, the Federal Home Loan Bank Board established a program that used HOLC staff and local realtors and lenders to appraise real estate risk levels in 239 cities. This City Survey Program produced detailed reports for each city along with a series of now infamous security maps that assigned residential areas a grade from one to four. Areas with African-Americans, as well as those with older housing and poorer households, were consistently given a fourth grade, or 'hazardous,' rating and colored red."
Fast forward 80 years, and the maps don't look much different.
Of the 41 areas in the St. Louis metro area where lenders denied every request for a mortgage loan, the population is majority African-American in more than half of them. In most neighborhoods where nobody applied for conventional mortgage loans, the population was also majority African-American.
All 11 areas of the city where nobody applied for loans in either year are north of Delmar Boulevard. In 91 percent of those areas, black people make up 82 percent or more of the population.
'Market inertia'
"Some stories I've heard recently are banks just kind of dragging people through the mud," Risch said. "So they ask them lots of questions about their information and ask them for a lot of documentation. It takes up to six months and it's difficult to get through that process."
The Sheridans were willing to invest the time, money and effort necessary to obtain financing for their home in Old North, where they've lived for five years now. While they were figuring out how to get a mortgage for the property, they rented from the sellers for that year.
But they also know not everyone has the same resources or means to fight the battle.
"How many other people have to go through this? How many other people don't have the wherewithal to fight, or don't have the financial resources to fight?" Travis Sheridan asked.
"Or an agreement with the seller? Or a place to live while dealing with it? I just think it's got to be impossible for people. I think they wanted us to give up, and they were surprised we didn't," Gina Sheridan said.
Travis and Gina Sheridan prepare breakfast in their Old North St. Louis home on Friday, Feb. 16, 2018. The Sheridans say they were unable to g…
Low mortgage activity in certain areas could be tied to outright discrimination, but oftentimes, especially since the Great Recession, the problem isn't that simple.
"With lenders, because of internal rules with banks, they're just doing their jobs. There are going to be situations where there is real discrimination; that does still happen, but there's the other side of it, which is the market inertia," said Glenn Burleigh, community engagement specialist for EHOC. "There's this inertia that's all cash. You can see how whether or not there is a de jure redlining system, there is a de facto redlining system that is going on."
"We know the recent housing crisis has had a chilling impact on interest in mortgages for African-Americans because they were targets for abusive subprime loans, and as a result they experienced foreclosure," said Nikitra Bailey, executive vice president at the Center for Responsible Lending, a national organization working to end harmful lending practices.
Past experience with financial institutions and family wealth, influenced by the national discriminatory housing laws that were in place until 50 years ago, also contribute to low mortgage activity.
"If people aren't comfortable going into a bank because they've been rejected from banks and their family was foreclosed on and they have a bad experience with banks, they're not going to go to a bank to ask for a mortgage," Risch said.
"African-Americans were barred from purchasing a home in certain communities due to their race," Bailey said. "Racially restrictive covenants coupled with redlining denied blacks the ability to secure Federal Housing Administration-insured mortgage loans during that time."
"There's not one thing to point to, to say why the disparities happen and why the rates (of mortgage loan applications) are so different," Risch said.
The reluctance in lending isn't limited to first-time homebuyers or those looking to purchase a home.
"This also hurts people who are current homeowners who need to refinance to get a new roof," Burleigh said. "Because there is no active lending in the neighborhood, they can't get equity."
David Eisenbraun, 64, and his wife Deb, 65, own a four-family apartment building. The Eisenbrauns lost tenants over the 30 years they've owned the building until they decided to rehab it.
The building is in the Old North neighborhood. When the Eisenbrauns looked for financing, "it was basically impossible to find anything," David Eisenbraun said. To do the $200,000 renovation, the Eisenbrauns ended up borrowing from his retirement savings and from his sister, and took out a new mortgage on their personal home
"Between all of those, we were able to spend $150,000 and get most of the work done," Dave Eisenbraun said. "And then we were able to qualify for a mortgage. But the end result was we have a $120,000 place that we had just spent $200,000 on. That's what the appraised value is, or was."
Onus on banks, regulators
The Federal Housing Administration, an agency under the U.S. Housing and Urban Development, offers loans requiring lower down payments and closing costs, and more flexible credit qualifications than traditional conventional mortgage loans. To Bailey, "it's a mystery" why African-Americans are still getting denied at a higher rate than their white counterparts.
"The tools are there for conventional market lenders to act," Bailey said. "The question is why aren't they, and where is the enforcement against them for such action?"
"I think (banks) have a lot of responsibility to address (low mortgage activity in certain neighborhoods)," Risch said. "What we've seen that has had the most impact on a bank's ability to serve the needs of the community is when they hire people that look like people that live in the neighborhood, when they have service locations that are accessible and not just open from nine to five, and they're in a place the community already trusts, whether that's a community center or church."
Burleigh also emphasized the importance of banks providing products with flexible underwriting as a way to bring in borrowers who may otherwise not be able to acquire a loan.
In the case of the Sheridans, they needed a bank to "get creative," Travis said, to find a mortgage product that worked for the property they wanted to buy. The lack of comps, or comparable home sales nearby, in Old North was a major factor in their struggle to find financing.
The appraisal problem
Gail Brown grew up watching her father move African-Americans into communities where they previously weren't living. He started the Brown-Kortkamp Realty company more than 50 years ago, and Brown took over the business in 1995. From her perspective, appraisal is a significant part of the redlining issue.
One of Brown's current clients has a renovated house on Windermere Place, a private street north of Delmar Boulevard, that she'd like to sell.
"She's done a beautiful job of renovating it and it's a beautiful home," Brown said. "When you go to do an appraisal or get funds or try to sell a house in that neighborhood, that appraiser is not going to pull a property from Washington or Westminster. He's not going to go across Delmar. But north of Delmar, there's nothing that compares to that."
"The discrimination that happens today is through the appraisal process," Brown said. In addition to low comps, which leads to low social mobility and lack of amenities in a neighborhood, Brown said, "it's perceived that crime is high around you, and north of Delmar, that's what you have."
Brown is also a member of the city of St. Louis Affordable Housing Commission. After working in St. Louis real estate all her life, she's ready to see change. The "Delmar divide" housing problem affects lenders, buyers and real estate agents who work north of Delmar Boulevard, like Brown does.
"I have a real passion for the city," Brown said. "I really would like to see a real conversation happen around valuation and equity of housing and resources for individuals north of Delmar, because it's just atrocious."
"It's atrocious from a real estate professional (perspective). I would have to sell about 20 properties (north of Delmar) whereas counterparts on the other side sell a couple of properties, and they're right there. So we're working twice as hard."
Editor's note: This story has been revised to correct the spelling of Midland States Bank.