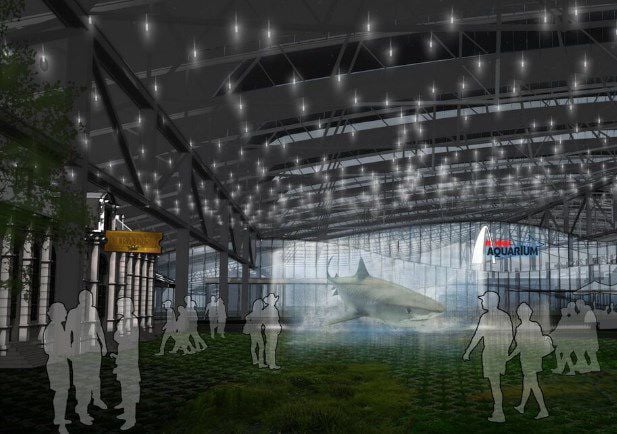 Tax credits, other public incentives and bank financing will fund the $45 million St. Louis Aquarium at Union Station in downtown St. Louis.
Bob O'Loughlin, whose Lodging Hospitality Management owns Union Station, said Tuesday all tax help for the aquarium will come from existing sources, plus historic preservation tax credits.
Money to operate the aquarium will come from admission tickets that O'Loughlin said could range from $12 to $20. That range is lower than ticket prices at other U.S. aquariums, including the Shedd Aquarium in Chicago, where the "total experience pass" costs $30.95 for children and $39.95 for adults.
O'Loughlin, LHM's chairman and chief executive, said his company had determined an aquarium is a family entertainment attraction missing in St. Louis. He said at a news conference the indoor aquarium will be built beneath Union Station's train shed.
"We thought about calling it the 'Shed Aquarium,' but that was taken," O'Loughlin said in a joking reference to the famous attraction on the Chicago lakefront.
O'Loughlin said later in an interview that $20 million of the St. Louis Aquarium's construction costs will come from an existing tax-increment financing agreement and two special tax districts that carry a 1 percent tax on sales at Union Station. Included is LHM's intent to use $5 million in historic preservation tax credits to help restore the 11-acre shed.
Construction will begin next spring with a goal of opening the 75,000-square-foot, 1 million-gallon aquarium in summer 2018. O'Loughlin predicts a million annual visitors to the attraction that will occupy what is now the station's empty shopping mall.
Visitors will enter from the station's parking lot and take escalators to the second level. They will pass through or over numerous exhibits, including a shark tank spanned by a rope-and-steel bridge. PGAV, of St. Louis, is the aquarium's designer.
St. Louis Aquarium will be a member of the Association of Zoos and Aquariums, LHM said. The association, based in Silver Spring, Md., has more than 230 members, including the St. Louis Zoo and the Butterfly House in Chesterfield.
A 200-foot Ferris wheel in Union Station's parking lot will be ready for visitors at about the same time as the aquarium, O'Loughlin said.
LHM also will build what it calls Train Park, which will offer food and drinks served from old rail cars and repurposed shipping containers. Train Park's first phase — a fire-and-light-show at the station's lake — will open this fall, O'Loughlin said. LHM said the display will erupt from nine "fire pods" in the water.
Also coming are more rooms at the station's DoubleTree Hotel. O'Loughlin said LHM will put 32 rooms in the clock tower on Market Street. Work will begin in January and be done late next year. The $5.5 million project will give the hotel a total of 571 rooms.
Union Station, a National Historic Landmark, opened in 1894 and for decades was among the nation's busiest passenger rail terminals. It closed in 1978 when Amtrak relocated its St. Louis passenger train terminal.
A $140 million renovation completed in 1985 by the Rouse Corp., of Baltimore, redid Union Station as a then-trendy "festival marketplace." Success faded after a few years as tenants and visitors drifted away.
At the news conference Tuesday, Mayor Francis Slay said the aquarium will make Union Station a stronger anchor for the city's central corridor.
Missy Kelley, president and chief executive of Downtown STL, said the aquarium will make downtown a "primary destination" for families.