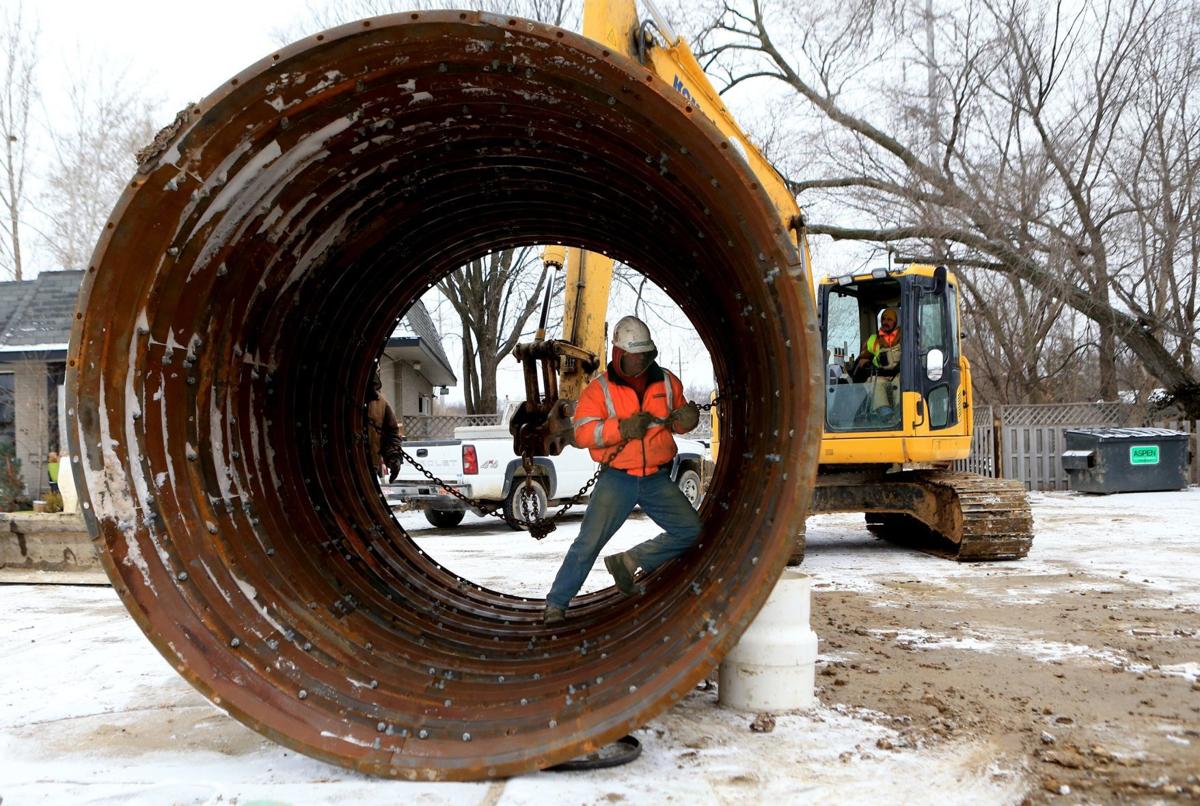 When the Metropolitan St. Louis Sewer District was formed in the 1950s, it inherited what ranks as the country's fourth-largest network of wastewater infrastructure — a sprawling system that, utility officials explain, was not built to satisfy modern guidelines for sewage overflows or other environmental safeguards.
The gap, they say, has only widened with time.
About a decade ago, the prevalence of sewer overflow problems — both locally and around the country — pushed the federal government to arrange a 2011 settlement with MSD, requiring the utility to spend at least $4.7 billion over the next 23 years to address the issue, along with making other system improvements.
Through more than 300 total projects, the funding looks to reduce or eliminate overflows and backups, build 60 miles of new wastewater sewers, and inspect 64,000 manhole covers. The proposal also includes plans to replace incinerators at two MSD treatment plants, while working to close its Fenton plant by tunneling instead to another facility.
Rate changes tied to the proposal would apply to the four-year period from July 1, 2020, to June 30, 2024.
The plan presents MSD ratepayers with two options, centered around whether to fund the projects with or without $500 million in additional bond financing, which the utility says would "make needed rate increases more manageable."
Under the bond financing scenario — which would pay for the projects through a combination of cash and debt — MSD customers would see more modest rate hikes over time. According to the utility, a single-family household with typical water usage would see monthly bills steadily rise from $55.57 to $63.36 over the four-year time frame.
But if MSD customers choose not to pursue bond financing — opting to cover project costs with cash instead — the utility says steeper rate increases will kick in. Under that scenario, the same $55.57 monthly bill would grow to $86.29 in the 2024 fiscal year for typical water users.
"We don't know how we're going to pay it — that's up to the ratepayers," said Brian Hoelscher, MSD's executive director and CEO, discussing the proposed rate changes at a public hearing Wednesday in Manchester. "That's a decision voters will be able to make."
The proposed numbers are subject to change over the next few months, as the MSD Rate Commission prepares its recommended course of action. But Hoelscher expects that they are "in the ballpark" of the finalized request that will get put to voters, potentially in the spring of 2020.
This funding request from MSD is entirely separate from the utility's recent proposal to charge property owners a new fee based on their parcels' impervious surface area, in order to fund stormwater and erosion projects.
That measure was rejected by voters in April, amid what utility representatives see as "rate fatigue" among the public — leaving it uncertain as to when or how those issues might be addressed, and what entity, if any, might come forward to tackle them.
This proposal may face some of the same discontent.
"There's a lot of rate weariness regarding this proposal after so many rate increases over the last few years," said John Coffman, an attorney and utilities expert representing the Consumers Council of Missouri.
He said he thinks "the request is overstated" and deserves a lot of scrutiny. And while some of the proposed rate hikes are not as steep as the double-digit percentage increases that have been common in recent years, Coffman said "it does continue the trajectory" overall.
Two public hearings regarding the proposal have already been held, and several more remain on the calendar over the next couple months, scheduled to be held at the following times and locations:
• 6 p.m. June 4, Richmond Heights Community Center, 8001 Dale Avenue 63117
• 6 p.m. June 27, Maryland Heights Community Center, 2300 McKelvey Road 63043
• 6 p.m. July 10, UMSL Wellness & Recreation Center, 1 University Blvd. 63121
• 9 a.m. July 24, Metropolitan St. Louis Sewer District headquarters, 2350 Market Street 63103